Smart Mirror Touch Screen
Interactive Magic Mirror Displays using multi touch screen overlays
Smart Mirrors also known as Magic Mirror Touch Screens, provide a commercial grade LCD display solution with multi-touch technology which transform the display into a mirror when not in use.
Standard Interactive Mirror Sizes*
*Custom size interactive areas and oversized mirrored are available on request.
INTERACTIVE MIRROR DISPLAYS
These Interactive Mirror Displays integrate with both modern and traditional interiors and are perfect for retail changing rooms, exhibition display stands, live events, car showrooms and so much more.
These Smart Mirror touch screens consist of a commercial grade LCD display combined with a Magic Mirror overlay and IR touch frame. The solution is plug & play and can be set up in minutes! Simply connect the Magic Mirror Display to your Media Player or PC via HDMI and the touch overlay via USB. The technology operates as a USB human interface device which effectively transforms your finger into the mouse so no specialist touch software is required – any content you can click with the mouse you can simply touch with your finger instead!
Smart Mirror Touch Screen features
Available in standard sizes from 32" – 98"




Custom sizes and oversized options available on request




Supports portrait or landscape orientation




Commercial grade display for 24/7 use




Full HD and 4K options available




Infrared multi-touch technology




Custom PCAP options available
THE STORY SHOP
The Story Shop is an immersive retail experience that gives customers an opportunity to learn more about the reality that some children are living today. Our 55″ interactive mirror allows people to reach out and hold hands with a young girl called Hope, follow her story and then take up her challenge to explore further.
LEARN MORE ABOUT THE STORY SHOP HERE
MAGIC MIRROR SIGNAGE
The advantages of Interactive Mirror Displays are vast, offering customers and users a unique and innovative experience whilst serving its intended function. From engaging games to product selectors, the applications of a high quality mirror display are huge, allowing audiences to interact with the content being displayed on screen. The applications for these interactive Digital Signage displays serve a wide range of retail and service requirements, from interactive changing room mirrors, to salon / makeup mirrors.
Using touch screen mirror displays in retail and POS environments is a great tool to drive sales and improve customer experience. Not only is their presence a surprise due to their unique nature, clever placement of Magic Mirror Touch Screens in fitting rooms also gives businesses an exclusive opportunity to upsell similar or related products at the most important point of the customer journey, providing a more personalised service to the user.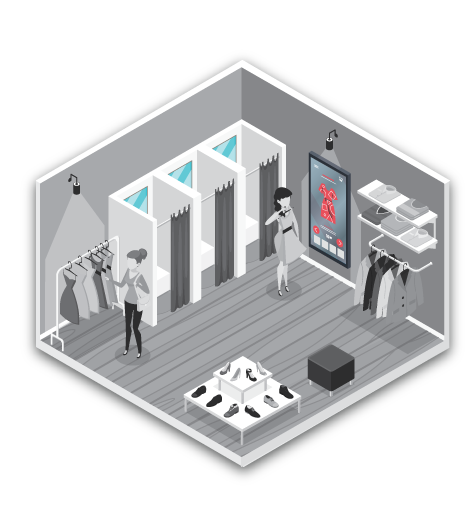 PERSONALISED EXPERIENCES
With touch capability, the user is able to engage directly with the screen and with the user in the 'driving seat', they are able to control the flow of information themselves, helping them efficiently obtain what they are looking for, allowing the next person to use it far quicker than if they were having to wait for information to display in a loop. By creating more engaging, interactive information points for customers/visitors to utilise, your workforce can be used more efficiently, focusing their time on the tasks that matter, whilst our Mirror Touch Screens do all the work!

RANGE OF MIRROR TINTS
Our range of touch screen mirror displays are also available in a selection of finishes, each manufactured to best suit a specific environment, catering for applications where superior image quality is key or more cosmetics based setups that require high levels of reflectivity when the screen itself is not in use.
Pro Display offers a variety of products incorporating Magic Mirror Display technology for use in a wide range of applications. The Mirrorvision range includes both interactive and non-interactive screens, offering a solution for every need.
As Seen In
Visit the Pro Display blog to see more case studies and project inspiration, or better yet sign up to our newsletter here to get our latest news delivered straight to your inbox.
ANY QUESTIONS?
ANY QUESTIONS?
We manufacture in Britain and ship worldwide – if you need further information, a pricing quote, or want to discuss ideas for using our Smart Mirror Touch Screens click the link below to contact us, email us via info@prodisplay.com or call us on +44 (0)1226 361 306.
Smart Mirror Touch Screen
Interactive Magic Mirror Displays using multi touch screen overlays
Smart Mirrors also known as Magic Mirror Touch Screens, provide a commercial grade LCD display solution with multi-touch technology which transform the display into a mirror when not in use.