Fashion Stores
Fashion Stores
Digital Signage & Interactive Technology for Fashion Stores
Fashion stores are continually looking for new and innovative ways to inspire purchases, generate brand awareness and increase customer loyalty through Digital Signage.
With Pro Display's unique and innovative AV technology solutions, fashion stores are able to stand out from the crowd easily through creative application of products that present visual effects not usually seen. Ideal for working into merchandising, self-service applications, communicating offers or even helping to launch new products,  Pro Display's range of products offer something for everyone.
Read more
RECOMMENDED PRODUCTS / APPLICATIONS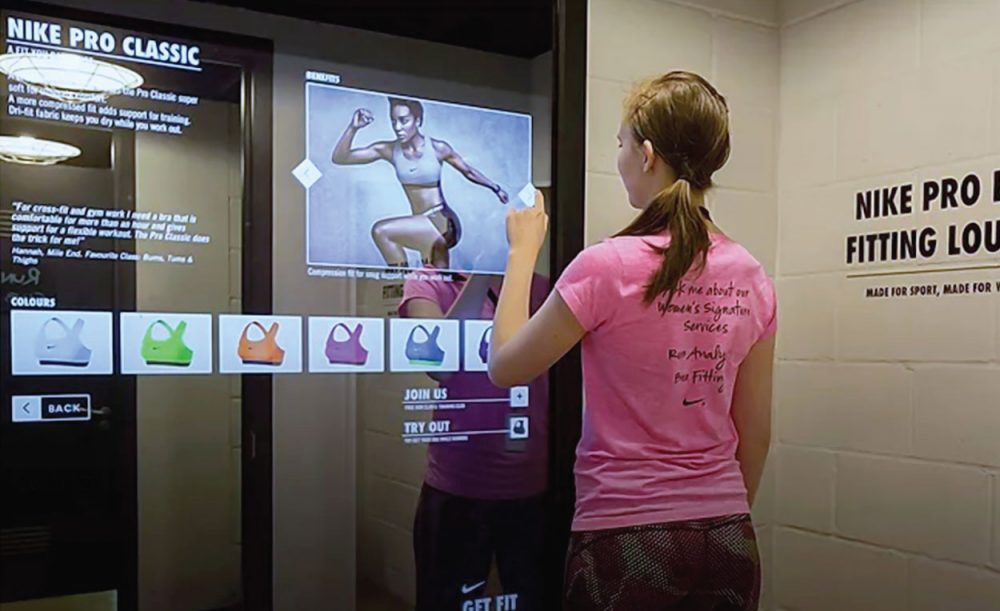 Interactive Touch Screen Mirror
Brick and mortar fashion stores are competing more than ever with the ease of online shopping, relying on the instore experience to temp people onto the shop floor. One of our favourite products for retail use is our interactive mirror screens, designed to change the fitting room experience forever. Niketown in London opted to use our Mirror Touch screens as part of their bra fit experience, providing all the right information at the right time.
70% of all purchasing decisions are made in the fitting room and with Nike implementing these displays, users could learn more about the product they were purchasing as well as being upsold other colourways, similar styles and product recommendations. These interactive screens allowed Nike to grab the attention of the customer at a key drop-off point in the buying journey, allowing for a more personalised shopping experience to encourage a sale. These screens were also used to promote meets and local exercise classes to offer a sense of community, building a better customer-to-consumer relationship.
Read more

> > >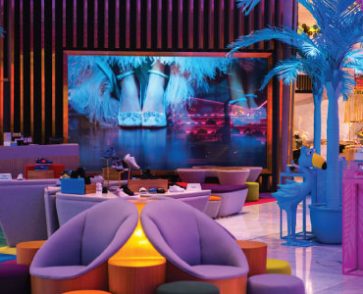 Digital Glass UST Rear Projection Screen
Our Digital Glass ultra-short throw projection screens can be made in sizes up to 8 x 3m creating unmissable digital displays. We supplied the largest rigid rear projection screen for use in Level Shoes in the famous Dubai Mall and also a custom square digital glass screen for YSL in Harrods luxury department store.
Read more

> > >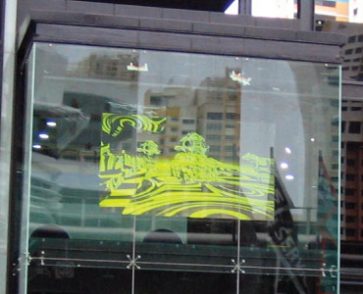 Sun Readable Rear Projection Film
Our sunscreen rear projection film facilitates projection window displays in even challenging lighting environments. Working in even direct sunlight with interactive options, these sun readable projection displays showcase everything from sale advertisements to runway shows.
Read more

> > >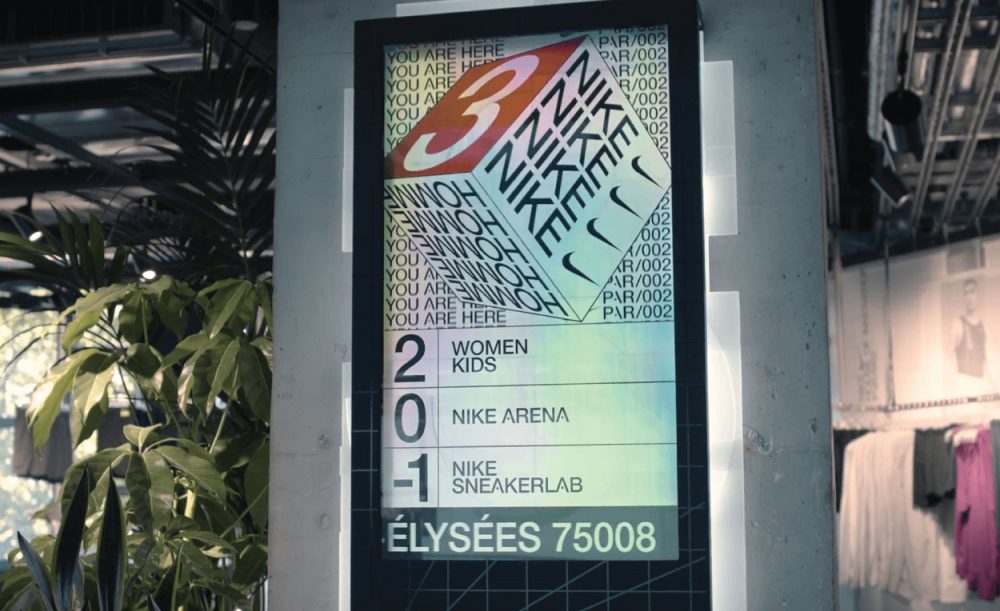 Transparent LCD Screens
Transparent Screens are designed for use in these kind of retail environments, bringing physical and digital displays together in an eye-catching fashion. Manufactured as either a raw panel or a finished display case these screens show white content as transparent, allowing digital messages appear to float in mid-air.
Nike implemented our Transparent Screens in a unique way in their 3rd 'House of Innovation' in Paris, France. Rather than building the screen into a surrounding housing as standard, the screens were paired with a powerful oversized backlight creating a more minimalist display solution. These screens were dotted around the store as futuristic way finders fitting perfectly into the store's interior. We've also supplied interactive Transparent LCD Kiosks for Adidas's GMR roll out, featuring in stores in London, New York and Vancouver.
Read more

> > >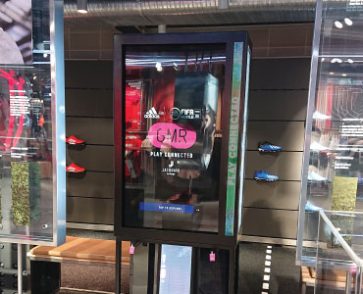 Transparent Touch Screens
Display all the right content in one place with our transparent touch screens, ideal for integrating into clothing displays. Layer our Interactive Transparent Screens in front of your clothes to provide more information, stock figures or style inspiration.
Read more

> > >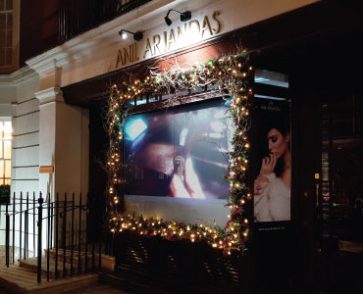 Switchable Projection Screens
Used in product launches for Rolls Royce and Jaguar, these Switchable Projection Screens are also a great window display solution. Switched clear by day to allow shoppers to browse from outside and switched back to frosted creating a HD/4K advertising projection surface and theft deterrent.
Read more

> > >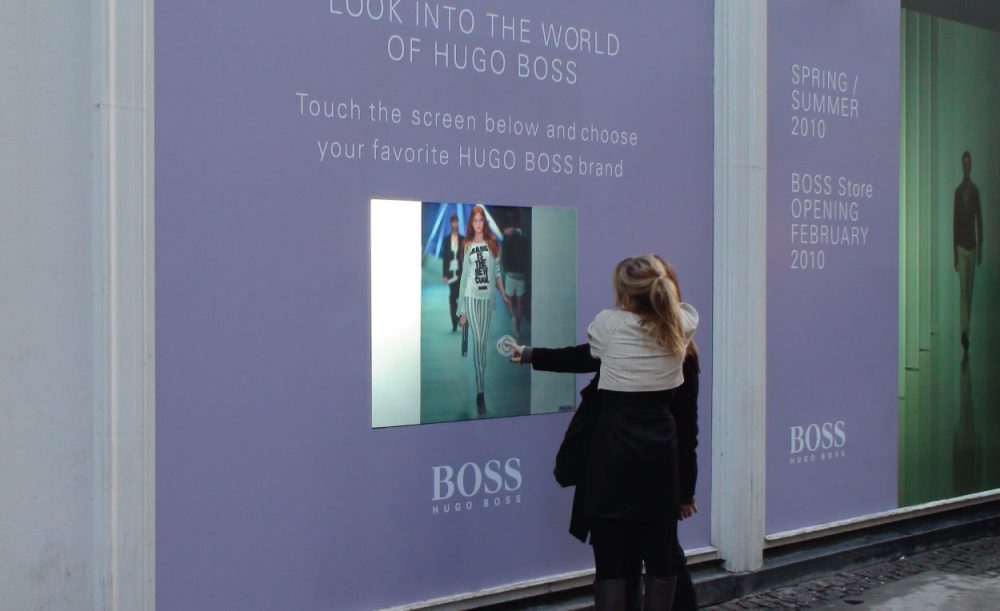 Interactive Touch Foil
An engaging window display is one of the key drivers for footfall in retail, with each store often competing against it's neighbours to get customers through the door. By creating an interactive window display, users are directly engaging with the brand to create their own personal experience. Our Interactive Projection Foil was used in the window of designer brand, Hugo Boss, encouraging users to choose their favourite Hugo Boss brand by browsing the products on screen.
Our Interactive Touch Foils were also used in Republic, allowing users to browse the online store where they could order items that were out of stock or not held in the store. This not only allowed shoppers to take control of their experience without the need to engage with a member of staff but also helped to keep the sale within the store rather than leaving it to chance that they would complete the sale at home.
Read more

> > >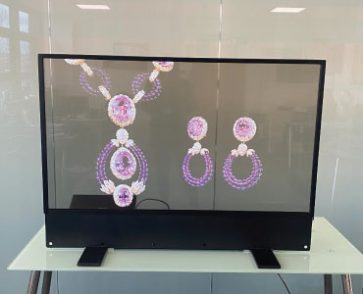 Transparent OLED Display
Create an unforgettable window display with our Transparent OLED Screens, operating with no need for housing or a backlight on screen content appears to float in mid air, creating an especially effective display in Jewellery or luxury retail environments.
Read more

> > >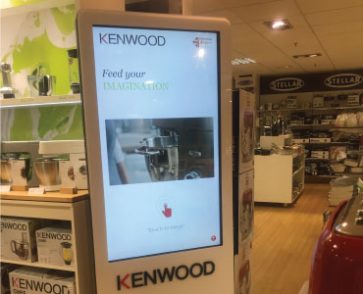 Touch Screen Kiosk
Streamline staff responsibilities with our Interactive Kiosks, offering customers the option to check stock, order on line or locate an item instore, allowing your team to focus on keeping ques down and maintaining the appearance in store.
Read more

> > >
Inspiration
Visit the Pro Display blog to see more case studies and project inspiration, or better yet sign up to our newsletter here to get our latest news delivered straight to your inbox.