Posted March 12th, 2018 by & filed under , General, Inspiration, Press Release, Technology.
Tomorrow's Retail… Today
Amazing retail technology is constantly evolving, adapted and designed specifically for display purposes, offering companies an endless supply of branding and merchandising solutions.
Pro Display specialises in innovative display products, many of which are perfect for the retail industry. From highly functional interactive kiosks, to stunning transparent screens, Pro Display has seen some of the most creative uses of the market's leading display technology. In this article, we will take a look at the top 5 retail technologies to watch out for this year.
5. Digital Glass
Whilst providing a fantastic solution as a basic interactive rear projection screen, Digital Glass is also a perfect alternative to video walls. Providing better value than many other video wall solutions, this technology boasts a unique versatility with no join lines or bezels, offering sizes up to a massive 8m x 3m. The impressive size that Digital Glass can be offered at is what really differentiates it from the rest, but it's specifications and features do not leave you wanting. With high brightness and unsurpassed contrast, even in brightly lit environments, this screen is ideal for a very wide range of retail applications that will be sure to see you standing out from the competition.
Specifically designed for high-end projection and edge blending, this screen is made all the more impressive when combined with Pro Display's touch frame, granting it multi-touch capability. At its maximum size of 8m x 3m, Interactive Digital Glass provides users with one of the largest touch screens in the world, offering an impressively creative array of applications at their disposal. Digital Glass is certainly one to watch in the retail environment, as Pro Display ushers in a new generation of immersive large-format interactive displays.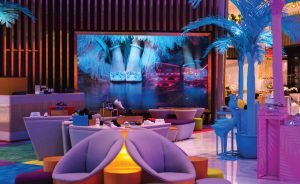 4. Sunscreen Technology
This revolutionary technology has been specifically built to perform in direct sunlight. Pro Display's Sun Readable Rear Projection screen is the ideal solution for window displays or very bright retail environments. Offering sharp, crystal clear images, the screen uses a light rejecting optical filter which deflects external light, allowing the image to cut through direct sunlight and display with superior clarity.
As the only true technology which offers such high performance in direct sunlight, Pro Display's Sunscreen Film or Acrylic Screen is worth considering for applications that require such functionality. Exciting window displays are an invaluable tool for the retail industry to entice customers into a store- there really is no better solution to stand out, especially somewhere such as a high street, where competition is vast.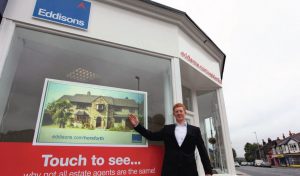 3. Interactive Touch Kiosks

As one of the more frequently seen retail technologies on this list, Pro Display's Interactive Touch Kiosks makes no.3 for some very good reasons. The creative uses for Touch Kiosks are constantly evolving, and having a free standing display terminal at your disposal allows you to communicate in ways that you may have not even considered before. As the capabilities of software and methods of visual delivery expands, so does the uses of this unit. Comprising of a 50″ or 55″ inch touch screen with a built-in PC that runs either Android or Windows, the terminal also comes complete with HDMI and VGA connections, allowing you to input any compatible device. Manufactured using a toughened glass fascia, this product is built for public display. The integrated timer provides you with the ability to assign timed schedules which automatically powers the unit down when it is not in use, aiding efficiency.
Areas which enjoy high-footfall are the ideal places for an Interactive Touch Kiosk, used to their most effective when communicating information, providing entertainment or even displaying multi-media content. But the versatility of this technology is what has secured its place on this list. With such a functional product, it could completely revolutionise the way your store runs, providing you with an alternative to many applications you may look to other solutions to solve. Pro Display can even offer bespoke custom terminal solutions built for your requirements. A great example of this would be a custom solution self-service kiosk- allowing customers to process and even pay for orders without having to interact with a member of staff.
2. Transparent Screen Technology
Transparent LCD Screens
Transparent screens are some of the most impressive and captivating display innovations seen from the Audio/Visual industry in recent years. Digital content being displayed on a transparent screen is something which many of your customers will be amazed to see. As an extremely effective display solution, this technology is ideally used for applications such as product launches, product showcases and anything you wish to put on display in a dynamic and captivating way.
Pro Display offers Transparent screen technology in a variety of products, such as Transparent LCD screens in sizes 32″-84″ or purpose built Transparent LCD Display Cases. The creative scope for using these screens is incredible, allowing merchandisers to integrate digital content with real-life objects behind the screen. On this screen, white pixels in digital content appear as transparent, serving as a fantastic way to control the visual delivery of information and your featured product. Making it even more impressive, these screen options can be integrated with touch capability to form Pro Display's Interactive Transparent LCD screens, providing your customers with the ultimate in engagement when it comes to content.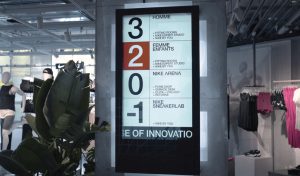 Switchable Glass
Switchable glass is an incredible technology which enables glass to appear as either clear or frosted, offering a whole host of creative applications for retail. Switchable glass is manufactured by Pro Display's switchable glass division, Intelligent Glass. Primarily used for privacy, this technology offers the opportunity to provide a 'safe space' for your customers away from prying eyes, making it perfect for retail applications that require privacy, such as changing rooms or clothes fitting rooms. Further to this, Intelligent Glass even offers Acoustic Switchable Glass, for applications that necessitate audio privacy too.
Switchable glass may be an excellent privacy solution, but it serves a plethora of other functions that make it ideal for retail. One of the best uses of switchable glass is derived from its ability to 'unveil'. Product launches, product showcases and other creative product display ideas can make switchable glass your greatest asset. Also, by integrating with a sensor, it allows you to unveil your products as customers walk past, for example.
Your options regarding the delivery of your message to your customers are only limited by your imagination. A common use of this technology can be seen in many car showrooms, where the glass is frosted on the customer's approach, switching to clear to unveil their new purchase. Switchable glass also functions as an interactive projector screen, allowing you to project adverts, entertainment and other multimedia content on to it, maximising engagement to ensure that you are really making the most from your investment.
Transparent LED Screens
Transparent LED Screens offer an effective and striking display solution serving as an alternative to Large Format LED Screens. The image on the screen is produced by programming LEDs to work together, and by displaying the relevant pixel colour on the mapped LEDs, the lights come together to create an image. This effect is especially powerful when integrated into a glass facade, allowing designers to offer a screen solution for retail buildings with a focus on glass architecture without detracting from the overall design.
Transparent LED Screens are also ideal for indoor window displays and are commonly used for reinforcing a brand. To advertise or to inform, these screens are an excellent option for anyone who wishes to display content in style without blocking out light or the view on both sides.

1. Mirror Screens & Interactive Mirrors

Mirror screen technology is expanding at a phenomenal rate at the moment. As people switch on to the amazing benefits of mirror screen technology, we are seeing more creative applications being used in retail. Ideally used as a substitution for either a traditional mirror or a digital signage screen, this versatile technology can be adapted to produce amazing results, serving a variety of needs, depending on the product.
Mirror Overlays
Pro Display's Mirror Overlays coverts any existing LCD or LED screen into a mirrored screen, which displays a mirror when not in use yet allows the images on the screen to shine through the glass when the screen is switched on. This cost effective solution is perfect for upgrading installations of existing screens with a premium yet practical edge, coming complete as an easy-to-install retrofit kit for both permanent or removable solutions.
Mirror Advertising Screen 
For those looking for a complete solution, Pro Display offer their Mirror Advertising Screen– a commercial grade mirrored screen with a built-in Plug & Play media player to boot. This product is simple to install and use, offering untold rewards in customer wow factor. Ensuring this screen still offers something when the monitor is switched off, it serves as a traditional mirror when not in use, making it the ideal 'mirror' to purchase for retail changing rooms. One of the most common places to find mirrors in a retail environment is the bathroom or toilets. By installing Pro Display's Mirror Advertising Screen instead of a traditional mirror, it offers the chance of increased customer exposure to adverts, allowing owners to advertise their own products or even generate revenue from advertising other businesses. One thing is certain- a mirror advertising screen is hard for customers to ignore!
Mirror Glass 
For custom or bespoke applications, Pro Display offer their special Mirror Glass as a separate product, cut to your required size or in wholesale sheets. This allows you to combine it with your existing systems and hardware, creating exciting custom panels, purpose built for applications such as selfie mirrors, shop fitting and other integrative projects.
Interactive Mirror Overlay
Further innovating mirror screen technology, Pro Display's Interactive Mirror Overlay offers unparalleled benefits over standard solutions that see these technological features fair on their own. Combining the functionality of touch and mirror screen technology offers a result which is sure to see customer engagement taken to the next step, offering you creative avenues not available with either a standard touch screen or even a standard mirror display. Used to upgrade any existing LCD or LED display with a permanent or removable interactive mirror overlay, engagement of your audience is maximised to allow for a greater return on your investment.
Interactive Mirror Screen
As a full solution, Pro Display's Interactive Mirror Screens come complete with an HD or 4K commercial grade screen, Mirrorvision optical glass and a keen 6-point multi-touch capability. Ready to integrate into both modern and traditional interiors, this option is intended for simple applications that require a full solution or a replacement for an existing mirror. Ideal for changing rooms, exhibition display stands, car showrooms and so much more, this option offers you all the benefits of interactive engagement and mirror screens.