Posted October 19th, 2018 by & filed under , General, Inspiration, Technology.
After supplying the industry for over 15 years, Pro Display take an introspective look at some of the most innovative display technologies that are helping to shape the future of hospitality
Pro Display's technology represents the very best technological display solutions the world has to offer after supplying the hospitality industry for over 15 years. Boasting a solid range in touch screen and mirror screen technology, switchable smart glass products and specialist projection, Pro Display's product variety and reputation as a quality manufacturer attracts attention from some of the biggest names in business.
Mirror screen technology is one of the latest ranges from Pro Display to see high profile interest from influencers in hospitality. This extraordinarily flexible technology provides businesses with the opportunity to make their environment shine with a premium glow. Seldom witnessed by the general public, mirror screen technology is not only impressive in principal but also in person, offering a unique and impressive way of modernising your setting whilst making the most of space that may otherwise be considered wasted when used for an ordinary mirror or traditional LCD screen. Mirror screen technology from Pro Display comes in a variety of formats, each serving the industry from a unique standpoint.
For the maximum effect possible from a mirror screen, you need look no further than Mirror Video Walls. As the name suggests, these breath-taking displays offer everything you would expect from a video wall, with the amazing advantage that it is also mirrored. This serves a range of incredibly useful design functions, allowing designers to reflect light as well as their stunningly beautiful interior design themes through a full height mirror that would look impressive even without screen display capability. But this is no ordinary mirror, of course and the screen display aspect of this technology takes style to the next level. Ideal for use in lobbies, waiting areas, displays and a plethora of other applications, a Mirror Video Wall would work well in pretty much any space you would consider a traditional mirror wall. By using the screens to display company branding, advertising or content to enforce your interior design theme, these video walls can be used as a solution for a multitude of company objectives.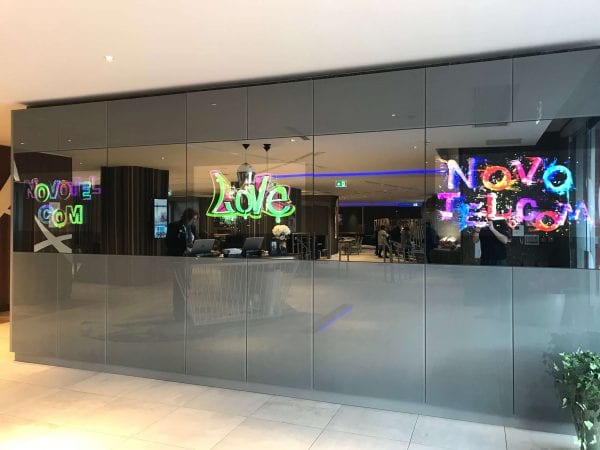 Another product in particular that dazzles wide-eyed customers is our newly developed Mirrored Interactive Wall Panel. Eager to get hands-on with this next generation wall integrated display, your guests and customers are able to interact with a mirror screen that is designed to take pride of place in a cutting edge or luxury hotel room. This product provides customers with an interactive media & entertainment centre, offering the ability to share valuable information with guests such as points of interest, local events and weather at the same time as offering TV, film and music streaming– all from one screen. By taking advantage of the screen's capacity for 'smart room' integration, designers can even help modernise rooms by offering guests state-of-the-art room control through a Mirrored Wall Panel. Sure to keep customers entertained for hours and providing them with features they are likely to appreciate and use, this product helps bring your environment into the 21st century.
For convenience and simplicity, Mirror Glass Overlays are an ideal solution for converting LCD displays – including hotel TVs – into mirror screens. Serving as a retrofit glass kit that can be easily applied to compatible screens, this product offers designers a cost-effective way of integrating cutting edge technology into their space without a significant investment – particularly helpful if existing screens were purchased recently or already meet expectations. Perfect for anyone who wishes to integrate mirror screen technology into their design theme, Mirror Overlays work well in aspiring premium establishments such as hotels, restaurants, bars, clubs or gyms.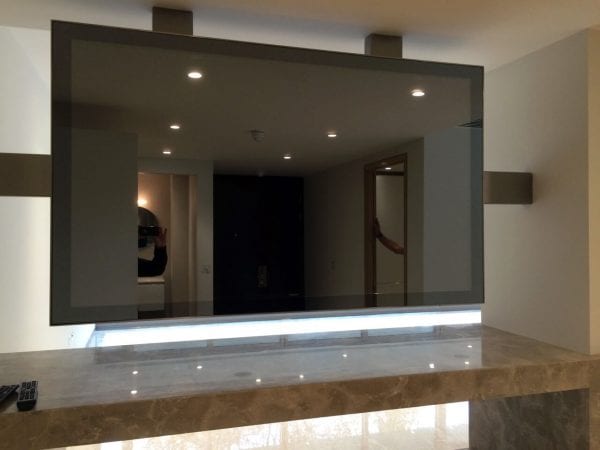 If a completely new direction is sought, Pro Display also manufacture a wide range of Mirror Screens that are able to meet a demanding list of screen specifications, including options for smart TVs and 4K resolution. Ideal for integration into hotel rooms, waiting areas or general displays, Professional Mirrorvision Displays lend themselves exceptionally well to effective use in the hospitality sector, especially where bright and spacious environments are favoured. Likewise, Mirror Advertising Screens are an excellent choice for restaurants, bars and everything in between; turning a space that was previously used for a traditional mirror into an innovative advertising opportunity helps to ensure that even restroom facilities are productive, offering an impressive, effective and therefore worthwhile investment over many traditional restroom advertising techniques.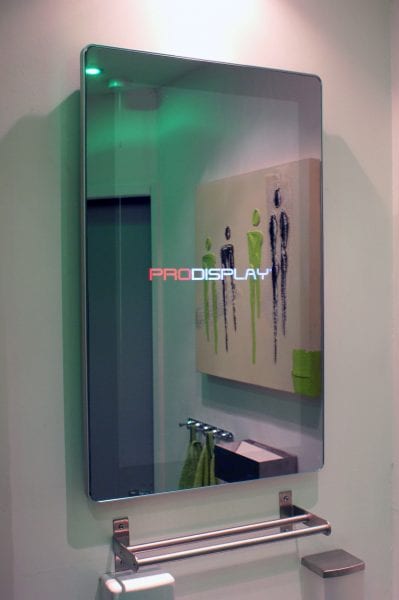 For slightly more 'hands-on' applications, Pro Display also offer a range of interactive mirror screen products that can meet a surprising array of requirements in the hospitality sector. Interactive Mirror Screens are a popular choice for businesses such as hotels, hairdressers, spas and wellness centres, offering them an opportunity to incorporate the screen as a unique and engaging aspect of the customer journey that will go a long way in ensuring it is not soon forgotten. Great for allowing customers to browse products or services at their leisure or whilst they are waiting, this technology could also stand the test of time through use of emerging applications such as augmented reality, which would allow customers or guests to interact with objects being displayed on the screen at the same time as reflecting their likeness right back at them, perfect for making their visit to your establishment memorable.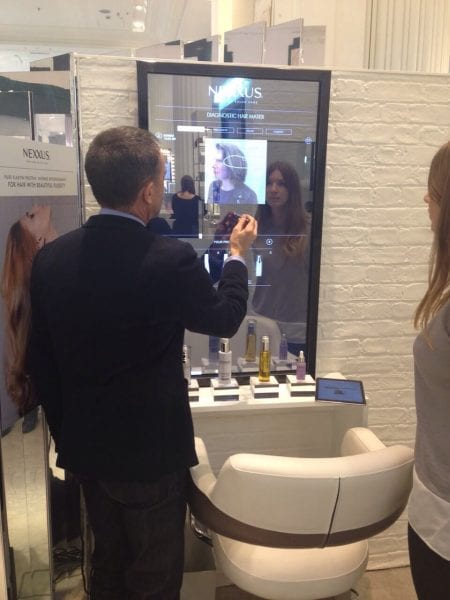 Switchable Smart Glass, Switchable Glass or PDLC Glass is another technology range that the hospitality sector has embraced with much enthusiasm. A popular way of approaching privacy with a high-tech focus, the applications for Switchable Glass are far more diverse than it may appear. Changing state from frosted to clear at the press of a button is a property of switchable glass that is widely coveted by interior designers, architects and specifiers all over the world. The magic here is found in the core technology, PDLC film, which can be prepared in a variety of ways depending on the application. For example, a popular use of switchable technology in recent years has been as part of hotel shower / bathroom dividing screens, an application used to great effect by high profile hotel groups in flagship branches. In this case, we have seen fantastic solutions involving Laminate Safety Glass Switchable Partitions being used to separate the bedroom from the bathroom, granting privacy on demand whilst still allowing light to filter through from the windows. Partitions can also be used for high tech privacy solutions in other hotel facilities or hospitality environments, such as gyms or spas. Anywhere customers or guests may desire privacy may be a good opportunity to use switchable technology.

But it's not just partitions that boast the advantageous use of switchable technology. Self-Adhesive Switchable Film allows customers to retrofit install switchable technology to their own windows and glass, making high-tech window privacy more accessible than ever. Furthermore, recently developed Door Vision Panels are an amazing use of the privacy function of this technology, allowing occupants of a room to enjoy discretion until a button is pressed, changing the state of the glass on the door and allowing people to see in – or the occupants to see out. This could be a preferable solution to many existing and disruptive privacy options which do not have that element of control, making all the difference in sensitive scenarios or applications.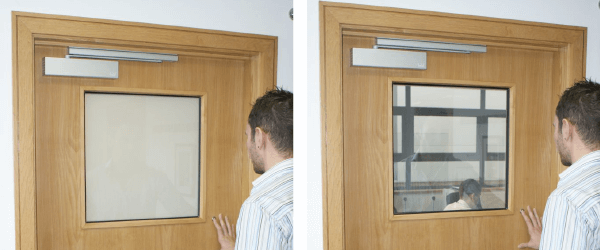 The functions of Switchable technology are not limited to privacy, however. Switchable glass can also serve as an effective high-quality rear projection screen, turning from clear transparent glass into a 4K projection surface at the press of a button. With creative design, it is easy to combine both the privacy and projection aspects of this technology, allowing businesses to make their privacy solution productive, projecting adverts, information or branding whilst offering privacy to customers and employees when required. Building on this, more ambitious applications have seen not only switchable glass screens, but entire switchable dividing partitions being used as a rear projection screen. Ideal for creative uses in windows, room privacy, displays or interior design, switchable technology is a high impact solution with contemporary minimalist characteristics.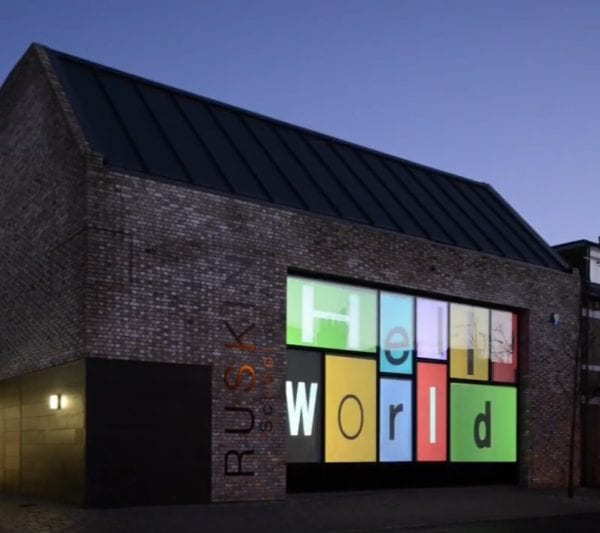 As smart room technology becomes increasingly utilised, other ways of bringing people more in touch with their environment are coming to the surface, demonstrating the best in technological creativity the market has to offer. Few product ranges are as effective as our interactive furniture, which offers display functions at the same time as serving as a piece practical designer furniture. One of the most popular amongst these is our variety of Interactive Touch Table options, ideal for coffee shops, cafes, restaurants or anywhere where table service would otherwise be used. This incredible table allows customers to place orders without the need to leave their seat or even speak to a member of staff. This can inevitably make the ordering process far more efficient and possibly even more productive, freeing up time for employees to get on with other responsibilities as well as having the opportunity to cross sell more products visually on the screen than table service would ordinarily allow.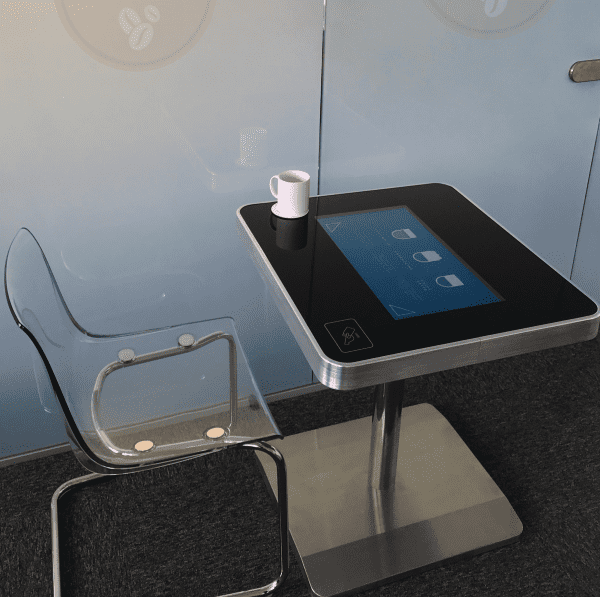 Another technology that peaks interest in this sector is Pro Display's intouch kiosk range, available in a variety of formats and sizes with optional features and custom branding to boot. From traditional LCD display kiosks to specialist Projection kiosks with surface sound capability, this wide range is ideal for so many applications in the hospitality sector it would be a disservice to try list them exhaustively. A kiosk can provide a number of advantages that make both your customer's and your employee's life easier, for example, offering self-service facilities in many aspects of the customer journey can positively benefit efficiency, productivity and customer satisfaction. For this reason, the impressive interactive kiosk ranks popular amongst experts, available from Pro Display for either outdoor or indoor use, as freestanding portrait terminals or landscape displays with a stand; such a variety of possible features ensures that there is a kiosk solution that's right for you.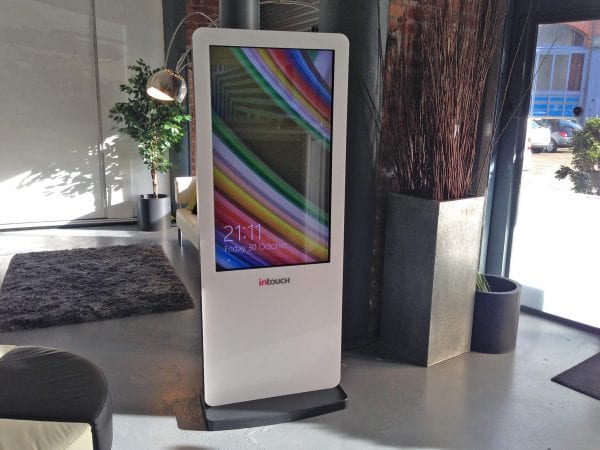 What's more is that these kiosks are extremely versatile, offering more in future potential and development than may meet the eye. With the option of adding 3rd party peripheral features such as card readers or payment systems, the scope of what is possible with these products becomes significantly widened. Ideal for wayfinding, self-service applications or communicating information, a kiosk is a flexible and robust solution that can satisfy a respectable list of requirements the hospitality industry demands.