Car Showrooms
Car Showrooms
Display & Interactive Technology for Car Showrooms
Car makers are always looking for new and innovative ways to advertise and inspire customer purchases with large format projection on external glazing, interactive touch kiosks and switchable glass display cases all popular choices.
Pro Display offer a wide range of premium technology that can be used in a luxury sales environment. Such products offer a unique and innovative way of contributing to the customer sales journey and can even assist the salesperson in their job as seen with the use of Interactive Touch Tables, for example. Recent applications of Pro Display AV technology has even seen a rise in the popularity of Switchable Smart Glass for vehicle product reveals, such as Rolls Royce, Mercedes and Jaguar.
Read more
RECOMMENDED PRODUCTS / APPLICATIONS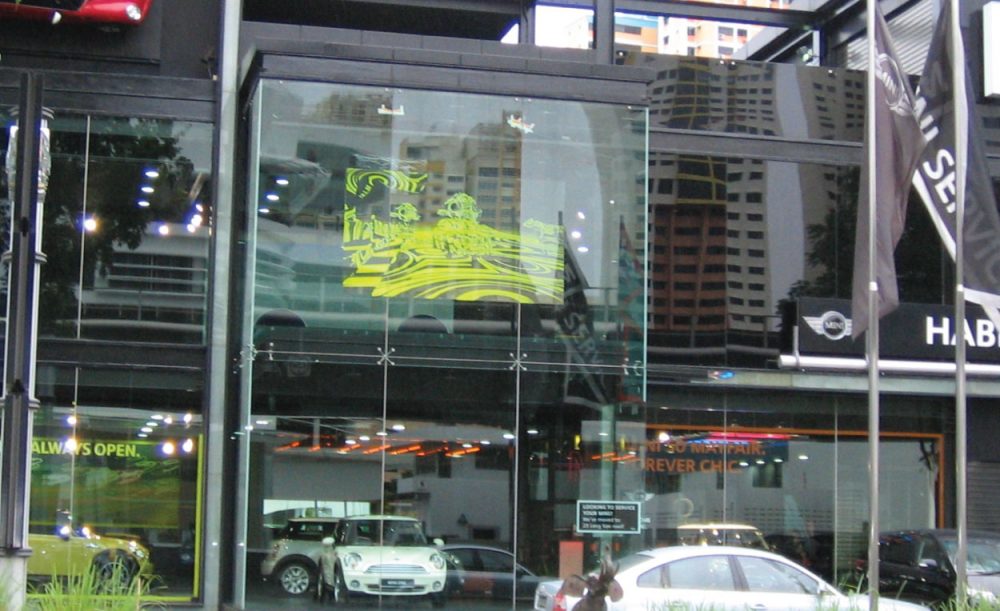 Sun Readable Projection Film
Car showrooms traditionally like to create bright airy spaces, often featuring lots of windows or glass facades to create the illusion of a larger more welcoming space. However, along with an abundance of sunlight comes difficulty with creating effective digital displays, but not with Sunscreen technology. Our Sunscreen rear projection technology is designed to excel in high ambient daylight and even direct sunlight, manufactured with an optical light rejecting filter to deflect external light away from the screens surface.
Used previously in MINI showrooms, these screen and film products can be applied on the inside of external windows to create high brightness projection window displays that can be appreciated even in extreme weather conditions. These sun readable projection displays can even be granted interactivity to further engage users.
Read more

> > >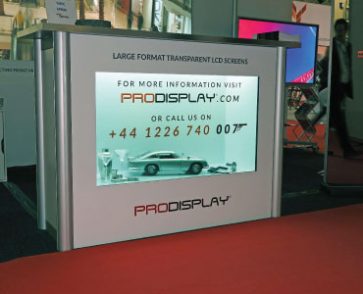 Transparent LCD Showcase
Transparent LCD's combine physical and digital displays to create an eye-catching feature where all the information is showcased in one place. Whether it's a small scale replica or a car engine, these displays can be used to great effect offering more digestible information and a more immersive experience.
Read more

> > >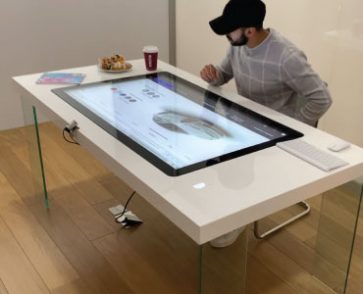 Touch Table
Integrating an Interactive Touch Table into your car showroom creates a communal space where buyers can feel more involved in the sales process, building a better relationship with the salesman and brand. These tables act as a great display for comparing models, discussing customisations and clearly communicating finance options.
Read more

> > >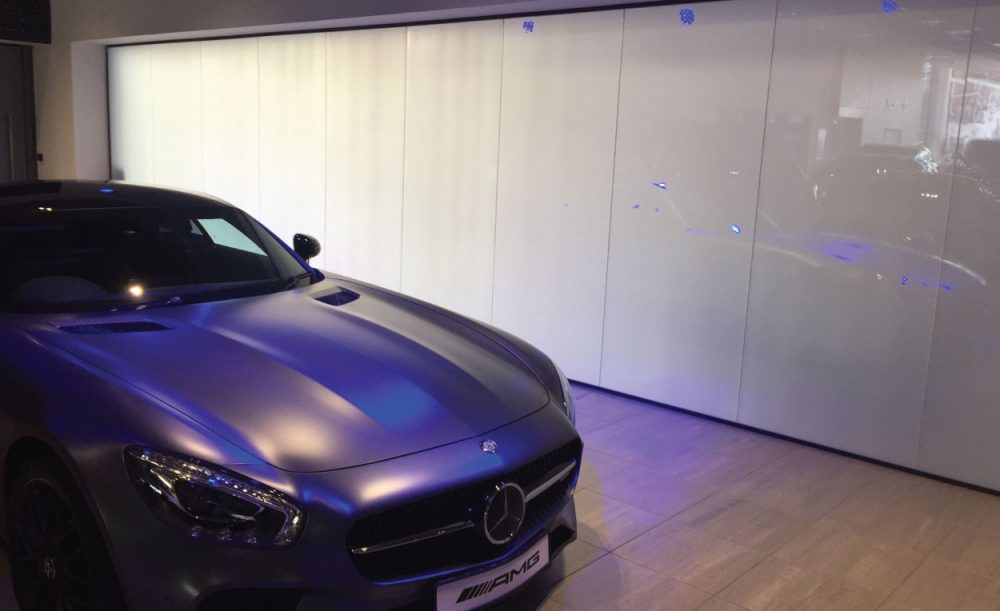 Switchable Smart Glass
Turn buying a car into an experience that customers will never forget with our Switchable Glass. Forget the traditional blanket reveal, by using a Switchable Glass partition watch your customers be wowed when the glass is switched from frosted to clear to reveal their brand new car. Ideal for luxury manufacturers and showrooms, our switchable products can also be operated with custom voice automation using popular smart speakers like the Amazon Alexa, all you have to say is 'Alexa, show me my new car!'.
With previous credits including Rolls Royce, Jaguar and Mercedes to name a few, switchable glass cements the feeling of a luxury experience, making customers feel like they're getting more value for money and more likely to share their unique buying experience with others.
Read more

> > >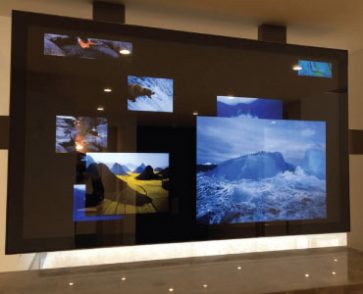 Mirror Advertising Screens
Create stylish displays using our Magic Mirror Screens featuring 24/7 commercial displays that can be populated by a number of media sources. These Mirror Displays can be oversized to create a larger surround for the screen, creating a feature wall effect that also creates the illusion of a larger showroom space.
Read more

> > >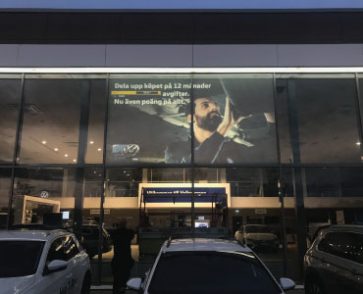 Rear Projection Film
Used previously by Volkswagen, Rolls Royce and MINI, our Rear Projection Films are a great retrofit display choice for existing glass partitions or window displays. With Sun Readable, Switchable and Interactive options, our specialist range of projection films suit every application from browsing products to part exchange quotes.
Read more

> > >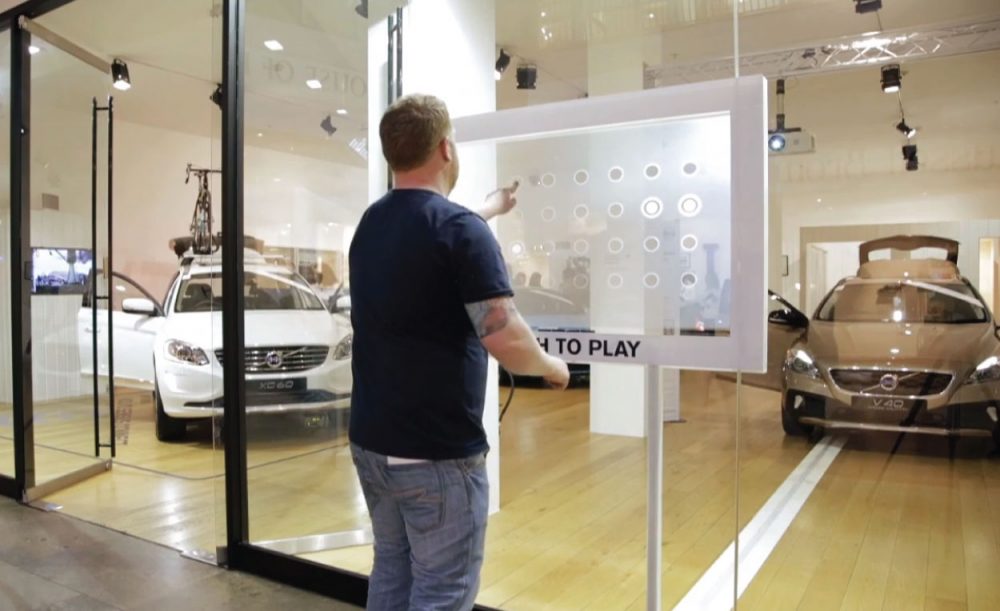 Interactive Window
Looking to create a more engaging showroom without the need for too much disruption? Why not consider upgrading one of your existing displays with our infrared touch overlays. Available in custom sizes up to 10m x 3m, our IR touch frames can grant interactivity to any existing LED, LCD or video wall to create an effective interactive display. Our touch overlays are also commonly paired with rear projection screens as a more energy efficient alternative to interactive video walls.
By granting your existing screens interactivity users can engage with the screens at their own pace, creating a more personal buying journey. Users could browse the latest brochure, request car financing options or even build their own dream car without the pressure of a sales assistant standing by.
Read more

> > >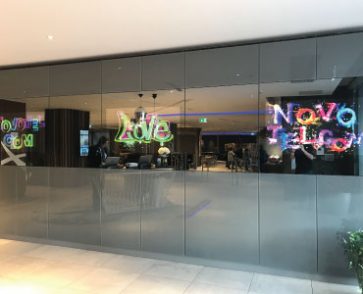 Mirror Video Wall
Create the illusion of a larger interior space without compromising on display space with our Mirror Video Walls. With high brightness LED options for bright environments or long distance applications as well as customisable video wall formats, you can create the perfect display wall for your showroom. We can also grant these video walls interactivity using an IR touch frame.
Read more

> > >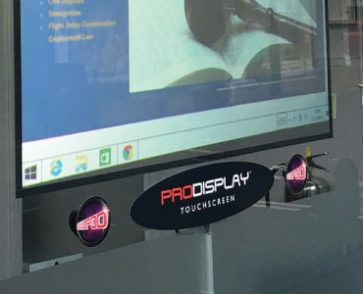 Soundpod Glass Window Speakers
Add an extra layer to your visual displays using our discreet Soundpod surface speakers. These vibration speakers attach to any existing flat surface to transform them into a speaker and can be operated through glass making them a valuable addition to any window display with external access.
Read more

> > >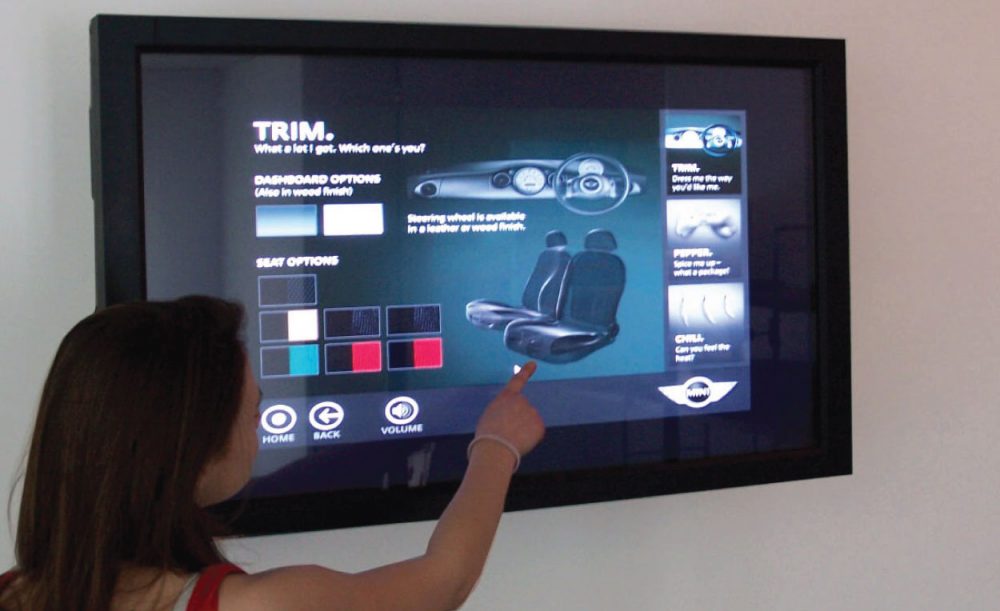 IR Touch Overlay
Pro Display Rear Projection Films are the number one choice worldwide for digital signage and store window advertising. Our unique optical film technology offers superior brightness, contrast and black levels even in high ambient light and daylight. Our rear projection filmshave a self-adhesive layer for easy application to any clear, flat surface. Pro Display's unique range of rear projection films consists of Pro Diffusion, Ultra Black and High Gain, designed to work in a wide range of lighting conditions. For specialist applications, Pro Display also offers Holographic/transparent rear projection film and Sun Readable rear projection films. We can also provide interactive alternatives to each of the rear projection foils in our range including our Clearview (transparent) rear projection transparent film and sunscreen reverse projection film.
Our rear projection foils are ideal for use in high traffic environments, allowing people to pass by the front of the screen, or even interact with the content on screen, without effecting the image displayed.
Read more

> > >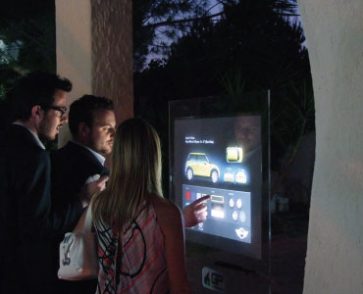 LCD Advertising Screens
Create memorable displays with our range of LCD screens including Transparent LCDs, Mirror Screens and high brightness monitors, ideal for ensuring your message won't be forgotten easily. Our displays cater to all shapes and sizes with plenty of options for customisation to create display systems that are truly unique to your brand.
Read more

> > >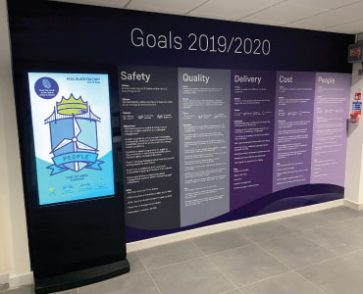 Interactive Kiosk
Interactive Kiosks are a familiar display choice for consumers, being instantly easily recognisable for accessing key information without the need for physical assistance. Offering opportunities like this with Interactive Kiosks can make the customer feel more in control and comfortable, encouraging them to spend more time building trust with your brand.
Read more

> > >
Inspiration
Visit the Pro Display blog to see more case studies and project inspiration, or better yet sign up to our newsletter here to get our latest news delivered straight to your inbox.