Shopping Centres
Shopping centres
Digital Signage & Interactive Solutions for Shopping Centres
Shopping Centres are continually looking for new ways to advertise, inform or entertain with Pro Display screens being adopted to promote store promotions and way-finding.
Pro Display offer a wide range of unique and innovative AV technologies ideal for shopping centres and malls, from our large format Digital Glass rear projection screens to our freestanding kiosks, there is sure to be a solution that suits your needs.
Recent applications of our products has seen it work well as part of high quality visual displays that offer so much more to the customer experience than traditional displays. A great example can be seen at the Dubai Mall, where you can find the Middle East's largest rigid rear projection screen installed at Level Shoes. A projection screen this large undeniably helps to draw the attention of passers-by, raising brand awareness and potentially increasing footfall.
Read more
RECOMMENDED PRODUCTS / APPLICATIONS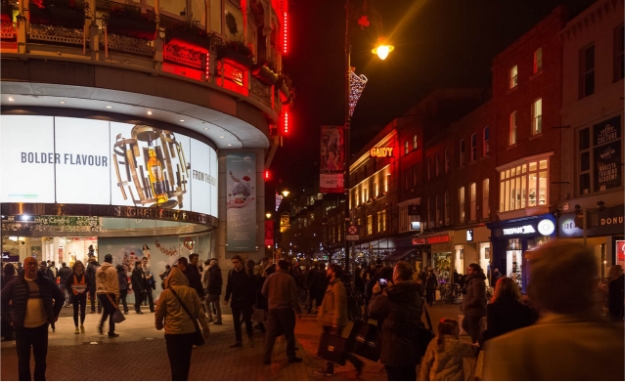 Rear Projection Film
Make the most of unused retail space or upgrade existing window displays with our range of Rear Projection Films. Our range of projection film caters for all environments and budgets, with our team working closely with customers to create the most effective displays. Our self-adhesive films can also be joined to create larger projection walls, ideal for filling the entire surface of a window for maximum effect.
Our rear projection film range also includes a specialist sun readable option that's available in widths of up to 1370mm. Our Sunscreen film is manufactured with an optical light rejecting filter, that deflects external light away from the screen to produce bright, sharp images on screen.
Read more

> > >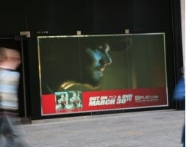 Rear Projection Screens
Rear Projection Screens are ideal for use in high-traffic areas like shopping centres, where the image isn't affected by objects close to the front of the screen. With a range of options including ultra-short throw and fabric projection displays, our rear projection screens are ideal for advertising, entertaining and much more.
Read more

> > >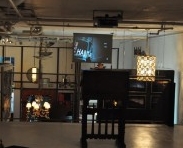 Front Projection Screens
Our Front Projection Screens offer bright HD/4K images without the need for controlled lighting. We also offer specialist Ambient Light Rejecting Front Projection Screens that are designed to work in high ambient light and even direct sunlight, available as both a rigid screen and a retrofit film, ideal for window displays.
Read more

> > >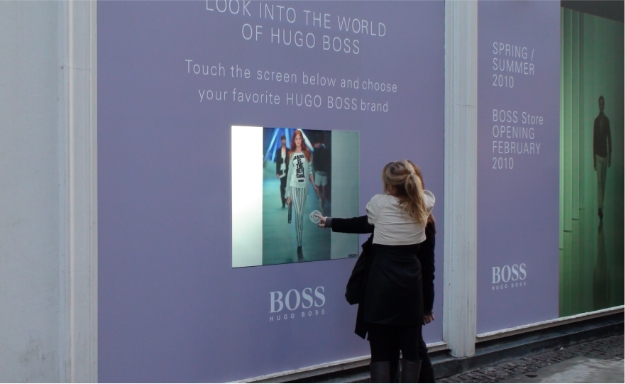 Interactive windows
Give window shopping a new meaning by creating an interactive window using our range of touch foils. Window displays bring life to any shopping centre, allow visitors to engage with the display by integrating one of our interactive foils. Grant touch capabilities to your existing window display with our PCAP Touch Foil, applied to the glass in front of the existing screen to allow users to engage with its content using through glass touch.
We also offer a range of Interactive Rear Projection Foils inspired by our tried and tested range of projection films, including standard and specialist options to suit a range of budgets and environments. Our specialist touch foils include our Sun Readable Projection foil, offering an interactive screen that performs in direct sunlight and our Clearview Touch Foil which maintains the transparency of your window whilst providing an effective interactive display.
Read more

> > >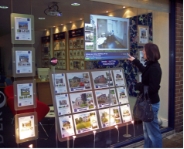 Soundpod Glass Speakers
Add an audio element to any display with our discreet Soundpod surface speakers that turn any flat surface into a speaker. Our Soundpods are best suited to window display applications where the Soundpods can be operated using through glass touch, creating a lasting, more memorable experience for the user.
Read more

> > >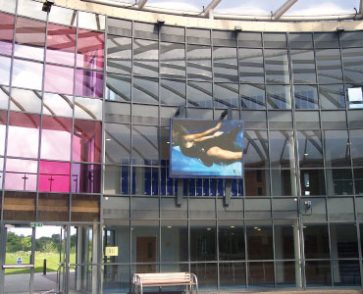 Outdoor LED Screens
Whether it's to draw in visitors from afar or to promote stores in an outdoor shopping village, our Outdoor LEDs provide a solution for everyone. With a range of pixel pitches to choose from, we can accommodate both long distance and up close applications, providing an IP65 rated screen that can withstand rain and perform in tricky weather conditions.
Read more

> > >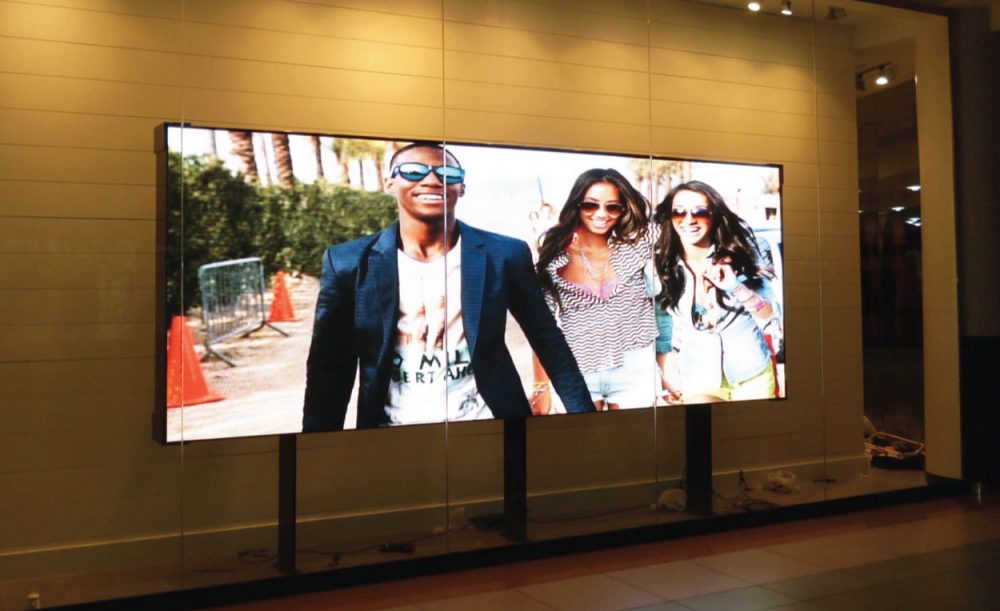 Indoor LED Screens
Create a display that cannot be ignored with our Indoor LED Screen systems, guaranteed to make an impact on your visitors. Our Indoor LED Displays cater to all applications, offering a range of pixel pitches to suit both up close and long-distance viewing. Smaller pixel pitches like our 0.9mm option are ideal for on-the-ground advertising, where viewers from as close as a meter can appreciate the quality of the screen, as well as our 8mm option which is best viewed from 8 meters plus.
These modular screens can be joined together to create displays of any size or formation to suit your requirements. All of our LED Screens come with a control system and basic operating software so you can start using your screen without the need for additional complex software. Shopping centres are often subject to high amounts of daylight or direct sunlight, our screens are available in brightness' of 1,000-4,000 nits guaranteeing performance in challenging lighting conditions.
Read more

> > >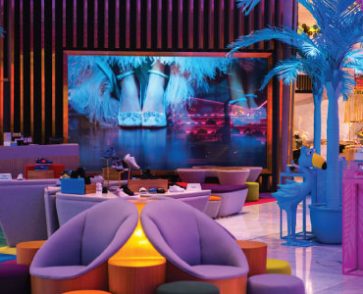 Digital Glass UST Projection Screens
Create large-format projection screens that aren't disrupted by passing traffic with our Digital Glass Ultra Short Throw Projection Screens. We provided the largest rigid rear projection screen in the middle east for the famous Dubai Mall, with the potential to manufacture screens up to 8 x 3meters.
Read more

> > >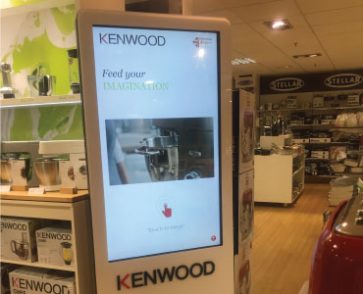 Interactive Kiosks
Interactive kiosks are a recognisable touch screen solution for retail environments that are easy to move and relocate. In busy environments like shopping centres, using a kiosk is a great way to provide information to users because of its familiarity. Whether it's viewing a map of the centre, booking a table in the food court or browsing available offers.
Read more

> > >
Inspiration
Visit the Pro Display blog to see more case studies and project inspiration, or better yet sign up to our newsletter here to get our latest news delivered straight to your inbox.