Posted December 17th, 2020 by Emily Burkinshaw & filed under , General, How To's, Technology.
In recent weeks, news of the imminent roll out of COVID-19 vaccines has seen renewed optimism among the retail industry. However, the forced closure of physical stores earlier this year has given us time to pause and think. In turn, this has led to the entire in-store experience being called into question.
A new report from McKinsey & Company makes it clear that to stay relevant and thrive post-pandemic, retailers must take in-store customer experiences to a new level by embracing technology. Not only must retailers aspire to make the transition from their online presence to in-store experience seamless, but they must also highlight the benefits of shopping in-store and persuade people to overcome the online-first behaviours they have adopted during the lockdown.
How to transform your customers' in-store experience
One such avenue, which had already been making significant inroads before the pandemic hit (and is likely to be the gold-standard moving forward), is Touch Screen technology.
Digital Kiosks let your customers interact with your products and services before they've even been noticed by a member of staff, without compromising the benefits of one-on-one interaction. Our intouch™ LCD Interactive Kiosks offer a vibrant and dynamic way to display in-store offerings  whilst sticking to your brand's signature style with the option of bespoke logo and colour customisations. Offering a free-standing sleek design and 42"or 55" HD 1080p touchscreen, these kiosks are ideal for applications in busy retail environments due to their sturdy protective fascia. They're also a powerful tool in the present challenge of enforcing social distancing within stores, as a kiosk can address most (if not all) customer concerns with reduced interaction.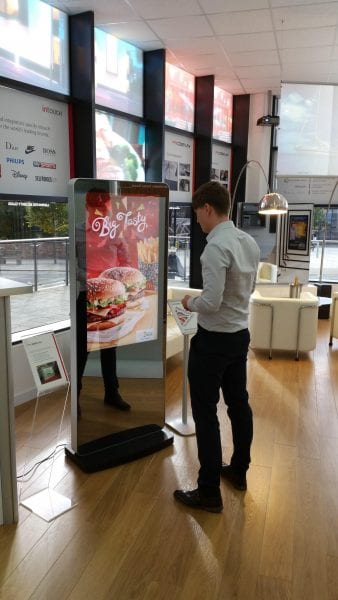 Smart retailers also know that accessibility is key to ensuring a seamless customer experience in physical brick-and-mortar stores. Digital technology, like our intouch™ LCD Touch Kiosks , can instantly open your store up to diverse audiences with multilingual functionalities as well as making them more accessible to your disabled customers.
Retail trends of the future
While adopting Interactive Kiosks and Touch Screens into your store is a way to catch up to current best practices in retail, here at Pro Display, we're also looking to the future. The stores of the future will go beyond just engagement and sales—they will offer immersive, even futuristic experiences that not only compel customers to visit, but also to spread the word not just by mouth, but by sharing their experiences on social media and attracting new visitors from further afield.
Consider Interactive Mirrors, for example, designed to seamlessly integrate online and in-store shopping experiences. Our Interactive Mirrors come complete with an HD or a 4K commercial-grade screen, with Mirrorvision optical glass and all the functionality and features of our intouch™ technology. Our mirrors come with a range of finishing options, offering high reflectivity and image quality with lasting durability.

Our Interactive Mirrors upsell to your customers at the perfect time, allowing you to advertise similar items or 'frequently bought with' stock when it matters. This opens up a whole new world of advertising previously not possible in store unless using a premium personal shopper service by creating a personalised shopping experience without the hassle or the price tag.
At Nike Town, our Interactive Mirrors allow shoppers to get to know the product before they purchase therefore finding their perfect fit. They can also find out more information about each product, like which bras are best for which workouts, and read reviews from previous purchasers as well as viewing class times and upcoming events in their local community.
Nike are no stranger to embracing technology within retail store design, their President of Consumer and Marketplace, Heidi O'Neill, said this about their newest 'House of Innovation' "When consumers step into Nike Paris, they will experience our largest, most digitally connected and immersive retail concept in the world. The strength of our digital portfolio combined with product innovation and amazing physical spaces, will connect members to the community of sport and to one-of-a-kind experiences, serving them in an incredibly personal way. We are so excited to bring Nike Paris to the city and to the world."
To meet such high standards we worked with Nike to provide them with nine Transparent LCD Display Screens, used as way finders around their huge store on the prestigious Champs de Elysess, Paris. This store not only shows us a glimpse into the future of physical shopping outlets, but how unique technologies like Transparent LCD Screens can be used for more than just POS displays, to create a truly memorable experience that makes shopping instore worthwhile.
In what's inevitably going to be a hyper hygiene-conscious world post-pandemic, an Interactive Mirror or a carefully placed Transparent LCD Display, will set you apart from the competition by giving your customers an elevated shopping experience without compromising on their health and safety.
Moving Forward
As we emerge from a tough lockdown, it's no longer enough for retail businesses to have survived the storm. A more proactive, tech-powered approach must begin to redefine the entire brick-and-mortar experience. For more information on how our range of innovative products can help you create a seamless in-store customer experience, get in touch with us today.