Outdoor High Brightness Display
Outdoor high brightness LCD display for Digital Signage and advertising
Our outdoor high brightness screens come complete with an IP65 weatherproof housing making these digital signage displays the ideal choice for outdoor advertising.
Standard IP65 Outdoor High Brightness Screen Sizes
We also offer Outdoor Advertising Kiosks in the above standard sizes from 43″-86″
COMMERCIAL GRADE OUTDOOR DISPLAYS
These high bright outdoor displays are manufactured using a commercial grade LCD panel with a brightness level of 2,500 – 3,000 nits suitable for 24/7 operation and an anti reflective surface to ensure the displays visibility in direct sunlight while they're also available as an outdoor touch screen with our PCAP touch foil technology integrated behind the toughened glass fascia offering up to 10 point multi touch functionality. Options are available with an integrated Android media player or alternatively, connect your own Media Player or PC via HDMI while our touch screen versions are also available which support touch via USB.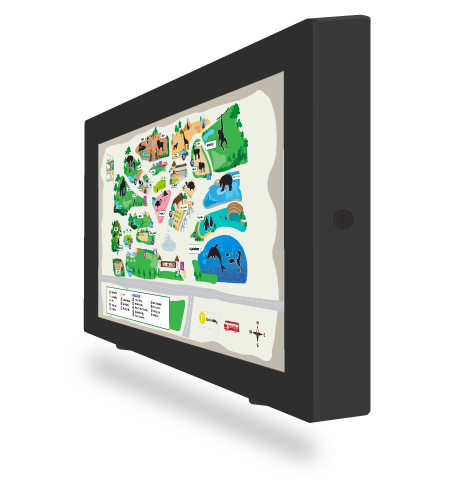 OUTDOOR HIGH BRIGHTNESS DISPLAY FEATURES
Standard screen sizes from 32" to 65"

2,500 nits – 3,000 nits brightness available

IP65 weatherproof housing with internal fans

Integrated USB media player




Supports external Media Players or PC's

Commercial 24/7 display

Portrait or Landscape options available

Touch screen options available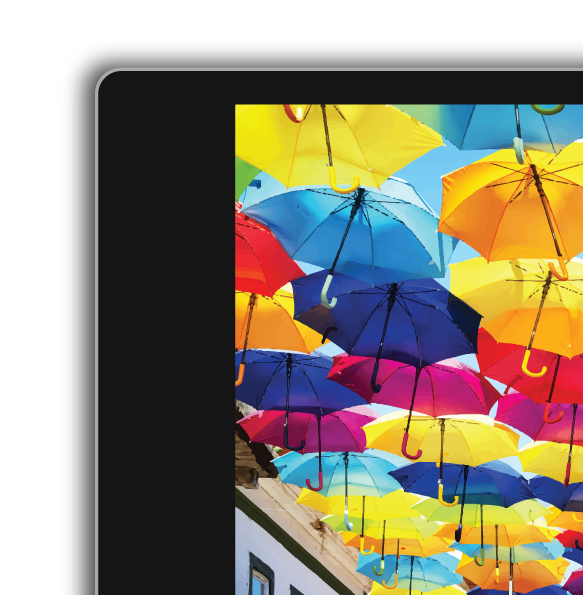 OUTDOOR SCREENS WITH INTELLIGENT FAN COOLING SYSTEMS
Our High Brightness Outdoor Interactive Screens are manufactured with an intelligent fan cooling system, allowing the display to operate at optimum standards in 24/7 applications in even challenging outdoor environments.
DOWNLOAD OUTDOOR HIGH BRIGHTNESS TOUCH SCREEN BROCHURE
DESIGNED TO PERFORM IN DIRECT SUNLIGHT
Our outdoor digital signage displays are also available as a freestanding kiosk or totem as a standard advertising display or a touch screen kiosk.
Our Digital Signage screens are manufactured specifically to perform in brightly lit environments, even in direct sunlight, making them the ideal choice for outdoor advertising displays. With a fully protected IP65 rated enclosure, you can be confident in this screen's reliability and longevity.
SUITABLE FOR ALL WEATHER CONDITIONS
From their outdoor suitability to high brightness display, our Outdoor Digital Signage displays have been designed for high impact use so you can make sure that your advert, brand message or information is displayed effectively. These screens are especially effective in public spaces and shopping centres where the competition for attention is high, providing an eye-catching image that stands out even in tricky weather conditions against other advertising screens.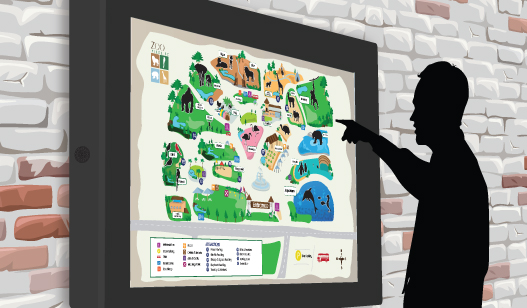 INDOOR HIGH BRIGHTNESS SCREENS
For indoor applications, we also offer commercial grade, sun-readable High Brightness LCD Screens in sizes 32″ – 65″, ideal for use in shop windows, store displays and information points. These screens offer the ideal solution for indoor applications that require a brighter display than usually expected; such as bringing attention to product launches, special displays or important information. With Wi-Fi and interactivity compatibility, Pro Display's High Brightness display range offers an array of options ideal for your application.
As Seen In
Visit the Pro Display blog to see more case studies and project inspiration, or better yet sign up to our newsletter here to get our latest news delivered straight to your inbox.
ANY QUESTIONS?
ANY QUESTIONS?
We manufacture in Britain and ship worldwide – if you need further information, a pricing quote, or want to discuss ideas for using our Outdoor High Brightness Displays click the link below to contact us, email us via info@prodisplay.com or call us on +44 (0)1226 361 306.
Outdoor High Brightness Display
Outdoor high brightness LCD display for Digital Signage and advertising
Our outdoor high brightness screens come complete with an IP65 weatherproof housing making these digital signage displays the ideal choice for outdoor advertising.