Posted July 22nd, 2021 by Emily Burkinshaw & filed under , General, Inspiration, Technology.
In recent years, the "magic mirror" has become more than just a fairy-tale feature and is now a recognisable element in many weddings, events and even in peoples homes. Whilst popularly used in these applications there are many ways mirror display technology can be used in various environments, whether it's to enhance your interiors or grab the attention of passing traffic. Our Mirrorvision Range is highly customisable and has been championed by world renowned brands like Novotel and Nike, here we detail some of the innovative ways our mirror screen technology can be used in both residential and commercial environments.
Oversizing your mirror
Bigger is better right? Our Mirrorvision range is custom manufactured to your measurements, allowing us to produce screens with a perfect fit mirrored overlay as well as oversized mirrored panels and custom shapes and sizes. A perfect example of this is in our Full Length Mirror TVs where ,as standard, a 43" 4K Smart TV is integrated into a larger portrait mirror, offering a clever display solution that is tailored to more cosmetic applications like bedrooms or dressing rooms.
As well as oversized Mirror TV's, we can also manufacture matching mirrored surrounds allowing you to create stunning feature wall solutions. In one project we supplied and installed a 3-piece Mirrorvision Smart TV and surround that was made to measure for install around the existing fireplace in the home. Alternatively in a commercial project, we supplied 8 pieces of our mirrored glass including 2 of our 86" Professional Mirror Screens to create two huge mirror facades with integrated displays. With discreet join lines, our technology when used in this way creates a stunning visual effect and provides a luxurious display solution that suits any environment.
Mirror Displays with Impact
There are multiple ways to create a display that packs a punch, the most common being the size and the brightness, as both are more likely to attract the attention of traffic. Our Mirrored LED Walls provide you with the brightness of an LED screen with the contrast of a reflective mirror. Available in pixel pitches from 0.9mm our Mirror LED screens can be enjoyed from both close up and long distance. This innovative combination of technologies gives you the power of a high brightness LED screen with the ability to also create a reflective effects screen using softer video or image content.
Similarly, we also offer 1080p HD LCD Mirror Video Walls that can even be granted interactivity with up to 32 touch points. The beauty of both our LED and LCD video walls is that they are set up in a modular format allowing you complete control over the size of your display. Hotel giant Novotel opted to use 3 Professional Mirror Displays with oversized glass overlays to create a unique visual display in the lobby of their Heathrow Airport T1, T2 & T3 hotel.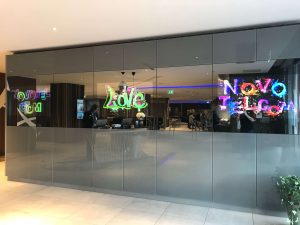 DIY Mirror TV Kits
If you're looking to upgrade your existing TV or display, our DIY kits offer a straightforward solution that completely transforms your interior. Combining your TV and mirror allows you to make the most of your space whilst maintaining the aesthetic of your interior. Our Mirror TV Kits contain a Mirror TV Overlay that's manufactured bespoke to your requirements, integration adhesive, IPA wipes and a fool proof installation guide.
During the consultation process we help you to create the perfect Mirrorvision solution from choosing the right tint to adding a finishing touch with a frame from our luxurious range. Whilst the modern appeal of our frameless Mirror TV's is popular many like to match their TV Mirror to their existing interior opting for one of our decorative frames, with sizes from delicate 21mm options to ornate 70mm designs.

Interactive Mirror Displays
Interactive displays are great way to engage with customers and entice passing traffic to connect with your brand. Working particularly well in retail environments our Interactive Mirror Displays are a great way to upsell products and convert more business. Positioning these screens in specific areas like changing/fitting rooms allows you to have more impact at key points in the customer journey. Our touch screen mirror displays can even be paired with many different technologies to create more personalised experiences. For instance, an RFID reader could be used alongside our reflective displays to allow users the option to check stock levels of the items in hand and even receive personalised product suggestions based on their pickings. Using our technologies in this way provides a more personal experience when shopping in brick-and-mortar stores making the in person commute worthwhile as opposed to online shopping.