Anti-Glare Glass Film
Anti Glare Glass Film designed to minimise reflection and glare across any TV or display screen surface
Pro Display Anti Glare Glass Film provides the ideal solution to reduce glare and to diffuse harsh reflections on TV's or Displays affected by high ambient light and sunlight.
Standard Anti-Glare Film Sizes
Roll Width: 1200mm
Roll Length: 10 metres & 30 metres
Large format Anti-Reflective/Anti Glare protective glass overlays are also available in sizes up to 4500mm x 2250mm.
ENHANCE YOUR DISPLAY
This anti reflective film is available as a self-adhesive retrofit product, designed for installation to TV and screen surfaces. To achieve optimum performance, we recommend our Anti Glare Glass Film is installed as close to the screen surface as possible. For soft LCD screen surfaces, we recommend the film is installed to an additional glass or acrylic panel for installation to the screen bezel or in a frame in front of the display.
Our Anti Glare / Anti Reflective film can also be installed directly to store windows in front of displays, video walls or glass and acrylic projection screens. Using anti reflective film for shop windows instantly makes your display more eye-catching, diffusing the light to keep your brand message visible and impactful to your audience.
REMOVE DISTRACTING REFLECTIONS
Anti-Glare Film offers a quick and easy solution to enhance screens suffering from distracting reflections on the display surface. This matte retrofit film offers a particularly noticeable difference with darker content where reflectivity is more obvious, distributing and blurring the light to create a clearer image that can be appreciated both up close or at a difference.
WATCH FULL VIDEO HERE
RETROFIT SCREEN PROTECTION
Not only does our Anti Glare film for screens make your image more readable, but the surface of the film also includes a UV stable hard coating, forming an impact-resistant shield that is anti-scratch, anti-graffiti and chemical resistant.
The non-reflective film has a matt finish, which also provides a super smooth non-friction surface for touch screen displays and is durable and easy to clean. By upgrading your interactive display with anti-glare touch screen compatible film, your content instantly becomes more attractive to the user, no longer ruining their experience with a distracting reflection.
Anti-Glare protection film is available in standard screen sizes, per metre off the roll and 10 metres or 50 metre rolls (width 1200mm).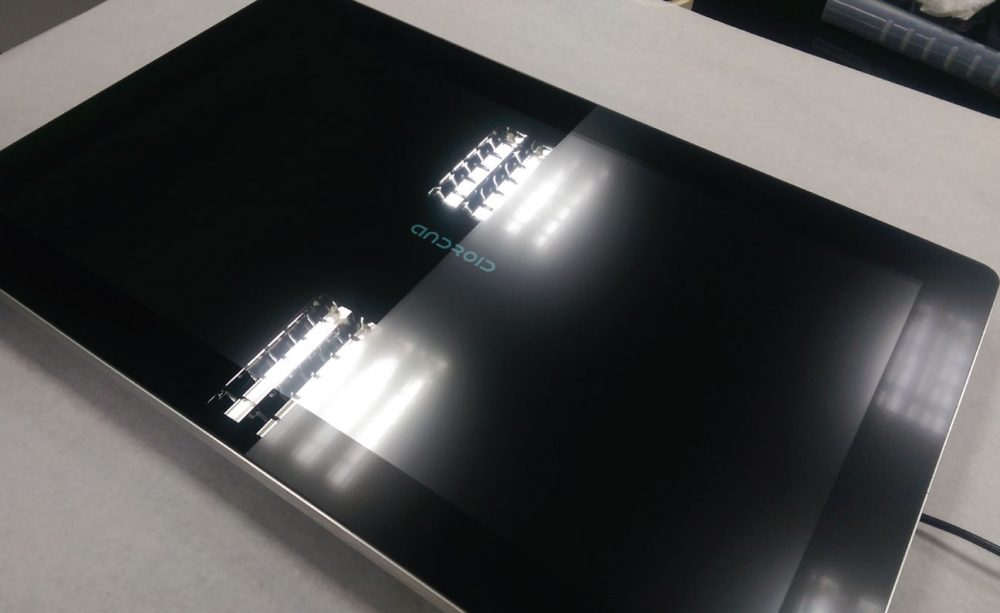 Can you get Anti Glare Film for TV'S?
Yes, we  offer custom Anti Glare Glass Overlays, manufactured using toughened safety glass which is ideally suited for installation to LCD displays for when applying a film directly to the LCD surface isn't suitable. These overlays are also ideal if you're looking for Anti Glare Film for Outdoor TV's, reducing glare as well as protecting the screen from heavy wear and tear. Please note, the film is installed wet and we only recommend installation to TV's which have a hard acrylic or glass fascia protecting the LCD panel.
DOWNLOAD DATASHEET [PDF]
As Seen In
Visit the Pro Display blog to see more case studies and project inspiration, or better yet sign up to our newsletter here to get our latest news delivered straight to your inbox.
ANY QUESTIONS?
ANY QUESTIONS?
We manufacture in Britain and ship worldwide – if you need further information, a pricing quote, or want to discuss ideas for using our Anti-Glare Film click the link below to contact us, email us via info@prodisplay.com or call us on +44 (0)1226 361 306.
Anti-Glare Glass Film
Anti Glare Glass Film designed to minimise reflection and glare across any TV or display screen surface
Pro Display Anti Glare Glass Film provides the ideal solution to reduce glare and to diffuse harsh reflections on TV's or Displays affected by high ambient light and sunlight.