Sports Facilities
Sports Facilities
Digital Signage & AV Display Technology for Sports Facilities & Arenas
Innovative display technologies for advertising, commerce and coverage of any sporting stadium or event.
Sports stadiums and arenas around the world are now heavily implementing digital signage, whether it's our LED scoreboards / perimeter systems or large format projection technologies. Recent developments in the Pro Display product range also sees Transparent LCD displays rise to the plate in offering a high quality and breath-taking transparent display cases, allowing a video to be played over the top of the case contents, potentially re-playing the moment a trophy was won for example.
Read more
RECOMMENDED PRODUCTS / APPLICATIONS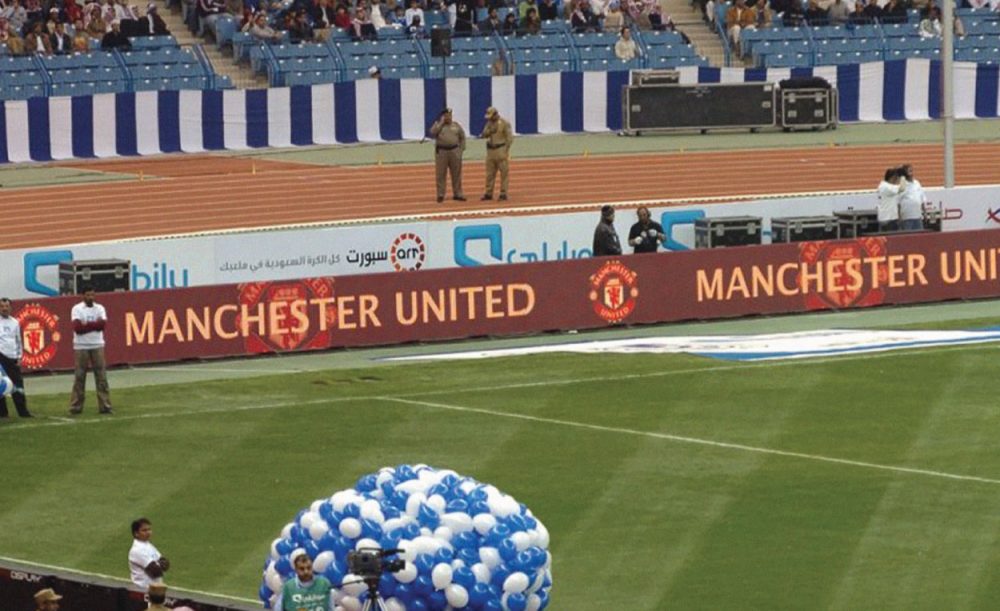 Perimeter Systems
Bring your stadium into the 21st century with our LED Perimeter Systems, a high brightness digital advertising solution. With solutions for both indoor and outdoor applications, these perimeters offer a dynamic alternative to the more traditional static systems. Our LED Perimeters are manufactured in a modular system, allowing you to create custom lengths to suit your venue.
Our LED Perimeter Systems meet UEFA standard compliance, offering the expected quality and reliability at such a sporting level. Such accreditations include the use of our perimeters in a special football game between Manchester United and Al-Hilal of Saudi Arabia.
Read more

> > >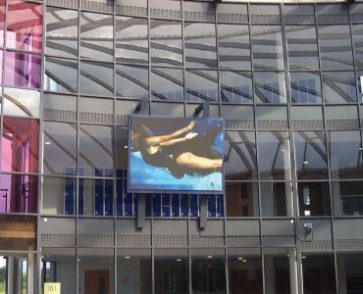 Indoor LED Screens
Enhance your customer experience by using our Indoor LED screens at your next sporting event. With a range of solutions including screens suited for up close and also long-distance viewing, you can ensure no one in your stadium misses out on the action. Shipped in a modular format, you can create screens of any size to suit your environment.
Read more

> > >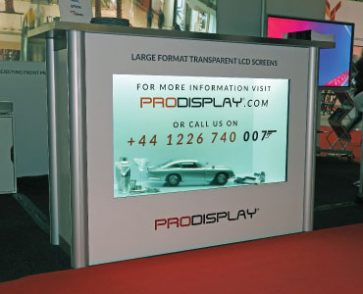 Transparent LCD Showcase
Perfect for trophy cabinets and stadium tours, our Transparent LCD's combine digital and physical displays with a stunning effect. By adding trophies and memorabilia to the display case, the transparent LCD then layers content like show reels, hall of famers or team branding to create a more dynamic and boisterous display.
Read more

> > >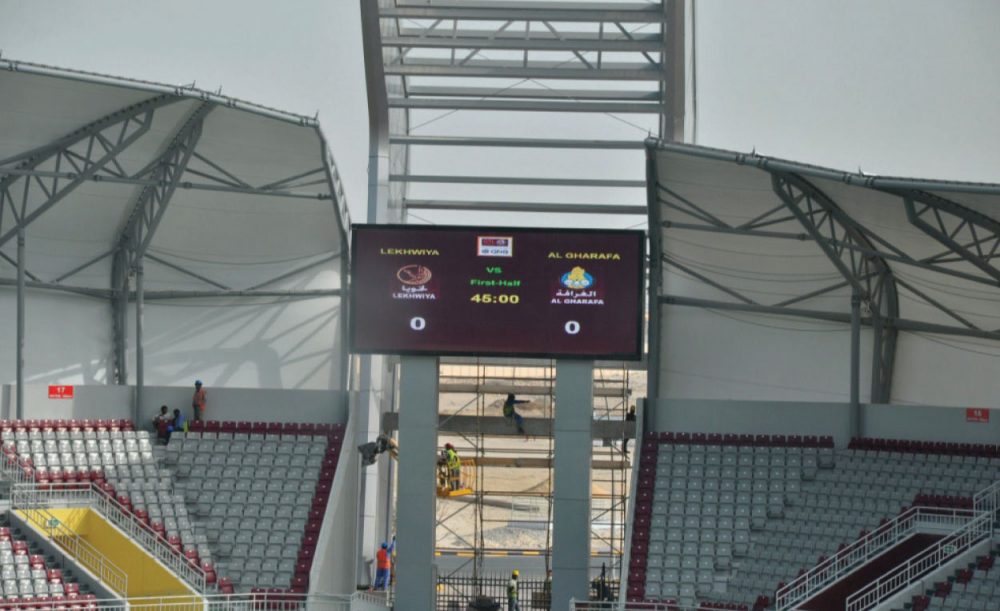 Outdoor LED Screens
Create displays that are guaranteed to be noticed with our Outdoor LED Screens. With a range of options to suit different viewing distances, these high brightness screens are the perfect edition to any stadium, pitch or leisure centre. Manufactured to withstand tricky weather conditions these IP65 rated screens perform even in direct sunlight, offering a reliable screen no matter what the weather.
Our outdoor screens are manufactured in a modular format, giving you the flexibility to create screens of any shape and size. Our LED screens are easy to set up and can run content without the need for complicated specialist software.
Read more

> > >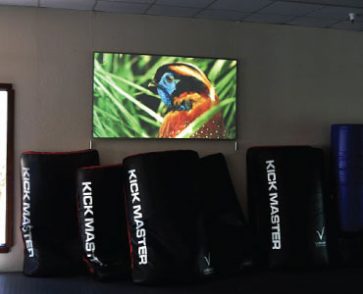 Front Projection Screens
We offer a range of front projection screen solutions suitable for sporting environments. Some of our solutions include ultra-short-throw screens, ideal for busy environments like classes as well as our ALR screens, manufactured to perform in daylight and high ambient lighting environments like gyms or swimming pools.
Read more

> > >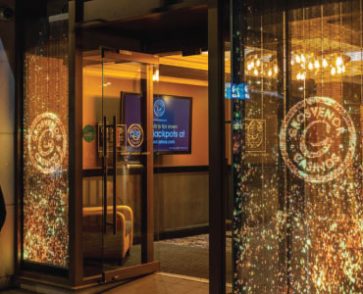 Transparent LED Screens
Transform any glass façade without blocking your vision with our Transparent LED Screens. Offering the brightness expected from an LED display, these transparent screens are built with gaps in between the pixels, allowing passers-by to see in and out but still providing an eye catching display that can even be appreciated from a distance.
Read more

> > >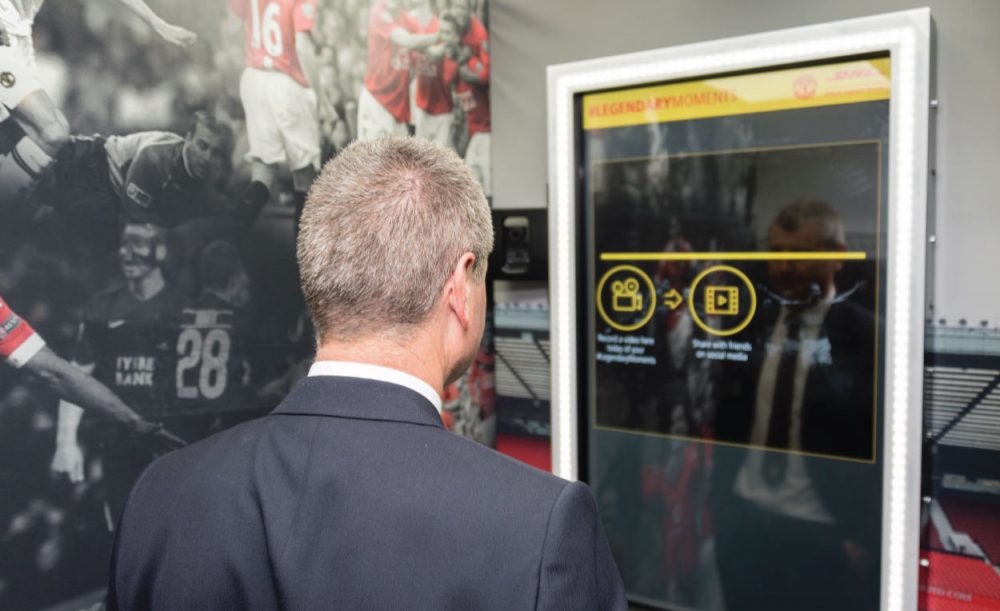 Interactive Kiosks
Touch Screen Kiosks have a range of uses within sports facilities, designed to improve both productivity and customer experiences. In smaller venues like leisure centres or gyms, kiosks could be used by members to book classes & training sessions, in turn freeing up staff to focus on maintenance and more important tasks. In environments like stadiums or arenas, kiosks can be used as a recognisable information point for visitors or can be used for marketing and promotion.
One such project includes Manchester United's DHL fan booth at the Old Trafford Stadium. Our Kiosk screens were used as part of a promotional campaign by Manchester United and DHL to capture the favourite football memories of the fans.
Read more

> > >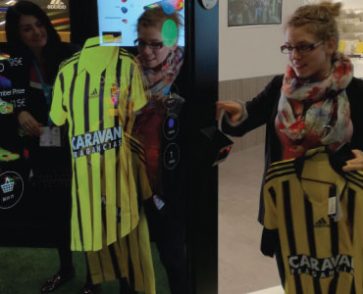 Mirrorvision Screens
Take your studio, changing room or gym to the next level with our range of Mirrorvision screens. Our Mirrorvision products combine mirror technology and digital signage to create a polished, exciting display solution. We can manufacture custom Mirror TV's, Mirrored LED & LCD Video Walls as well as interactive magic mirrors.
Read more

> > >
360 Projection Screen
Perfect for large spaces and atriums, our 360 screen offers a projection solution that can be appreciated for all angles. These 360 dual image screens can be used with front or rear projection, producing a mirror image on one side and can be manufactured in the form of a flexible PVC film to create dynamic hanging displays.
Read more

> > >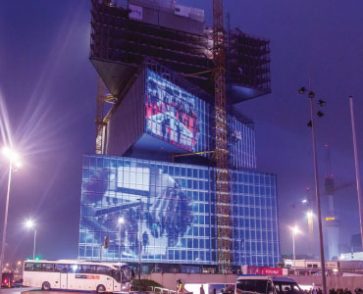 Projection Mapping Film
Turn your building into a display with our Projection Mapping Film. Designed to be applied to glass our projection mapping film is used with front projection, to create HD/4K projection screens at a huge scale. We also offer semi-transparent options that maintain a field of vision through the glass.
Read more

> > >
Inspiration
Visit the Pro Display blog to see more case studies and project inspiration, or better yet sign up to our newsletter here to get our latest news delivered straight to your inbox.