Restaurants
Restaurants
Digital Signage & Interactive Solutions for Restaurants & Cafes
Many restaurants and cafes are effectively integrating Pro Display Interactive Window technology allowing customers to browse the menu before entering.
Interactive Windows can also be combined with Soundpod glass speakers to convey promotional messages or ambient music. Not only this, but recent product developments in our interactive range also sees amazing AV technologies such Interactive Touch Tables added to the list, allowing customers to place orders from their tables! Mirror screen technology also works incredibly well in restaurant applications, often accenting the interior design whilst offering the venue an additional digital signage solution that is both productive and impressive.
Read more
RECOMMENDED PRODUCTS / APPLICATIONS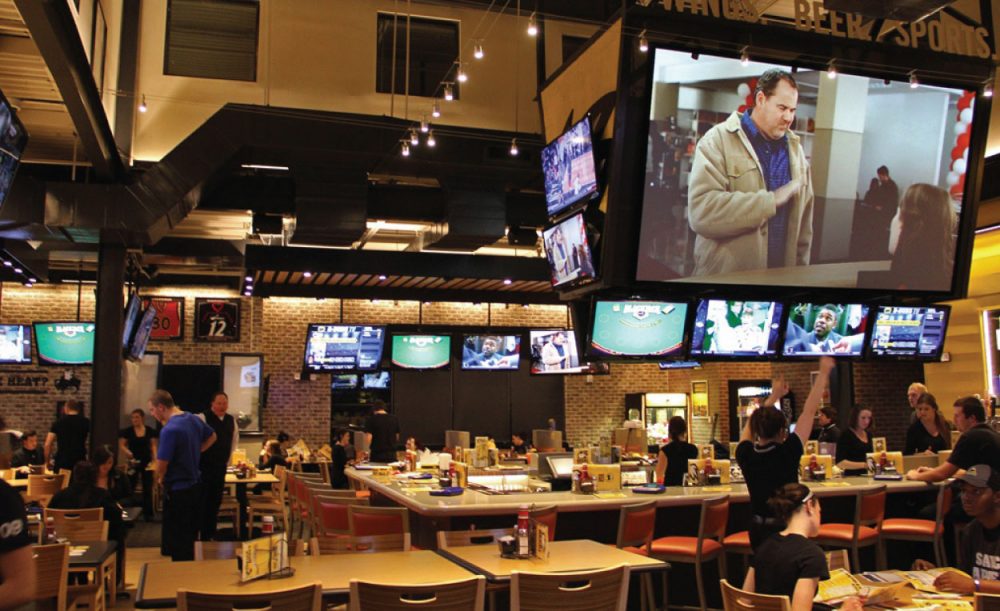 Front Projection Screen
Front projection has always been a popular choice for pubs and sports bars, with our Front Projection Screens used in Buffalo Wild Wings, USA to showcase the big moments in the sporting calendar. Designed to excel in even brightly lit environments, these projection screens offer superior performance over other conventional options whilst being more energy-efficient than LCD alternatives of the same size. Our Front Projection Screens are designed to maximise the potential of low-end projectors to produce more captivating displays.
As well as our standard range of HD/4K projection screens, we also offer Ambient Light Rejecting screens designed to work with UST projection and in direct sunlight as well as our Front Projection Whiteboards that can be used with dry-wipe markers – perfect for quiz or games night!
Read more

> > >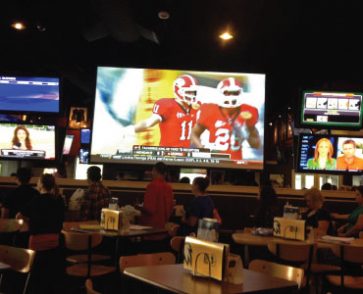 360 Projection Film
Ideal for venues like sports bars and pubs, our 360 projection film provides two displays for the price of one. Our 360 film can be projected on from either side, offering a mirror image on one side of the screen. These screens can be placed around the restaurant and appreciated from all angles without the need to invest in double the displays.
Read more

> > >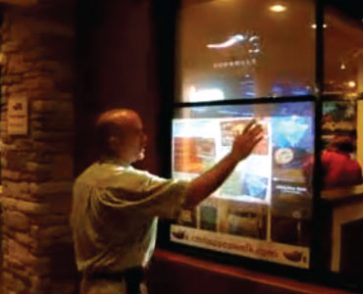 Interactive Touch Foil
Allow passing traffic to engage with your venue at all times of day with our range of touch and projection foils. Accessed using through glass touch, these touch foils can be paired with existing screens or combined with our specialist rear projection films to create interactive window displays where users can browse the menu and upcoming events or even book a table.
Read more

> > >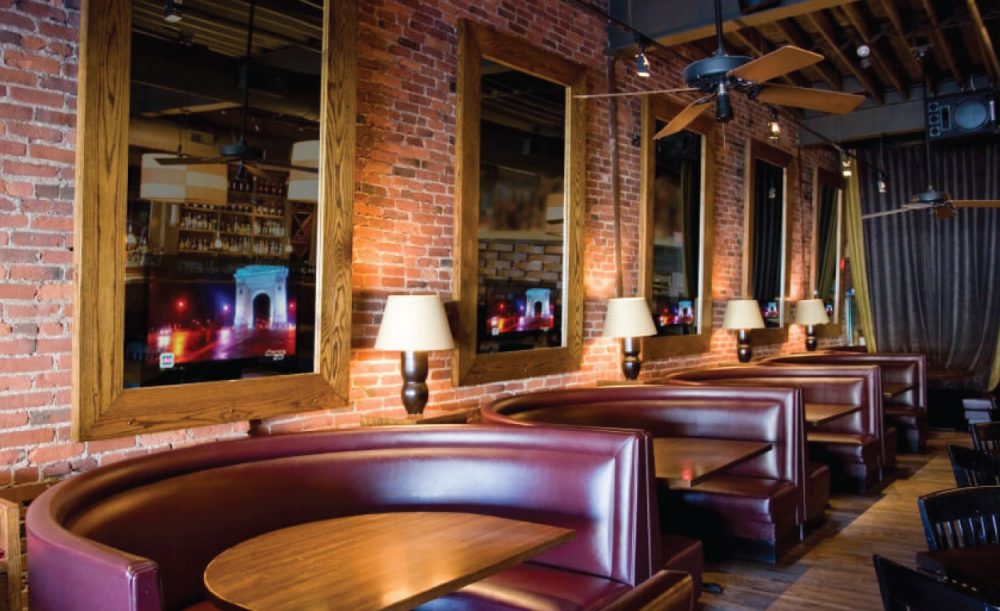 Magic Mirror Screens
With mirrored walls often used to create the illusion of a larger space, why not wow guests even more with our magic mirror screens. Our mirror screens can be customised to meet your exact requirements, including oversizing the mirrored overlay as well as integrated into the décor, camouflaging the screen when not in use. These mirror screens are a great way to create a more versatile entertainment space, appearing as a chic mirror wall when turned off, but when switched on can be connected to a TV box to show the cup final or promote the unique events held there that day.
As well as being used effectively as a hidden screen solution, content can be prepared to appear as if floating on the mirror itself. By placing content on a black background the rest of the TV surface stays hidden in the reflection, allowing for messages to pop out at the user like in our Mirror Video Wall used at Novotel's Heathrow Hotel.
Read more

> > >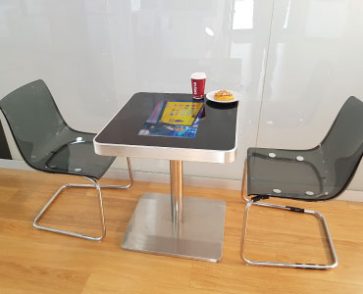 Interactive Touch Tables
Make dinnertime exciting with our interactive touch tables that can be manufactured to suit your requirements. From ordering your meal to playing themed games our touch tables are especially appealing for family venues, offering entertainment for the whole family without leaving the table.
Read more

> > >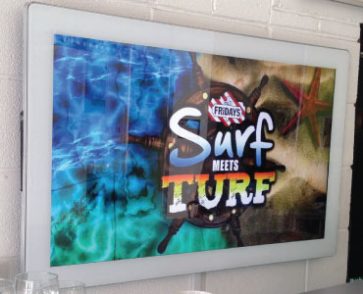 High Brightness LCD Screen
Stand out from the competition with our High Brightness LCD screens. Advertise today's specials or upcoming events that can be noticed from a distance to entice new customers. We also offer weatherproof Outdoor High Brightness screens as well as interactive solutions that are suitable for 24/7 commercial use.
Read more

> > >