High Brightness Display
High brightness LCD screens for store window displays and digital signage
Our high brightness LCD screens provide a sun and daylight readable solution for store window displays suitable for 24/7 operation. High brightness touch screens are also available on request.
STANDARD HIGH BRIGHTNESS SCREEN SIZES
*Custom sizes are available on request
HIGH BRIGHTNESS DISPLAY FEATURES
High brightness displays provide a bright and vibrant solution for window advertising and brightly lit environments. The displays are manufactured using premium LCD panels and incorporate a slimline housing with options available up to 2,500 nits brightness.
Standard screen sizes from 32" to 65"

1,500 nits and 2,500 nits brightness

Integrated USB media player

Supports external Media Players or PC's

Commercial 24/7 display

Portrait or Landscape options available

Touch screen options available
SUN READABLE LCD DISPLAYS
Our High Brightness Indoor Displays are the ideal choice in locations were the lighting cannot be controlled, like window displays where the screen is subject to direct sunlight. With options for brightness's up to 2,500 nits, our High Brightness Screens are a popular display choice for use in hospitality settings like bars & pubs and also in retail advertising projects.
WATCH FULL VIDEO HERE
EFFECTIVE WINDOW DISPLAYS
Our LCD high brightness display is manufactured specifically to perform in brightly lit environments, even in direct sunlight. They are ideally suited to a number of digital signage applications in bus / train stations, airports, and retail store windows.
A common problem with creating an effective window display is how to combat the effect of harsh sunlight during your busiest hours that renders your advertising unreadable. Our daylight readable LCD displays are over five times as bright as standard residential TV's, guaranteeing that your message will be seen.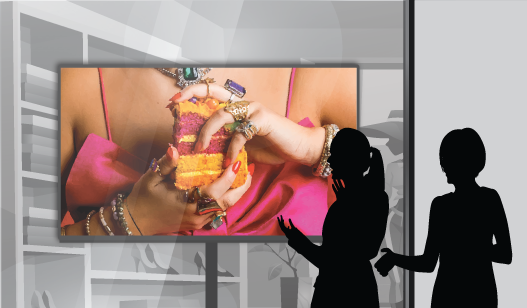 SIMPLE SETUP
Our high brightness LCD panels are quick and easy to set up, coming complete with an integrated Media Player for USB playback or just as a monitor for connecting your own Media Player or PC. Alternatively, connect a digital TV tuner via HDMI to create a high brightness TV for use in brightly lit environments like pubs, bars and restaurants.
The commercial grade high brightness display is designed for 24/7 usage, offering high contrast, excellent colour reproduction with a backlight option producing a brightness display of 1,500 or 2,500 nits.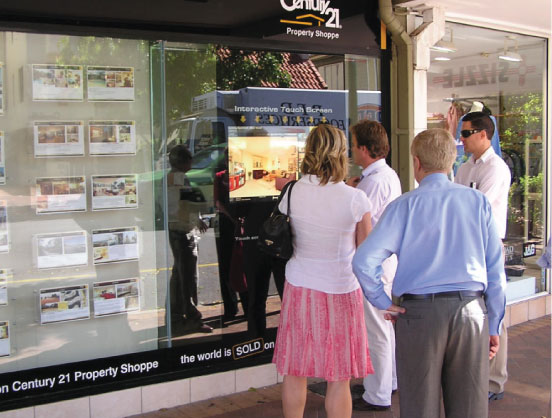 INTERACTIVE UPGRADE
Our sunlight readable displays are also available with a touch screen overlay or alternatively, a PCAP touch foil for touch screen window displays. This technology works by installing an interactive touch foil on the back of the store window, allowing users to interact with the content on the screen from outside the store. If you're experiencing glare on standard LCD displays, we can also provide anti glare glass overlays to combat sunlight and reflections on your screen.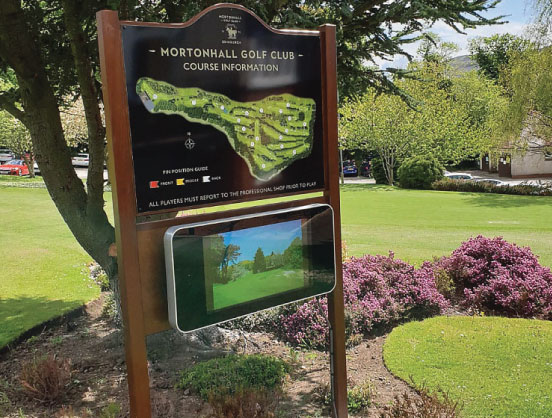 OUDOOR HIGH BRIGHTNESS SCREENS
For outdoor applications, we also offer outdoor high brightness displays which come complete with an IP65 weatherproof housing. These screens offer the ideal solution for outdoor applications that require a high bright display, bringing attention to special offers, new products or important information.
As Seen In
Visit the Pro Display blog to see more case studies and project inspiration, or better yet sign up to our newsletter here to get our latest news delivered straight to your inbox.
ANY QUESTIONS?
ANY QUESTIONS?
We manufacture in Britain and ship worldwide – if you need further information, a pricing quote, or want to discuss ideas for using our High Brightness Displays click the link below to contact us, email us via info@prodisplay.com or call us on +44 (0)1226 361 306.
High Brightness Display
High brightness LCD screens for store window displays and digital signage
Our high brightness LCD screens provide a sun and daylight readable solution for store window displays suitable for 24/7 operation. High brightness touch screens are also available on request.