Anti-Glare Solutions
Anti-Glare Solutions
Pro Display's Anti-Glare Solutions provide the ideal fix for reducing glare and diffusing harsh reflections of screens situated in areas of high ambient light and sunlight. Our specialist optical film is incredibly versatile, available in a range of formats for a wide selection of environments.
Our self-adhesive retrofit option is designed for installation onto hard or rigid surfaces like acrylic or glass fascias. This Anti-Glare film can also be directly installed onto glass, store windows or video walls to reduce any glare or reflection and can be bought in standard sizes from 27" to 95" as well as in large format custom sizes and by the roll.
To combat glare on more delicate screens including Smart TV's and other LCD displays, we offer a protective Anti-Glare Overlay which can be easily fitted to any flat-screen TV, commercial monitor, or touch screen. Like our Anti-Glare Film, our Anti-Glare Glass Overlays can be bought in standard sizes (32" to 95") but can also be combined easily with our IR Touch Frames to turn any screen into an interactive display with 6, 12 or 32 touchpoints.
Both our anti-glare solutions not only offer a quick and easy fix for high brightness applications, but they also offer protection. Our anti-glare technology is manufactured with a surface that includes a UV stable hard coating, creating an impact-resistant shield for any display that is anti-scratch, anti-graffiti, and chemical resistant.  The matt finish to both solutions also provides a super smooth, non-friction surface for standard and touch screen displays that is durable and easy to clean.
Our technology is manufactured specifically to be applied directly to displays to create anti-glare screens, either directly or as an overlay depending on the technology. By applying the film or overlay as close to the display as possible, you are able to retain the quality of the content on display as well as combatting glare and reflection; the further away from the screen the film or overlay is applied the more the content can appear to be skewed.
Read more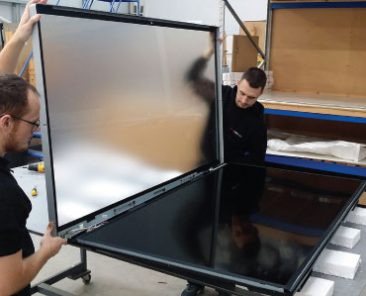 Anti-Glare Glass
Ultra clear protective safety glass combined with our optical Anti-Glare coating. Standard screen sizes and custom panel sizes for…
Read more

> > >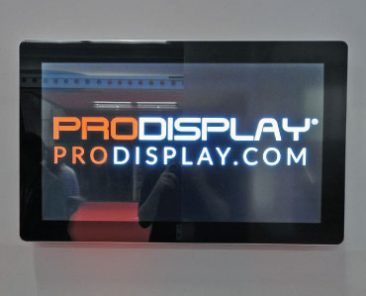 Anti-Glare Film
Self-adhesive Anti-Glare film to minimise reflection and glare. Anti-Glare protection film is available in standard screen sizes, …
Read more

> > >
As seen in
Visit the Pro Display blog to see more case studies and project inspiration, or better yet sign up to our newsletter here to get our latest news delivered straight to your inbox.