Posted May 11th, 2021 by Emily Burkinshaw & filed under , General, Inspiration, Technology.
Projection screens can bring an event, display, exhibit or shop window to life. Clear, crisp, moving graphics and images can show the information most needed at any given moment. It can also catch the eye and boost engagement, as well as add a professional touch to any display.
But as attractive, dynamic, and advanced as projection screens are, they've traditionally had one major weakness. Sunlight. 
Sunlight and outdoor projection
Sunlight can be kryptonite for projection screens, particularly when they're used outdoors. Strong sun shining across a screen, or even weak sun shining directly onto a screen, can render your carefully crafted display instantly unseeable.
The problem with outdoor projection is that the brightness of projection is lower than the brightness of even diffuse sunlight, meaning projection screens struggle to compete with the sun. This is fine if you're projecting indoors in a darkened room, but an issue for outdoor displays and even indoor displays in sunlit rooms, like art galleries and museums.
So, if you are planning a projection outdoors, are you at the mercy of the sun? Can you use a projector in daylight effectively?
With our SunScreen daylight readable projector screens, now you can.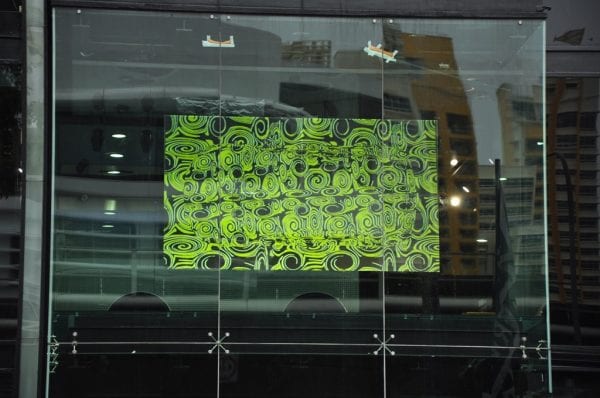 SunScreen Daylight Projector Screen Technology
Pro Display's SunScreen technology is a revolutionary rear projection screen that can be used in daylight or even in direct sunlight!
Our SunScreen rear projection screens contain a light rejecting optical filter that deflects away external light shining onto the screen. Put simply, the surface of the screen reflects away sunlight, or any other external light sources, to provide bright, sharp and crystal-clear images in any setting. 
SunScreen is the only true projection screen technology in the world that can do this, and the only screen that will perform in direct sunlight.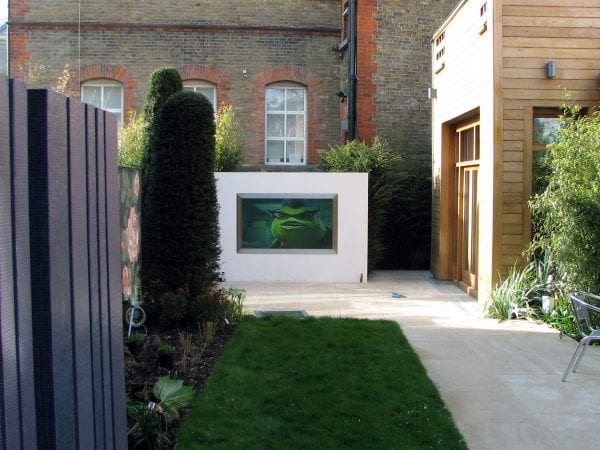 SunScreen Film technology for existing glass surfaces
Our SunScreen technology is also available in a unique light-rejecting film that can be applied to any existing glass surface to instantly transform windows or glass partitions into projection screens capable of offering sharp, bright, crystal clear images.
We also offer a SunScreen Poster System, which includes top & bottom aluminium clip bars and cable suspension systems to allow daylight projection onto a range of other surfaces.
Alternatives to outdoor projection
High brightness LED and LCD screens are also designed for daytime applications and display clear, bright pictures even in strong sun, particularly outdoor high brightness screens. 
Choosing between SunScreen projection screens or LED and LCD screens will depend on the location they're used in, the size required and other factors like your budget constraints.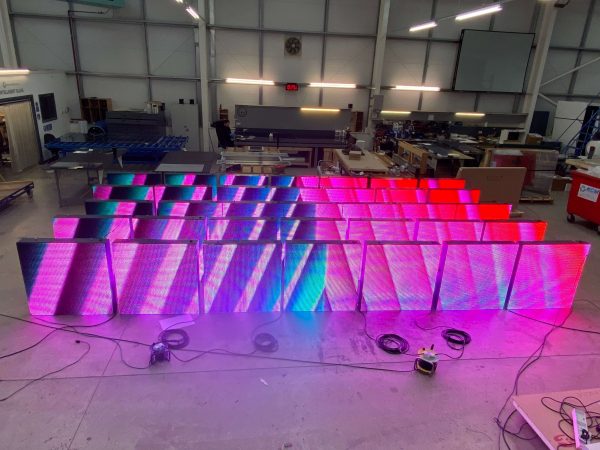 Other tips for outdoor projection
Our SunScreen are the best solutions for outdoor projection however it's important that the screen is housed providing protection from rainfall. The following can also help ensure outdoor screens can be seen during the day:
Use a projector with a high lumen count

: Lumens are a measure of brightness, and the higher the lumen value of your projector, the more visible the projection will be in daylight conditions. A projector of 8,000 lumens or over is advised depending on screen size.

Position the screen out of direct sunlight:

If you can move or change the position of your screen, find a position outside of the path of the sun to avoid sunlight shining directly onto your screen.

Pick the right time of day:

If you have the option of deciding when your projection will be displayed, choose a time in the morning or later afternoon when the sun won't be at its strongest. 

Keep the projection screen clean:

A simple tip, but the cleaner a projection screen is the more visible the display will be as sunlight can highlight marks and stains. 

Tailor your visuals for daytime viewing:

If you have creative control over the images being projected, larger images with less detail and with distinct colour contrasts will be more suitable. Bright colours for text on a black background will be more visible than black text on a white background.