Posted August 6th, 2020 by Emily Burkinshaw & filed under , General, How To's, Technology.
In todays current climate, getting people physically onto the high streets and into shopping malls is harder than ever. The internet is fast becoming the quickest, easiest, and now the safest way to satisfy consumers retail therapy needs, so what can you do to get people off the web and into your store?
The customer experience has done a full 360 since the introduction of safety measures across the retail sector and with so much to think about, it's hard to see how you can still build rapport and provide a personalised experience for customers amidst all of this – this is where technology comes in. Despite the whole world seemingly grinding to a halt, research and development into new and innovative displays has not, with the demand for these 'non-human contact' technologies rising every day. Self-service kiosks at the till and interactive mirrors in changing rooms are all well and good, but first you have to get the customer through the door, and we can help you to do exactly that.
Window displays have always been one of the most important tactics for bringing traffic into stores, often being the bigger the better, with the retail climate changed for the foreseeable future, our display tactics need to change with it – this is where our touch technology comes in.
We can provide Interactive solutions designed to be retrofit into existing window displays, guaranteed to turn heads, and create a buzz around your store. Here we show you our best retrofit interactive window display solutions and help you to pick which is best for you.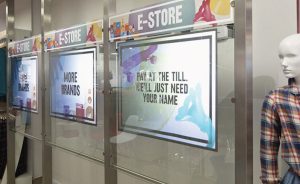 Interactive Touch Foil
Our most popular solution for creating an interactive window display is our Interactive Touch Foil. Our Touch Foils are designed for use with LCD and LED screens and can be made in any size from 27" – 86".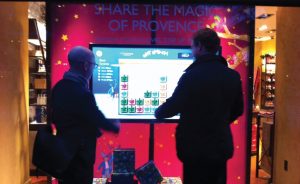 What is an Interactive Touch Foil?
An interactive touch foil uses PCAP (Projected Capacitive) technology to sense touch through laminated or toughened glass to interact with content on the screen behind it. This through glass technology can be retrofit onto an existing glass or acrylic surface, making them the ideal choice for interactive window displays. Our touch foils have been developed and perfected to be optically clear, offering no disruption to the image quality of the screen.
How can I use an Interactive Touch Foil?
Our Touch Foils are available in single, dual and multi touch options up to 40 touch points. Our single/dual touch foils are perfect for POS and window displays with our multi-touch foils more often being used for gaming and digital signage applications. Some previous uses of our interactive touch foils include fashion store windows to interact with the newest look books, estate agent window displays to view listings without entering the store and restaurants to view menus, with all of these doubling up as an advertising space when not in use.
Interactive Projection Film
Another solution for enhancing any window display is our Interactive Projection Film. Our Interactive Projection Film comes in a range of options for different environments from 32" – 86".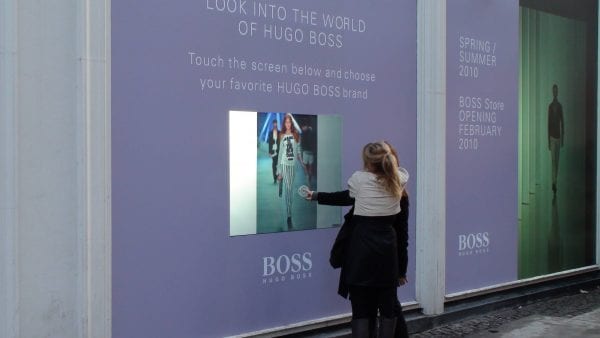 What is Interactive Projection Film?
Our Interactive Projection Film is an innovative combination of our standard Touch Foil with a selection of our best-selling projection films, creating an interactive rear projection canvas using through glass touch capabilities. Like our standard touch foil, our Interactive Projection Film can be retrofit to an existing glass (toughened or laminate) or acrylic surface.
How can I use Interactive Projection Film?
Like our Touch Foils, we can offer single, dual and multi-touch options to work with the best of our rear projection films range, creating the perfect bespoke solution for your application. For store fronts that experience direct sunlight, our SunScreen provides a sun readable interactive solution. If you want the option to keep your window transparent, our Clearview film works perfectly, giving you the option of full transparency when necessary and can even be used to create a holo effect. For general applications, our High Gain and Pro Diffusion film options are the perfect choice.
Our Interactive Projection Film has been used previously in a short throw application in retail store Republic, to allow customers to complete their shop on screen without having to move around the store themselves. Samsung have also used our interactive film to promote their latest phones and offers to encourage consumers into the store
Both of these exciting solutions are simple and easy to install, we provide a full installation kit with your order and a detailed guide to help get you started. With the pandemic on everybody's mind we know safety is key, our technology is installed to the inside of the glass or acrylic surface, meaning the exterior can be easily wiped down and cleaned to stay safe. Our interactive film and touch foils can not only be easily infected, but also work with gloved hands which are now extremely popular with shoppers.
In addition to the technologies mentioned above we offer a range of other interactive solutions perfect for enhancing any retail environment including our High Brightness Indoor & Outdoor Screens, our Mirrorvision range, interactive kiosks and our Soundpod window speakers.