Posted November 29th, 2016 by & filed under , General, Inspiration, Technology.
Innovations in Retail Displays That Help You Compete
Retail is a much tougher game than it used to be. Certain supermarkets and stores are seeing gradual declining figures in footfall as consumer emphasis is being placed increasingly online, making any innovations in retail worth taking seriously.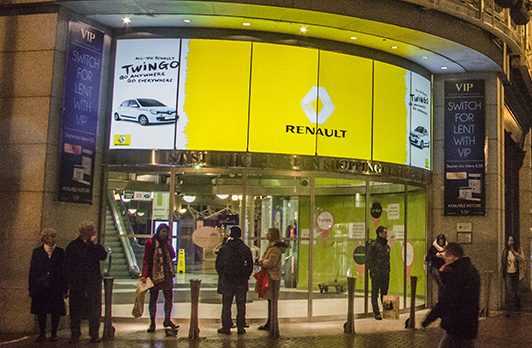 All is not lost, however, with many experts reporting that brick and mortar stores are very much alive and well, citing evolution and adaptation of business models as responsible for keeping up with the tide of online shopping.
One of the tools a brick and mortar store has over online shopping is the undeniable influence of a well-executed display. At this time of year, we can take example of great innovations in retail from the likes of Newcastle's favourite department store, Fenwick, whose famous Christmas display draws attention from all over the world, and in recent years has been big news on social media. The reward for the level of planning, effort and financial investment that goes into their annual display is significant.
This is all well and good, but that's Fenwick. What about you?
Innovations in retail are happening all the time, and it's down to you to keep up with the competition. The good news is that this kind of attention is not out of your reach. Pro Display specialises in high quality display innovations in retail, offering everything you need to make your store big news. So, what better way to do that than with our range of versatile, state of the art technology?
Digital Glass
Digital Glass has been developed with the challenging yet innovative dual objectives of delivering large format robust digital signage, combined with optional immersive accurate multi-touch interactivity. Demand for our Digital Glass is increasing constantly across a range of industries, which is no surprise considering that the advanced optical projection layer offers high brightness and unsurpassed contrast, even in brightly lit environments. This unique technology spreads the light evenly into each corner, minimising hot spots, even with ultra-short throw projection.
Digital Glass offers an excellent alternative to video walls, providing better value and a better solution, as digital glass not only boasts no bezels or join lines for sizes up to an impressive 8x3m, but also the ability to integrate infrared multi touch capability, creating a uniquely large touch screen. Combine our Digital Glass with our Platinum Vision® UST Laser Projector and you can enjoy up to 20,000 hours of maintenance free operation, making it perfect for the retail environment.
The applications for this technology in a retail environment are limited only by your imagination and serves as a great investment to keep up with the changing face of displays and interactivity in this sector, allowing you to switch between full motion video adverts and interactive initiatives. This gives you more control over your display with many opportunities built into one solution.
Transparent LCD screens
Transparent LCD Screens offer an innovative, high impact way to engage with your audience. The combination of HD LCD technology (4K on our 65" & 84″ version) with a transparent screen substrate unlocks creative capabilities that are not an option with traditional LCD screens. White pixels appear as transparent, which can make for incredibly stimulating creative visuals, for example, hiding (and gradually revealing) whatever is behind the screen. As one of our most versatile display innovations in retail, a transparent LCD screen can also be granted touch capability, adding an interactive element to your installation. This can have an extremely powerful impact, especially when content on the screen integrates with real life objects behind the screen.
Using this technology can be a great way of bringing your products to life. Transparent LCD Screens come integrated with a display case which allows you to encase new products, display creative, eye catching visuals and unveil them at your will, making the most of the transparency that white pixels provides.  You can also use this same principal in other commerce applications, helping to control the prominence of your product against the visuals displayed on screen.
Mirror Screens & Interactive Mirrors
Another very high impact display technology that we offer is our range of Mirrorvision Display products. With everything from mirror TVs to interactive mirror advertising screens, this is a versatile solution wowing your customers, as well as making the most out of all the wasted space that standard mirrors take up. A popular choice for retailers looking for digital signage with a difference, our mirror advertising screens are mirrors that come to life. Previous uses of this technology involve applying them to changing rooms, toilets or even in place of standard digital signage.
Mirrorvision is one of our most visually engaging display options, demonstrated recently by having our 55″ Interactive Mirror (6 point multi touch) being used by the world's largest international children's charity, World Vision, as part of a pioneering campaign called 'The Story Shop'. World Vision used the interactive mirror as an attraction to draw people in and maximise the impact of their message. The campaign utilised strong advertising principals, strengthened by our Mirrorvision technology. Learn more about this amazing project here.
Another notable application of our Interactive Mirror technology has seen it used as part of NikeTown's Bra Fit functional attraction. The mirror works with the customer to deliver necessary information to help make their bra fitting experience completely unique.
Interactive Touch Kiosks

One of the more functional applications of our display technology is in the form of touch kiosks. With a range of rear projection as well as LCD kiosks, we can meet a wide variety of requirements for the retail environment.
Designed for areas that benefit from high footfall, you can easily help to entice customers or even promote your products using an eye-catching touch kiosk, encouraging them to interact with your display and allowing you to communicate information, provide entertainment and utilise other commerce applications.
Interactive Touch Foils
Interactive touch foils are a special piece of technology that allows you to turn almost any glass or acrylic surface into a touch screen.
Available for rear projection or LED displays in screen sizes from 32″-82″, and as the ideal choice for window displays, we have seen these work well in all types of retail environments, including shopping centres, car showrooms, product launches as well as many public facing self service applications. As one of the more versatile innovations in retail, your limits for this technology are few, allowing you to be as creative as your project requires.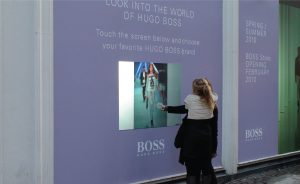 Rear Projection Film
Rear Projection Films are the primary choice for digital signage and store window advertising. Our optical film technology provides superior brightness, contrast and black levels, even in high ambient light and daylight. The range of rear projection films that we offer includes Pro Diffusion, Ultra Black, High Gain and Clear View (Holographic), all with a self-adhesive layer for easy application.
We also offer a revolutionary sun readable rear projection technology specifically designed for applications in direct sunlight. The genius of our Sunscreen can be found in its ability to deflect light using an optical filter, allowing it to provide bright, sharp and crystal clear images. As the only true projection screen technology in the world that will perform in direct sunlight, it is perfect for outward facing displays.
Great uses we have seen of our Sunscreen involve projecting adverts or special offers that entice customers to come inside your store.