Posted August 20th, 2020 by Emily Burkinshaw & filed under , General, How To's, Technology.
We all know how important window displays are in increasing footfall into a retail store, but standard display's are becoming stagnant and no longer capturing the attention of shoppers like they used to. We've shown you how you can enhance any POS display with the help of our digital signage technology from turning any window into an interactive display to how our Transparent LCD Displays can transform the way you sell your products, but how can you take it one step further?
Pro Display offers an innovative technology that can turn any surface into a loudspeaker – adding the final touch to any window or POS display. Our 'Soundpod', more commonly known as a Surface Speaker or Surface Vibration Speaker, is a small and discreet audio transducer ideal for applications in need of a practically invisible sound source.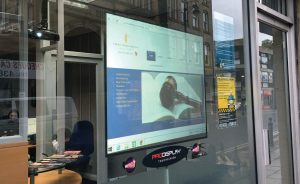 Our Soundpod Speakers utilise surface sound technology to turn almost any solid, resonant surface into a working loudspeaker. Through rigorous research and development our Vibration Speakers have been tested and tried and found to be of optimum sound performance on glass, acrylic, wood, and plasterboard. Better yet, our Soundpod Speakers are small and unobtrusive, fixing to the chosen surface either by adhesive tape or screws.
How do Soundpod Surface Speakers work?
Soundpod Window Speakers work through an energising principle, sending waves of frequency across both sides of the active surface area, creating the perfect, subtly styled, vibration speaker solution. Each Soundpod has a coil at its centre which moves up and down, pushing against the chosen surface to produce non-directional, diffused sound that evenly fills the area around it.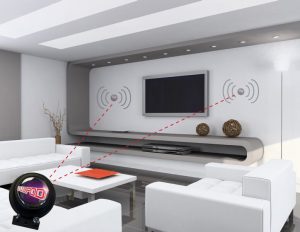 Each of our Soundpod Surface Sound Speaker Kits come prepped for all applications including adhesive pads for glass and plexiglass installations and an acrylic mounting disk for fixing our Soundpods to wood, MDF or plasterboard walls. To ensure you get the most out of your Vibration Speakers, we also include speaker cables and connectors with a comprehensive wiring guide to assist with the installation and a Soundpod sticker to use alongside the kit to alert the user of your applications audio capabilities.
Where can you use a Soundpod Vibration Speaker?
The most popular application of our Soundpods is as part of an external window display in a retail store. We see them used most frequently alongside Rear Projection Screens, LCD Screens and our Interactive Touch Foil and Projection Foils, to create an engaging and immersive experience for the user before they have even entered the store.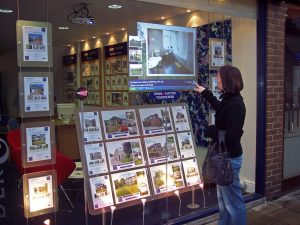 The beauty of these kind of applications is that it allows consumers to continue to interact with you and build a relationship with your brand outside of store hours. By creating this kind of display in your store, you open yourself up to opportunity for future business in hours that previously would have been wasted. One of the great things about these kinds of displays is that all of the technology remains in the safety of your store but is still functional to passers-by, leaving you at ease with the security of your equipment outside of opening hours.
As mentioned previously, our Soundpod Surface Speakers can also be used on wood and plasterboard, ideal for enhancing fabricated displays or structures in store as well as externally. Display cases or screens on the shop floor can use our Soundpods to boost their in-store reach by adding another channel to engage potential customers.
Using new and exciting technologies in your store, like our Soundpods, is a great way to get consumers excited about retail again. By turning a shopping trip into a real experience, you are guaranteed to gain more repeat visitors, shop floor engagement and buzz around your store through word of mouth.
At Pro Display, our goal is that our technology can help take brick and mortar retail into the future, changing the way we see high street shopping and encouraging consumers to get off the web and into your store. We have worked with some of the biggest names in retail including Adidas, Harrods and Nike creating the stores of the future, if they're thinking about it why aren't you?