Offices & Boardrooms
Offices & Boardrooms
Display, Presentation & Privacy Technology Solutions for Offices
Reliable display and interactive technologies for corporate office and boardroom environments.
Pro Display offers a range of 'future office' solutions that includes our Interactive Touch Screens, short throw Projection Screens and Switchable Glass partitioning, offering instant privacy at the flick of a switch! Bring your office headquarters into the future with Pro Display's unique range of AV technology that not only helps to enforce brand quality, but is also highly functional and practical too. From the incredible products ideal for meeting room presentations, to boardroom privacy, Pro Display have a solution that meets your needs.
Read more
RECOMMENDED PRODUCTS / APPLICATIONS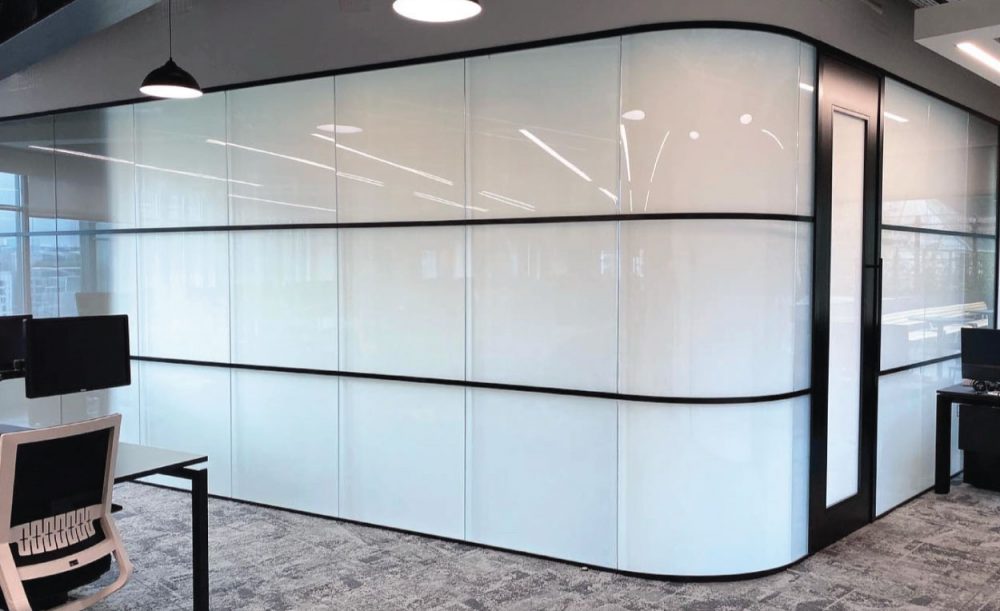 Switchable Smart Glass
Despite being on the rise in residential properties, Switchable Glass is still a firm favourite when it comes to commercial interior design. Whilst more often than not private offices and boardrooms require privacy, this shouldn't mean the spaces have to remain isolated at all times from the rest of the workspace. Switchable Glass creates secluded spaces that encourage natural light flow, creating more comfortable and productive environments. This luxury privacy solution can be installed into all types of frames, track and partition systems and can even be controlled using voice automation via popular assistants like Amazon Alexa and Google Home.
We've supplied our smart glass solutions for offices all over the world including KPMG in Kuwait, the London Stock Exchange and Deutsche Bank. We've even hosted installers at our Sheffield-based HQ providing training on how to successfully install our Switchable Film, which was used to upgrade an existing office partition in India.
Read more

> > >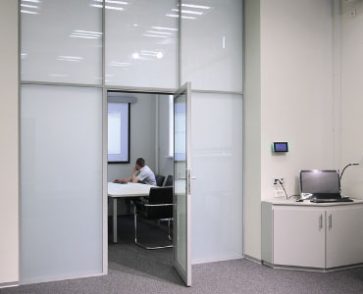 Switchable Smart Film
Offering a retrofit privacy solution that can be installed with little disruption, our Switchable Smart Film is a great way to create a more versatile office space. Our Smart Film can be installed on any existing glass or plexiglass surface including windows, glass partitions and doors, allowing you to create more flexible offices or meeting rooms that can offer privacy on demand.
Read more

> > >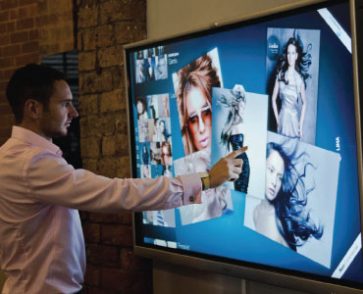 Interactive Touch Screens
We offer a range of touch screen solutions designed to create a more productive working environment. From our interactive projection screens to our touch tables, our interactive solutions encourage communal working, with the aim to help your business work, present and look better than ever before.
Read more

> > >
Electric Projection Screens
Another versatile projection solution in our product range is our Electric Roll Down Projection Screen, with options for front, rear and dual-sided capabilities. These motorised projection screens can be easily hidden when not in use in commercial environments, with no need for available wall space they can operate freely with no surround. Ideal for applications with minimal space, these roll-down screens produce a HD/4K image on both sides and can be manufactured in sizes up to 5m wide.
Electric screens are a great investment for smaller or more open-plan offices that have to be adaptable at short notice. For instance, mounting the screen in the centre of the office creates a display solution that can be appreciated by everyone but when necessary can be retracted by remote to reopen the space.
Read more

> > >
Inspiration
Visit the Pro Display blog to see more case studies and project inspiration, or better yet sign up to our newsletter here to get our latest news delivered straight to your inbox.