Posted February 3rd, 2022 by Emily Burkinshaw & filed under , Case Study, General, Project Focus.
After pandemic-related delays MSC Cruises' newest ship, the MSC Virtuosa set sail for the first time in May 2021. The 18 deck, 1086-foot-long megaship has something for everyone with twenty one bars, ten dining venues, four pools and even a basketball court. Each venue offers its own unique experience with one in particular starring the first humanoid robotic bartender at sea. The MSC Starship Club is more than just a bar, offering a futuristic, immersive entertainment experience.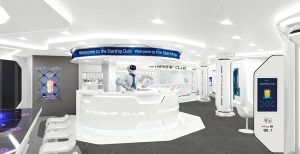 The Starship Club is inspired by the spaceships of the future and utilises innovative technologies to create an immersive and convincing experience. Drinks are served by Rob, the first humanoid robotic bartender at sea, after being ordered by guests from the digital cockpits around the venue. Monitors display the status of cocktail preparation while guests wait, with entertainment offered by 3D holograms, a digital art wall and the 12-seat infinity digital interactive table.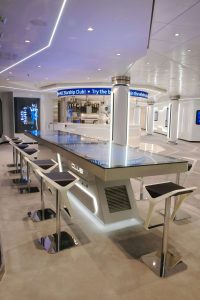 After 6 years of development, with MSC working with specialists in robotics and automation, interior design and entertainment and digital experience solutions, they began working with Ouno Creative to bring their vision for the Starship Club to life. Ouno Creative is a full-service creative agency, producing everything from immersive content to facilitating the physical experience itself. After previously working on the Farnborough Airshow, providing an Interactive Transparent LCD, Ouno Creative approached us again for a bespoke interactive solution for the Virtuosa.
The brief from MSC Cruises' Innovation team was to create an engaging digital attraction suitable for all ages and demographics. With previous experience in this particular field, Ouno's Infinity Table secured the win, offering everything from stunning aesthetics to untouchable user experiences. The 18-foot long touch table can accommodate 12 users at once, creating a hugely social space where guests can even use their smartphones to integrate with the experience. The Infinity Table is made up of three 75" screens, mounted on a curved, laser-cut and backlit aluminum base, each finished with an interactive glass overlay.
Due to the success of our previous interactive project with Ouno Creative, they came to us to provide the bespoke overlays needed to bring the project to life. We manufactured the interactive glass overlays using toughened glass that had an anti-glare coating to minimise reflections from the surrounding lighting, as well as protect the table from light wear and tear. Each of these overlays were fitted with a 75" Interactive PCAP Touch Foil and the glass had black painted borders to signify the non-active area.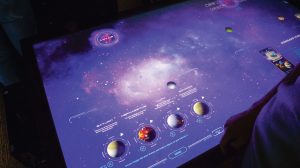 The Infinity table allows guests to build their own interplanetary cruise and explore fantasy worlds using Ouno Creative's incredible, purpose-built digital application. Other experiences include fast 3D-themed games, detailed interactive models, cinematic videos, stunning animations and even a 'bio-electric field palm reader'. The detailed storylines and character precision used on the Infinity Table complements the futuristic décor perfectly to create a truly one-of-a-kind experience onboard the MSC Virtuosa.
Our Interactive Glass Overlays are perfect for this kind of application, offering a highly responsive touch experience via a medium that can withstand the wear and tear of frequent engagement and be easily wiped down and cleaned. We can manufacture PCAP touch glass overlays in standard sizes from 10.4" to 98" with custom sizes available on request, offering both single/dual and also multi-touch options with up to 40 touch points. All of our PCAP interactive glass overlays feature a high-resolution controller, necessary software, controller board and cables and are ideal for integration within the gaming industry, digital signage and tabletop applications. Our PCAP overlays are manufactured for installation directly to the screen's bezel or mounted in front of the display, a simple yet effective way to convert an existing screen into an interactive display.