Posted March 29th, 2021 by Emily Burkinshaw & filed under , General, Inspiration, Technology.
Touchscreen technology is all around us. It is revolutionising the customer experience in retail, fast food, and hotels. But where do you begin? And how can you make sure you make the right technology choice and that you get the most out of the technology?
Here we explore some of the more frequently asked questions from our customers when it comes to all things touchscreen technology.
How do touchscreens work?
Given that there are many different types of touchscreen technology (such as resistive, capacitive, infrared, and surface acoustic wave), there's no one-size-fits-all answer. Here we explore some of the most popular touch technologies requested at Pro Display, including infrared and projected capacitive touch displays.
Infrared
Infrared technology uses a series of LED lights and sensors that are arranged in a grid-like structure around the edge of a touchscreen device which constantly emit and project light in a uniform pattern. When you touch it, this disturbs the pattern and the device then identifies where this disturbance took place. As a result, the device is able to register the precise point of contact. The beauty of infrared technology is that the user doesn't even need to make contact with the screen itself, only needing to break the pattern rather than making a physical connection for the device to register the touch.
One of our most popular technologies is our Infrared Interactive Touch Frame, that can transform any screen or surface into an interactive display. Available in a range of multi-touch options, these lightweight touch overlays are robust, easy to install, using USB HID plug and play functionality to make any existing screen interactive in no time.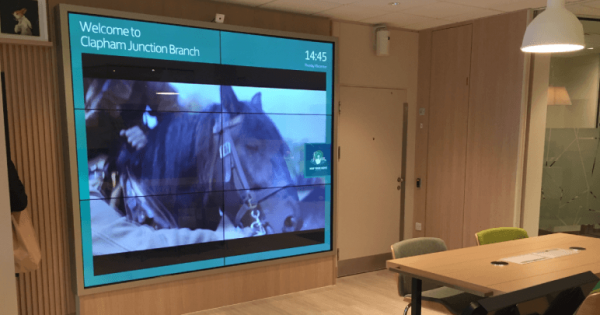 We also offer Interactive Mirrorvision Screens, utilizing infrared technology to create a unique display that's ideal for retail applications, where users can interact with content and create a personalised shopping experience. Other Infrared technologies include our Interactive Transparent Displays, Switchable Glass Screens and Digital Glass Touch Screens.
Projected Capacitive
Projected Capacitive touchscreens are specifically designed to work with the touch of your finger (e.g. smartphones and fingerprint security). Unlike infrared, which uses a grid-like array of LEDs and sensors, projected capacitive relies on a uniform electrostatic current.
Given that the human body contains electrical currents, this means that a single touch of a finger is enough to recognise a capacitive touch.
Capacitive displays, or PCAP displays, consist of a thin layer of glass on top of an electrostatic grid of millions of miniscule electronic wires. When you touch the screen, you complete the electrical circuit—so the display registers your touch before relaying this information over to your device's interface.
We offer a number of exciting PCAP technologies including our Interactive Touch Foils and Interactive Projection Foils, that use through glass technology to transform any glass surface into a touch screen. These Touch Foils are perfect for creating store window displays that can be used 24/7, maximising the potential for advertising and engagement even outside store hours. Other PCAP technologies include our Interactive Touch Table, PCAP Touch Overlays and Interactive Kiosks.
What is a touchscreen digitiser?
The digitiser is a thin layer of glass placed over a device's liquid-crystal display (LCD) which essentially converts analogue touch commands into digital signals. In other words, it turns a single touch of a finger into a digital command that your device can use. These digitisers are present in technologies using projected capacitive touch.
How long do touchscreens work?
This depends on the type of touchscreen. Infrared and capacitive touchscreens are notoriously long-lasting, so you can expect both to last well over 5 years (with many lasting longer than 10 years, provided they're looked after and not subject to particularly harsh conditions). Our Infrared Touch Frames for example, offer a high level of strength and durability for regular use in comparison to similar technologies, however we can also provide an Anti-Glare protective glass fascia that protects the screen itself against wear and tear as well as harsh lighting conditions.
What is an Interactive Kiosk?
Interactive Kiosks enable businesses to leverage touchscreen-based self-service functionality to help more consumers, more easily, using fewer resources. Interactive Kiosks come in many shapes and sizes, catering for both indoor and outdoor applications, we can create bespoke kiosk solutions to suit a wide range of applications. Our Kiosk solutions are available with a Media Player for non-interactive applications or Windows or Android for interactive touch.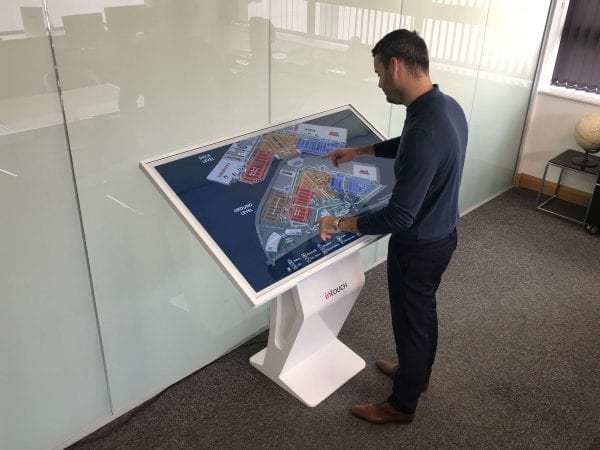 From the common freestanding poster systems that are often seen in fast food restaurants to custom designed Interactive Transparent Kiosks for POS displays, we can provide a solution that's designed with your application in mind.
How can you use Interactive Kiosks?
You might use Interactive Kiosks for the purposes of:
Providing customer help services

Wayfinding—in other words, helping people navigate large shopping malls or conference centres

Advertising 
Of course, the above list is far from exhaustive, Interactive Kiosks can be used anywhere you wish to provide on-demand digital information or services at the touch of a finger.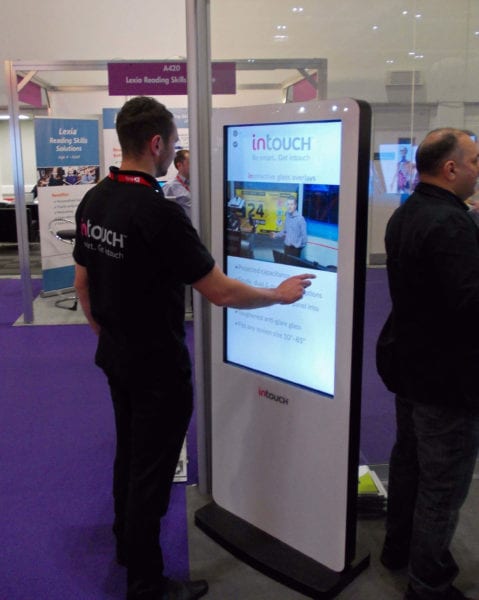 What are the advantages of Interactive Kiosks?
There are many reasons why you should consider implementing Interactive Kiosks. They will allow you to:
More easily reach a larger (and more diverse) audience
Once installed, you can sit back and relax while customers serve themselves. You can even set them up to provide multi-language functionality, as well as making them accessible to those with disabilities.
Increase your internal efficiency
Focus your manpower on critical, valuable activities instead of simply providing routine information to customer after customer. 
Improve your user experience
Customers often prefer to be self sufficient rather than feel like they're bothering members of staff. Interactive Kiosks allow users to browse at their leisure, allowing them to feel more comfortable with shopping in store and inevitably leaving them feeling more satisfied with their experience.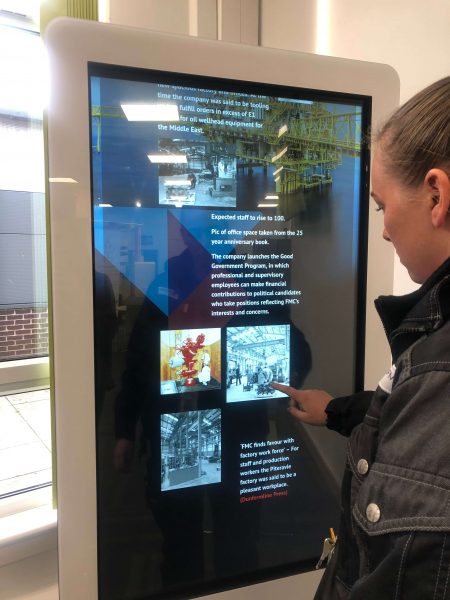 How much do Interactive Kiosks cost?
Interactive Kiosks are available in a number of different options. Pricing depends on a number of factors, including the display size and the interface itself, with customization options varying along with custom branded options. For a personalised quote tailored to your business's specific needs, visit our Price Catalogue Request Form– here.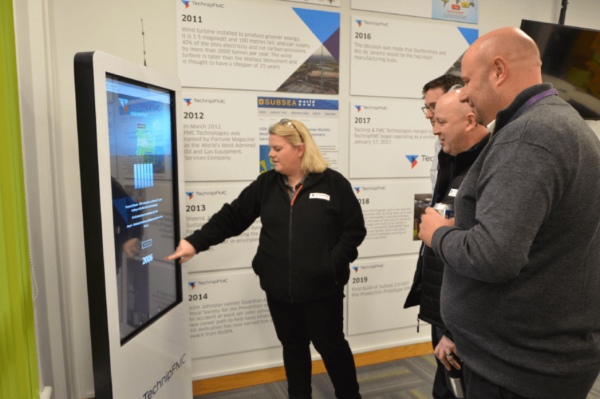 What are Interactive Mirrors?
Interactive Mirrors combine the wow factor of a standard mirror screen display with the flexibility of a touch screen. Our technology combines the stunning visuals of our Professional Mirrorvision Display with the infrared touch capabilities of our popular Touch Frame. These solutions are ideal in retail applications, where our Interactive Mirrors can be installed in fitting rooms providing a great upselling opportunity at a key point in the customer journey, whilst also providing the user with an experience that's completely unique to them. Interactive Mirrors are also commonly used at weddings and events as part of a photo booth setup, more commonly known as magic mirrors, with some even having cameras integrated above the display.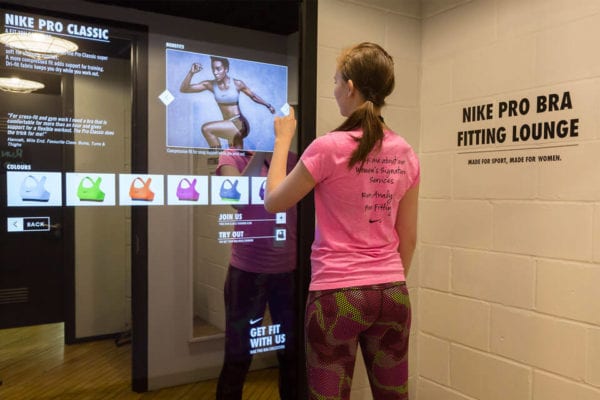 How much do Interactive Mirrors cost?
There's no set price – there are multiple factors that affect the cost including the size of the display, the reflective finish and the number of touch points. With this in mind, you can generally expect to pay anywhere from around £1,000 upwards for an interactive mirror.
How do you clean a touchscreen?
Given that touchscreens consist of intricate, often expensive technology, you should steer clear of simply giving them a scrub with a wet cloth. Instead, simply invest in a microfibre cloth, put on a white background display (this will help you spot any dirt), and wipe away.
Within our Sheffield based HQ we have multiple clean rooms in order to produce products of the highest possible quality, but we know this is a luxury not everyone has available to them. That's why we've been recommending using IPA wipes to our customers for years, ideal for cleaning those tough spots that just won't budge without causing damage to the screen.
It's crucial that you regularly clean your touchscreen devices. Dirt and residue affect both the visual experience and the touch sensitivity—so it pays dividends to keep your screen clean.