Posted June 17th, 2021 by Emily Burkinshaw & filed under , Case Study, General, Project Focus.
After over a year of cancelling plans and having nothing to look forward to, the UEFA Euro 2020 tournament has given us all hope that life is beginning to return to normal. As well as a much-needed morale boost, there's high hopes that the festivities of the tournament will bring a boost to local hospitality venues that are desperate for business after 15 months of stop start closure. In the UK it's been inspiring to see so many pubs, restaurants and bars adapting to the ever-changing guidelines, as well as COVID proofing their sites in order to continue opening their doors. Although still restricted to running at 50% capacity in most venues, our hospitality industry has stayed resilient with many creating innovative al fresco drinking and dining areas from scratch in order to welcome more custom, many of these factoring in solutions in order to showcase the football fixtures.
One business in particular, Blades a barbering salon in Wakefield, chose to upgrade their existing screens with our sophisticated Mirrorvision Display Screens, allowing customers to never miss a second of Euros football. These four 13" displays were strategically placed between the 5 chairs at eye level, ensuring customers watching the game won't hinder the barbers whilst they're cutting hair. Each of these screens was then connected back to a single satellite television source, broadcasting the same content across all 4 screens to provide a quality communal experience.
Blades opted for our standard tint finish for their mirrored displays, offering the highest quality image when the screen is turned on and a stylish dark mirror when turned off. In this application the main functionality of these displays was TV viewing, with the magic mirror overlay acting as more of a style feature as the existing salon quality mirrors used predominantly were already in place. For applications that wish to combine the two, we also offer high reflective and ultra-high reflective tints that are more suited to cosmetic applications, offering a closer reflectivity level to that of a standard off the shelf mirror.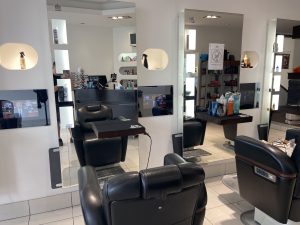 Due to the customer being happy with the display size of the previous tablet sized screens, these Mirrorvision Displays were also manufactured with an oversized mirror glass overlay to add more impact to their design without the screen itself being overpowering. The glass was produced bespoke to suit the distance between the screens, allowing enough room for the barbers to be able to use the storage at either side without dirtying the screens.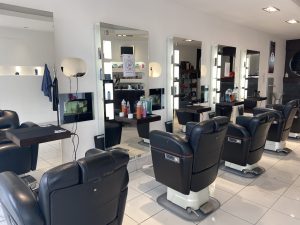 As well as our stylish Mirrorvision Screens, we also offer a huge range of other display solutions guaranteed to make your venue the place to be this football season. Many sites have opted to move existing screens outside in order to offer an outdoor experience that caters to larger groups and complies with current COVID restrictions, but the unpredictable British sunshine isn't making it easy. Luckily, our Anti-Glare solutions provide a quick fix to TV's suffering from the harsh glare of sunlight and the reflectivity it causes. Not only this, but our Anti-Glare Protective Glass Overlays also offer protection to soft screens, providing piece of mind in case of the odd rowdy customer!
We also offer a unique selection of rear projection screens that can be easily applied to existing glass surfaces and windows, making it easier then ever to turn the outside of your venue into a sporting haven. Our solutions include specialist products like our Sunscreen Rear Projection Film, showcasing HD/4K images even in direct sunlight and our Switchable Rear Projection Screen offering a frosted projection canvas when turned off, with the option to switch to clear when not in use to maintain the view from your window.