Posted October 21st, 2021 by Emily Burkinshaw & filed under , General, Inspiration, Technology.
Over the last 15 years, we've had the pleasure of working with some of the worlds most familiar names, from providing Transparent Display technology for Nike's House of Innovation to seeing our Clearview Rear Projection Screens centre stage at the 83rd Oscars celebration. With a host of ambitious and often large-scale projects under our belt, it can be hard to imagine where some of our products fit into home interiors. We've selected 5 of our technologies that we think are perfect for use in residential settings, providing all the inspiration for the smart home of the future.
Mirrorvision
Pro Displays Mirrorvision range combines standard display technology with the functionality of a mirror. Favoured by Nike our mirror displays range in features, offering everything from Mirrored LED Video Walls to Interactive Mirror Displays, with our choice for the home being the Mirrorvision Smart TV. Featured on 60 Minute Makeover these mirror TV's are the perfect edition to any living space and can be customised to suit individual environments.
Each Mirror TV is bespoke to the customer, with our team working with you directly to choose the right tint, mirror size and optional frame to create the perfect solution for your interior. Whilst standard sized mirror TV's are our most popular, many users are opting to oversize the mirror glass to create more statement décor items or feature walls. We can also create oversized freestanding Mirror TV's with our ultra-high reflective mirrored glass, designed for more aesthetic applications like dressing rooms and bedrooms. If you're looking to upgrade your existing TV we also offer our DIY Mirror Overlay Kits that can be easily installed at home using our simple step by step guide.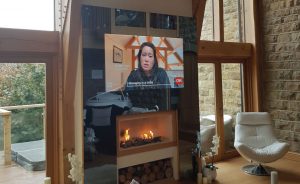 Smart Glass
Our smart film products have been used to launch some of the worlds most sought after automotives including Rolls Royce and Jaguar, with its unique switchable and projection capabilities making it perfect for a memorable product reveal. We've also seen our Switchable Glass Screens used commonly in places of worship with the screen able to 'disappear' when not in use, so visitors can still appreciate the architecture without interruption. Despite its popularity on the commercial side, our sister company Intelligent Glass have seen a rapid increase in popularity for using switchable technology in the home.
The most popular Smart Glass solution for the home is Switchable Double Glazing, providing an energy efficient glazing solution with instant privacy control. Smart glass products offer a minimalist alternative to blinds and curtains, designed for environments that require privacy but wish to maintain natural light flow. Laminate Smart Glass is best suited to use in bathrooms or as room dividers and has previously been used as a partition between bedroom and ensuite spaces to make the rooms appear larger. Intelligent Glass also develops internal and bi fold door solutions as well as Self-adhesive Switchable Film, that can be applied to existing windows for a more time sensitive privacy solution.
Projection Screens
Projection Screens are renowned for needing controlled lighting in order to work, however our specialist projection technologies make this possible in even direct sunlight. Our Ambient Light Rejecting Front Projection Screens are designed to work with ultra-short throw projection and are available in standard sizes up to 120". These screens are designed to filter our ambient light, offering high contrast, rich colours and 4K image quality even in direct sunlight.
For home theatre applications we offer a range of
front
and
rear projection screens
, each designed to excel in their own environments. Our projection screens have been featured in blockbuster movies like the academy award nominated
'The Midnight Sky' (2020)
and
Marvel's Guardians of the Galaxy Vol. 2
, making them the perfect addition to any cinema room. Our team take into account your requirements to offer you the best solution for your project, with all of our screens supporting HD/4K image quality for an authentic cinematic experience.
Anti-Glare Overlays
Many homeowners will suffer from glare on their TV and it's not always possible to relocate it to avoid this. Whilst this can be prevented with the help of curtains or blinds, it's understandable that people don't want to sit in darkness in order to watch TV in the middle of the day. Our Anti-Glare Overlays can be easily fitted to flat screen TVs, working to reduce the glare and diffuse harsh reflections affected by high ambient light and sunlight. These overlays also provide a protective layer to soft surface screens, ideal for busier areas of the home or households with small children.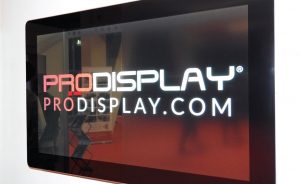 Interactive Touch Table
Offering a peak into the future, our Interactive Touch Table could be the next must have in the homes of tomorrow. With the influx of people now working from home our touch tables could make life easier for industries like creatives, offering them a more responsive space to work and collaborate in real time. These tables come with a built in PC using Windows and Android operating systems, with the capacity to support design applications as well as internet browsing, video streaming and gaming applications, something for all the family!