Clearvision Front Projection Holographic Technology
Specialist transparent ultra short throw front (UST) projection holographic screen for 2D pepper's ghost visual effect
Impress audiences with a breath-taking Clearvision Holographic Screen, a new UST Front Projection Holographic Effect Screen from Pro Display.
Delivering a'Pepper's Ghost' visual effect, our latest front projected holographic display is manufactured as a self-adhesive film or glass screen (acrylic options are also available, please contact us for more information). Clearvision's holographic effect (sometimes known as 'fauxlography') is a popular 'false hologram' visual display choice for museums, live events and product launches, to name just a few examples, offering a semi-transparent projection screen that creates an amazing visual effect.
Transparent projection screens are sure to catch attention with their contemporary design, creating an image that appears to float in mid-air just like in the hit movie Minority Report!
Pro Display's Clearvision Front Projection Holographic Screen offers a low cost alternative to competing holography technologies. With superior performance and definition, these amazing screens still allow visibility through the surface displaying bright, sharp and vibrant images even in brightly-lit environments.
To top it off, these holo screens are dual image, meaning they display the projected content onto both sides of the screen.
Pro Display's expertise in the projection industry positions us to be able to offer a wide range of custom front projection display solutions, including custom shapes and sizes as well as large scale front projection holographic projection screens.
There have been numerous high-profile uses of Clearvision's Rear Projection alternative, Clearview, many of which being on-stage applications for events with millions of viewers, as seen with the 83rd Academy Awards or Halsey's performance at the 2018 MTV EMA's.
Clearvision Transparent Front Projection Screen at ISE 2020
---
Clearvision Holographic Front Projection Screen Features
| | |
| --- | --- |
| Features | Typical Applications |
| Self-Adhesive & easy to apply to glass or similar smooth surfaces | Museums & visior attractions |
| Thickness: 120 Micron | Exhibitions & live events |
| Light Transmission: 90% | Concerts & theatres |
| Aspect ratios: 16:9, 16:10 & 4:3 | Glass walls & partitions |
| Viewing angle: 120° | Information displays |
| Custom shapes & sizes available upon request | Broadcast & TV |
| Dual image | Control rooms |
---
Clearvision Holographic Front Projection Screen Sizes*
| | | | |
| --- | --- | --- | --- |
| Diagonal (16:9) | Screen Size (mm) | Clearvision Screen | Clearvision Film |
| 32" | 708 x 398 | | ✔ |
| 42" | 930 x 523 | ✔ | ✔ |
| 55" | 1218 x 685 | ✔ | ✔ |
| 65" | 1439 x 809 | ✔ | ✔ |
| 72" | 1594 x 897 | ✔ | ✔ |
| 80" | 1771 x 996 | ✔ | ✔ |
| 100" | 2214 x 1245 | ✔ | ✔ |
| 120" | 2657 x 1494 | ✔ | ✔ |
| Full Sheet / Roll | Contact us for size | ✔ | ✔ |
*Custom sizes available on request
---
Per Metre & Wholesale Roll Pricing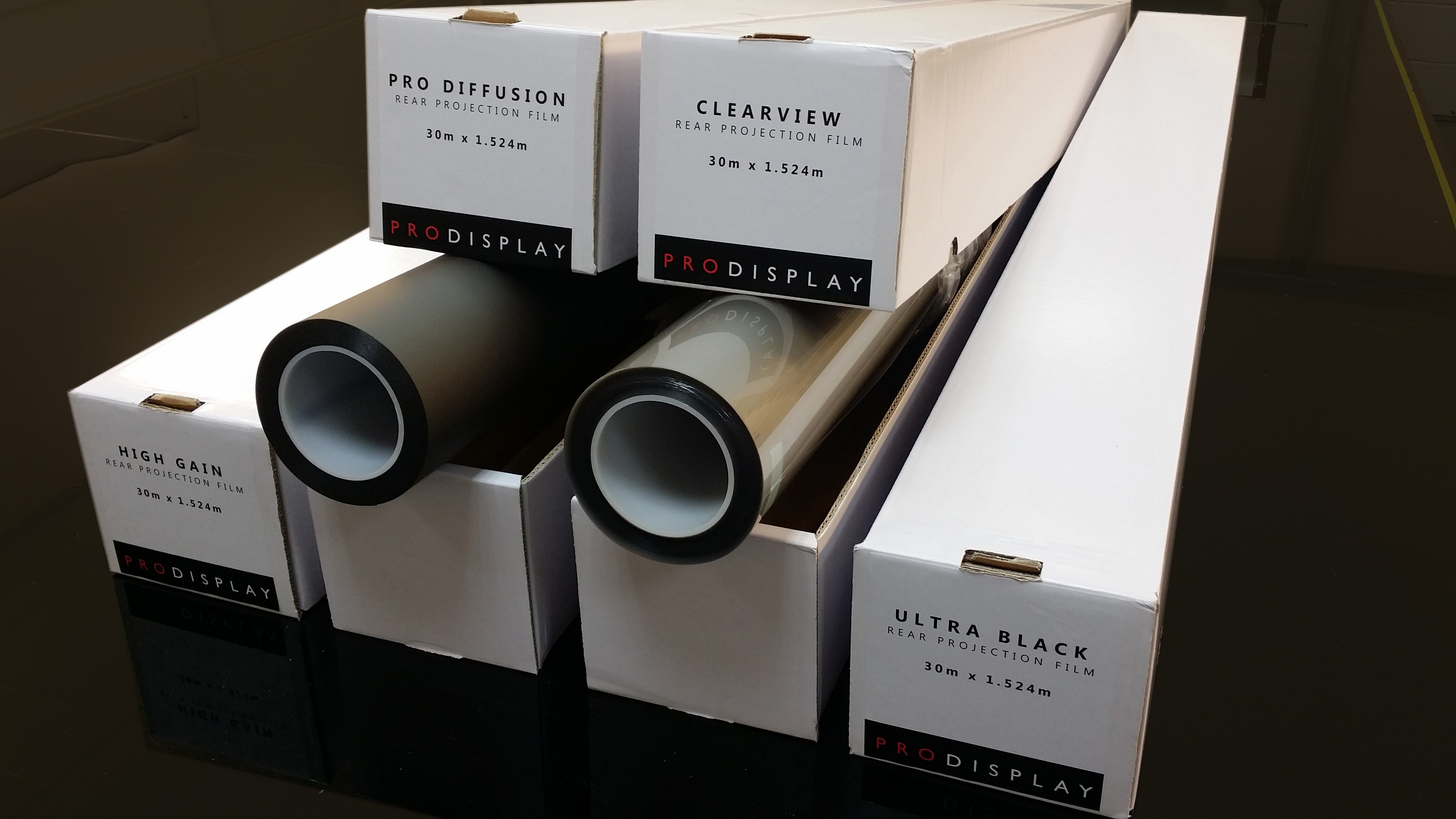 – Can be easily applied to either glass or Plexiglas
– Pieces of film can be joined to create large format projection surfaces (no shrinkage)
– Available per linear metre off the roll (width 1524mm)
– Roll Width: 1524mm
– Roll Length: 10 metres
---
Popular Market Sectors
– Museums
---