Posted February 20th, 2020 by Emily Burkinshaw & filed under , Case Study, General, Newsletters, Technology.
For the final time in Amsterdam, Integrated Systems Europe opened their doors set for their biggest show yet, before moving the world's biggest pro AV show to Barcelona in 2021. With record numbers predicted, the Pro Display Group pulled out all the stops to make sure our stand was its most exiting and ambitious one yet.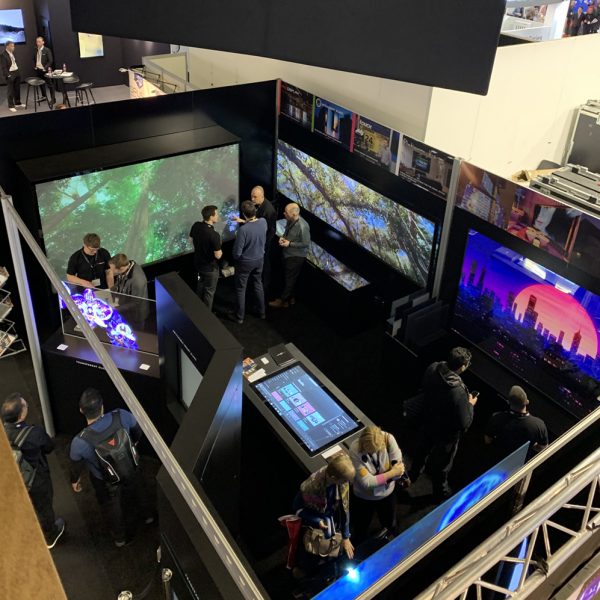 Despite predictions that their previous attendee records would be broken, a global health scare, travel delays and cancellations caused a drop of around 30,000 people in attendance.
This however didn't slow demand at the Pro Display stand with record badge scans making this our best year yet!
At ISE 2020 we talked to more of you than ever before, with hundreds of visitors flocking to our stand every day over the 4 days of the show, both new and old faces creating an infectious buzz around our products, all in all making an incredible start to 2020 for the Pro Display Group!
This year, our stand showcased some exciting new products, you may have even walked away with a copy of our shiny new 2020-21 Trade Price Catalogue (which if you missed you can request here) or our stunning new Pro Display Group brochure, featuring a look at our biggest projects and an insight into all four divisions of the group.
If you couldn't make it to the show, you can take a look at all the exciting technologies we took with us below, with the first look at our brand new Mirrorvision LED Wall and our Clearvision Transparent Front Projection Screen:
Our 130" 4K Multi Touch Digital Glass Rear Projection Screen was the biggest screen we've featured at ISE to date! This full solution consists of our 130" rear projection screen, specially designed for 4K content, our IR Multi-Touch Frame, a powerful 4K projector and stylish black housing. Our Ultra-Short Throw Rear Projection Screen is available in sizes up to 8 meters by 3 meters, giving you the potential to create seamless eye-catching displays on a large scale. We offer both toughened glass and lightweight acrylic options, providing a more cost-effective solution at face value in comparison to similar sized displays like interactive video walls. These impressive screens can also be manufactured with anti-glare properties and 3D compatibility using our specialist proprietary manufacturing techniques.
It's no surprise that our Transparent OLED Screen was definitely the most photographed on our stand this year! This amazing display is a new development on the market, allowing a totally transparent screen without a backlight or display case. The display has an extra thin bezel and delivers a stunning FHD picture with incredible visual impact. Unlike other transparent display solutions, the Transparent OLED display remains completely see through even when the power is off. This gives you flexibility when creating a display as you can achieve both a display screen and a transparent viewing window and switch between these instantly, perfect for creating POS displays for products with futuristic content 'floating' in front of them. The Transparent OLED can also be combined with one of our touch overlays, creating a hi-tech experience guaranteed to encourage engagement with any audience.
Clearvision Transparent Front Projection Screen:
Another talking point on the Pro Display stand this year was the 100" Clearvision UST Dual Image Transparent Front Projection Screen. This specialist ultra-short throw front projection screen is perfect for creating visual effects, displaying a 2D peppers ghost visual effect on both sides of the screen at any one time. This Transparent Front Projection Screen also acts as a low-cost alternative to other competitive holographic technology on the market. These screens perform well in brightly lit environments, still producing sharp and vibrant images with superior definition whilst still allowing visibility throughout the surface.
Our new Mirrorvision LED wall is our newest innovation in our line of video wall technologies. The wall on our stand featured a 2.5m x 1.5m screen with a 3.9mm pixel pitch, covered completely with a mirrored fascia. This combination creates a mirrored feature wall, but with the right content can make content appear to be jumping out of the screen from nowhere. The LED screen system creates an unrivalled image with enhanced brightness and contrast, making similar LCD solutions look dull in comparison. These feature wall systems can be built up to 3.2m x 2m seamlessly with no join lines, with a range of pixel pitches available to best suit your viewing environment.
ALR Stretched UST Front Projection Screen:
Our Panoramic ALR screen was placed opposite the entrance to our stand and was the perfect display to catch the eye of any attendees passing by. The super-wide nature of the screen is a breath of fresh air compared to the usual 16:9 format we see so often, we we're able to create the huge 32:9 image by using edge blending technology (Scalable Display Technology). The ambient light rejecting qualities of the screen produced stunning brightness and contrast, creating an image you could almost step into. Visitors commented on the screen's similarities to LED and LCD displays, the likes of which we hear whenever we feature the screen at exhibitions, a true compliment to receive in 2020 with the likes of 4K and 8K screen technology on the rise!
Interactive 70" Mirrorvision Portrait Display:
Our 70" Interactive Mirrored Display is a perfect way to create an engaging display solution unlike anything you see on todays high streets. This interactive mirror is merely a look into the future of retail and hospitality displays, with the potential to replace existing fitting room mirrors, POS displays and information points with a far more hi-tech and inviting solution. This 70" Display outputs stunning 4K content combined with multi touch capability, whilst still retaining the option to act solely as a mirror. To create our content for the show we used the excellent Intuiface interface software from Intuilab.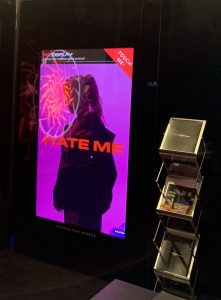 Our 50" Interactive Touch Table was a great hit with visitors to the stand this year who were wowed by the how responsive and sensitive the table was whilst trying out the brilliant Touchtech Lima interactive multi-touch software package. Our Touch Tables are available in a range of standard and custom designs, with our ISE Touch Table coming complete with carbon fibre effect, integrated speakers and a wireless charging station for smartphones. These interactive tables transform the standard business meeting or product pitch into a memorable visual presentation, designed to impress customers and outperform your competition.
High Reflective Mirror TV Wall:
Another highly photographed product on our stand was our High Reflective Mirror TV Wall. These displays are perfect for applications that require optimum mirror effect when the TV is turned off but are still able to produce a high brightness 4K quality image when switched on. This 43" TV screen with an oversized high reflective mirrored fascia is the perfect choice for many different environments, from retail and hospitality applications to custom designed residential furniture. Our ISE stand display featured a wall mounted version of the High Reflective Mirror TV Wall, but this can also be built into custom housing and is also available with a frame or as a freestanding full-length mirror.
This year our Transparent LCD Display Case had plenty of competition with the launch of our new Transparent OLED, but still managed to impress attendees and other exhibitors alike. One of the main advantages the Transparent LCD has over the TOLED screen are it's wide range of sizing options, being available in screen sizes from 9.7 inches to 98 inches compared to the Transparent OLED's singular 55inch display size. Their need to be within a backlit enclosure is less of a restriction when you consider some of their most common uses; display cases, vending machines, drinks coolers, museum displays etc. which all normally to consist of a surround or housing anyway. The Transparent LCD's can also be paired with our PCAP Overlays or Interactive Touch Frames to give the display interactive capabilities.
We'd like to thank everyone who came to visit us at our stand, our team loved speaking to you all about your ideas and projects and how we could help bring them to life. Every year the technologies on display at ISE are more fascinating than before, with the boundaries of whats possible being questioned more and more each year. This year we've spoken to people from all over the globe and with so many diverse and creative ideas in discussion, we are already incredibly excited to play a part in the projects discussed at ISE 2020. This year has been a great way for Pro Display to say 'Vaarwel' to the Amsterdam location of ISE, with us hoping to come back bigger and better when we meet again in Barcelona!