Posted November 18th, 2021 by Emily Burkinshaw & filed under , General, Inspiration, Technology.
In a world where we are most commonly exposed to projection in dark rooms with static screens, it's no wonder why many are unaware of the alternative ways projection can be used. Whilst front projection is still a firm favourite in movie theatres, home cinemas and standard corporate applications, rear projection and specialist screen technology are paving the way for use across the full spectrum of market sectors. Nowadays projection is used in environments that require more versatility, creating a look that can't be achieved with alternative LCD or LED technologies. These specialist solutions are making it possible to create multifunctional environments and layered displays that are more engaging to the audience. We've had over 15 years' experience in supplying specialist screen solutions, here we explore our top 5 most versatile screens and give you our tips on how to get the most out of them.
Transparent Projection Screens
With both front and rear projection options, our range of transparent screens are ideal for special effects applications or in projects where the clarity of the screen must be preserved. Our Clearview rear projection film and screens are the perfect low-cost alternative to competing holographic technologies, producing a 2D peppers ghost visual effect. These holographic screens are favoured by Hollywood acting as an alternative to CGI technology, with our transparent screens featuring in blockbusters such as Marvels Guardians of the Galaxy Vol.2 and Transcendence. These holographic effect screens have also been featured in multiple high-profile awards shows, providing a backdrop for Halsey's performance at the MTV EMA's and not only bringing a holographic Bob Hope back to life, but also creating a versatile stage set at the 83rd annual Oscars celebration.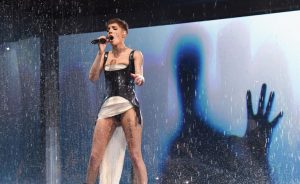 Not only can our transparent projection screens be used for special effects, but they also produce a 4K/HD vibrant image even in brightly lit environments. This functionality makes them a great solution for indoor window displays or glass partitions that wish to display a combination of holographic effect and normal video content, or in applications that want to maintain visibility and clarity of the projection surface 24/7.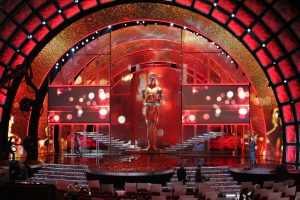 Switchable Projection Screens
Switchable technology offers the best of both worlds appearing as a frosted privacy screen when switched off, and when an electric current is applied becomes transparent. There are lots of ways this technology can be used, in retail Switchable Projection Film is mostly incorporated into window displays or used in product launches to build suspense and add a sense of opulence to the event, like in the launch of the Rolls Royce Dawn at Harrods. Switchable film also acts as a great out of hours advertising space as well as a theft deterrent, perfect for smaller businesses wishing to get the most out of their location.
Switchable projection screens are also a firm favourite for places of worship, where the screen 'disappears' at the touch of the button so the aesthetic of the architecture can be maintained and appreciated when not in use.
Ambient Light Rejecting Screen
Many people have the misconception that the lighting in a room must be controlled in order to create a successful projection display. This however, thanks to Pro Display technology is not true! We offer multiple projection screen solutions designed to perform in brightly lit environments, even producing a film that can perform in direct sunlight. In spaces that don't experience direct sunlight but do suffer from high levels of artificial light or daylight, our Ambient Light Rejecting Screen is unphased, filtering out ambient light to produce imagery in even 4K quality. Our ALR screens are manufactured with a high contrast optical projection layer and light rejecting filter, outperforming LCD/LED panels that are more expensive yet not as well equipped to excel in these conditions.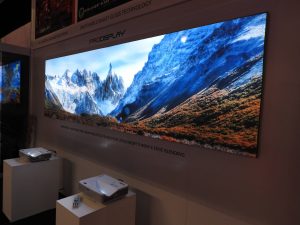 With a filter that blocks out more than 85% of external light, these ALR projection screens also support ultra-short throw and edge blending technology. Their UST compatibility even makes them ideal for environments with limited space, packing the same punch as if the screens were joined together in larger video wall type formats, that can be created with the help of edge blending software like Scalable.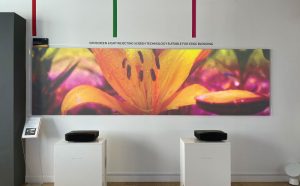 360 Degree Projection Screen
There are many benefits to using a 360 projection screen, most of which apply to a wide range of environments. The key feature of using our 360 degree projection technology is that the image appears on both sides using only a single projector. Not only is this a benefit from a budget point of view giving you twice as many screens for the price of one, but it also helps you utilise your space better. Whilst this is less popular for advertising, due to one side of the screen producing a mirrored image, these screens thrive in immersive environments like museums and visitor attractions offering a display that can be appreciated from all angles.
Available as both a film, that can be applied to existing glass or acrylic surfaces, and a rigid screen, one example of how these can be used to great effect is in the
World Rugby Hall of Fame
. We supplied 4 of our 360 Screens that were used to project huge images of inductees that could be controlled by the visitor, via a connected touch screen. Users were encouraged to take selfies with the screens that were placed centre stage in the museum space, allowing them to be properly appreciated from all angles and separating the areas of the exhibit without isolating them from the rest of the experience.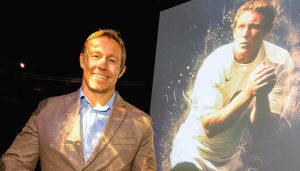 PVC Rear Projection Screen
Our PVC projection screens are most popularly used in two ways, ceiling suspension and tensioned applications. The flexible nature of the screen material makes them perfect for ever changing environments due to their light nature and rollability, allowing them to be easily packed and reused without effecting the quality of the screen. Our PVC fabric projection film can be used to great effect in spaces with high ceilings like atriums, museums and shopping centres where the screen is suspended from the roof, offering an arial 4K/HD display that even appears animated in the right conditions.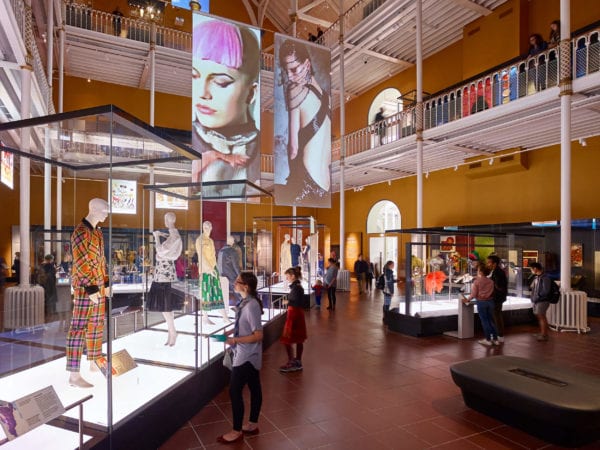 We also commonly see these PVC projection screens used in tensioned formats, with sizes available up to 10 x 3m and options for edge blending and seamed large format solutions. The dynamic nature of this projection film allows us to produce stunning curved screens at a scale that cannot be achieved with LED or LCD technology. We can manufacture our PVC screens to fit bespoke steel framework systems ready to integrate straight into film sets or attractions, translating onto camera with superior quality. Our most recent PVC screen project was for the BAFTA and Oscar nominated Netflix film, 'The Midnight Sky', acting as a key part of the set in many of the movies most anticipated action scenes.