Posted May 11th, 2018 by & filed under , General, Inspiration, Project Focus, Technology.
Pro Display has an illustrious history when it comes to the film and TV markets. Indeed, many forms of visual entertainment are, by their very nature, somewhat dependent upon visual displays in order to entice and immerse viewers. From displaying valuable content, to helping to create a theme, prop or set for visual or functional purposes, many of Pro Display's products are specified by experts in the industry with the confidence that we manufacture a wide range of innovative visual display products that offer real 'wow' value.
Perhaps the most prestigious project we have been involved with was undertaken for the 83rd Academy Awards. Little do most people know that the "Oscar's night" ceremony is actually a stage-managed performance, for which Hollywood heavyweights Bruce Cohen and Don Mischer were nominated an Emmy award for the incredible event they put on that year. Realising their vision called on the expertise and hard work from a spectrum of creative and technical partners – Pro Display were proud to have been an integral partner in bringing this vision to life. The stage set included 38 Pro Display Clearview Holographic screens, offering the Art Department a huge yet transparent 'blank canvas' to display the backdrop to their show without the screens interfering with or obstructing the set design.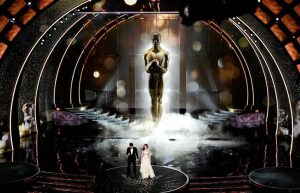 Not only were these screens used as the backdrop for the event, but one holographic screen was used for a special feature which saw Hollywood legend Bob Hope projected onto the stage from beyond the grave, hosting the awards as he did back in 1953 at the first ever televised Oscars. Introduced by contemporary Hollywood legend, Billy Crystal, this application of Clearview technology was as revolutionary as it was public.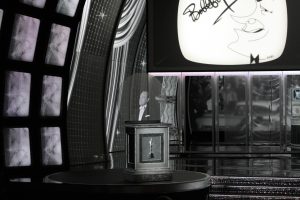 Subsequently, Pro Display were recognised for the immense importance they had to the project; winning the 'Live Event of the Year' award at the AV Awards as well as representatives from the Academy Awards offering words of praise, "We would like to thank you for all of the hard work and effort that you have put into this year's show. Your contributions helped ensure the success of this year's Oscars. We could not have done it without you."
Having been specified for numerous high-profile media projects, Pro Display stands tall with an incredible portfolio in the industry that places us first choice for specifiers. You can see Pro Display products in a wide range of media productions – some that you will likely be familiar with. For example, you can see our Ultra Black Rear Projection screens helping to makeup the set of the Enterprise in Star Trek into Darkness (Paramount, 2013) or our Clearview Holographic Projection film being used to create a hologram effect in Transcendence (Warner Bros, 2013). There is clearly no shortage of Pro Display's representation in pop culture, but it is the products themselves which give these projects life and credibility. Our specialist display technologies offer a wide range of solutions that specifiers may require in the pursuit of particular effects, designs or themes.
More recently, Pro Display's Clearview Holographic film appeared in numerous places in James Gunns's Guardians of the Galaxy Vol.2 (Marvel Studios, 2017), where we see the true impact of holographic effect technology. Used by the film studio to create a futuristic / alien backdrop, mock spaceship controls, user interfaces and other spaceship diagnostics were projected onto the screens to help create the set and other props. The advantage of using Clearview for this application meant that the screens were able to display this content on a transparent surface, an effect audiences will not be used to seeing in daily life and will likely associate with advanced technology, reinforcing the film's overall theme and tone.
It's not just film productions that can make the most out of Pro Display's incredible technology. High profile TV shows from a range of genres have called on Pro Display to provide display solutions for their set or features. One of these TV shows was ITV's flagship X Factor, which saw our Pro Diffusion Rear Projection film take centre stage upon the judge's decisions on who to take through to Boot Camp.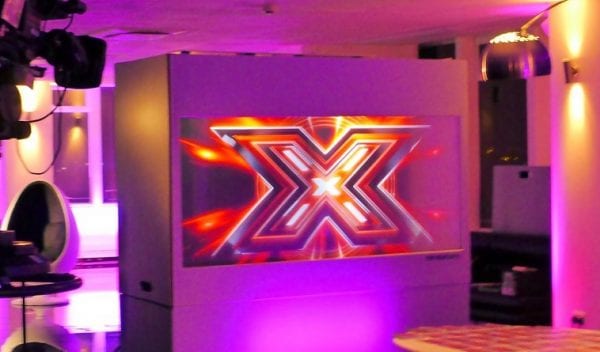 This application helped X Factor reinforce the notion of credibility with a theme of scientific analysis. Interacting with the contestants as graphic icons, whilst weighing up pros and cons of their abilities and viewing their audition tapes displayed on the screen, the X Factor judges were able to emulate similar collaborative applications such as big data analysis, spatial data analysis and research presentations. The Pro Diffusion Rear Projection film used to create this solution was granted touch screen capability, and using analytical software designed for such an application, the judges were able to easily display data for the performance aspect of their activity, as well as organise the contestants for their own convenience using touch control.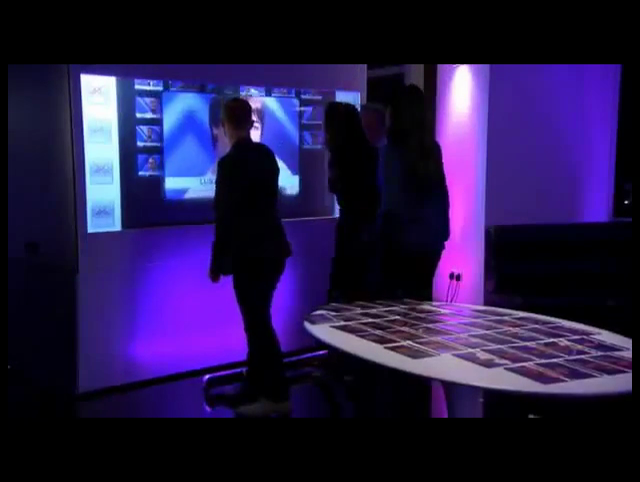 TV is a familiar market for Pro Display, having had products specified by numerous TV shows. The British TV consumer interest show Watchdog, for example, uses a Switchable Glass screen in order to present content without obstructing the backdrop when it's not needed. Switchable Glass is a popular solution for TV backdrops due to its invisible state when not in use, preventing sets looking cluttered, and more importantly, allowing the space for other visual draws.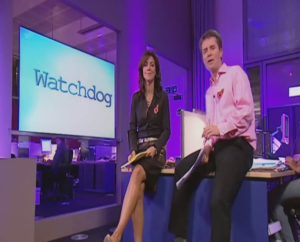 This was an important aspect for Bloomberg, who use their Switchable Glass Rear Projection Screen to help create traditional news backdrops that reinforce their guest's or contributor's expertise and relevance. This backdrop is not necessary all the time, however, and many news outlets like to display a busy office behind the broadcaster, helping to portray a proactive and industrious news team. Using this Switchable Glass screen, producers and directors are able to specify what backdrop is to be used without having to worry about a number of issues related to this, as the screen's image can be changed easier than other solutions may allow.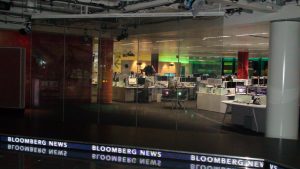 Sky Sports News made particular use of a full screen solution, wanting a Commercial Grade Screen with a Capacitive (PCAP) Touch Glass Overlay which offered them an interactive presentation display that they can use to show a range of information such as match results, league tables, transfer details and any other sports related data which would bring valuable content to their audiences. When the screen is being used, the presenter is able to interact with the information that is being displayed in a way that is responsive to the live nature of news presentation. This means that not only does the presenter have full control over what is being displayed at the time, it also allows for them to plan ahead on-the-spot, should they be required to.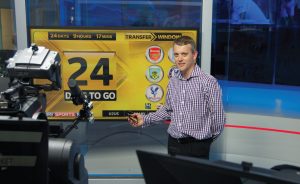 Whilst Pro Display's technology excels at helping with the production of television content, it also reflects well as part of the content itself. The marvels of this technology are such that do entice audiences, resulting in a wide range of appeal compared to other features they may have seen before. For example, inspirational reality TV shows such as those in the property, construction and development arena regularly call on Pro Display and Intelligent Glass products to change lives, achieve a particular theme or simply wow viewers. Switchable Glass has featured in shows such as Grand Designs, 60 Minute Makeover, Extreme Makeover Home Edition and George Clarke's Amazing Spaces, often as a 'show-stopping' feature for that episode.
Mirror technology has also seen an uptake in popularity in recent years as a 'show-stopper', with more experts looking to use this incredible product to make the most of the usable space by combining 2 key features of a main room – a mirror and a TV. This premium and elegant solution is a favourite for both experts and audiences a-like, offering a dramatic deviation from expectation, Mirror TVs serve as a mirror when the screen is a off and a HD/4K TV when switched on. This not only allows for the creative use of extra space, but it also enables a minimalist theme where both a luxury mirror and a prized TV can take centre-stage in the space.