Posted December 3rd, 2012 by Sean Brown & filed under , Case Study, General, Project Focus.
The Academy Awards are known around the world for bringing together the biggest movie stars, with flowing champagne and tear-jerking acceptance speeches, glittering red carpet fashions and paparazzi camera flashes. And we all love that.
It's less well known though, that 'Oscars night' itself is a stage-managed performance worthy of its own special recognition. Indeed the producers of the 83rd Academy Awards, Hollywood heavyweights Bruce Cohen and Don Mischer, were nominated for an Emmy award for their work.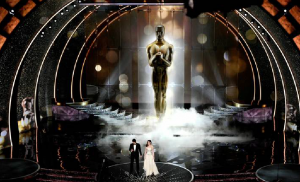 Bringing their vision to life required a huge number of creative and technical partners, managed by the dedicated Art Department team – and Pro Display was one of those partners.
The stage set of the Oscars included 38 Pro Display Clearview holographic screens, providing a versatile blank canvas (transparent even!) on which the stage designer could create their show, without the projection screens ever getting in the way.
One very special holographic screen was reserved for the return of comedy legend Bob Hope, hosting the awards once again, as he did at the first ever televised Oscars back in 1953. In a memorable and unique moment, Billy Crystal introduced a digital projection of Bob Hope from that landmark TV broadcast.
The Art Department of the 83rd Academy Awards recognised the importance of our technology at this year's show with a letter saying: "We would like to thank you for all of the hard work and effort that you have put into this year's show. Your contributions helped ensure the success of this year's Oscars. We could not have done it without you."
Pro Display subsequently won the 'Live Event of the Year' category at the AV Awards for the Academy Awards stage set.
Being part of the Oscars is a real honour – knowing that our display technology helped to create new special moments in that long tradition of stage and screen.