Posted August 7th, 2012 by Sean Brown & filed under , Case Study, General, Project Focus.
In recent years mirrors have been a must have feature in residential interiors, often acting as the focal point of a room as well as helping to make the space appear bigger. In some cases however the space can even be too small to accommodate a mirror, but when it comes to wall space how do you decide what stays? Instead of opting for a standard mirror why not increase the functionality of your space with our Mirrorvision range. These clever displays combine the functionality of a beauty mirror with the benefits of a stunning HD/4K Smart TV.
Our Mirror TV technology was recently featured on UK broadcaster ITV's 60 Minute Makeover, the episode starring Linda Barker saw the transformation of a family home using Pro Display's Mirrorvision TV technology taking centre stage in the Living Room. Due to the size of the room, the designers wanted to ensure functionality without cluttering the space and combining the mirror and TV were the perfect solution.
Mirrorvision is an optical mirror glass which when combined with a TV creates a screen with a difference. When the device is switched on the image magically appears through the mirror surface, and when the display is switched off the screen surface reverts back to a normal mirror, transforming ambience instantly. Available in a range of tints, our team can work with you to create the perfect solution for your environment. For more common areas, like living rooms our Standard tint is ideal, offering a high quality image when switched on and stunning mirror effect when off. For more cosmetic applications our high reflective and ultra high reflective are better suited, producing a more realistic mirror reflection with the benefit of hidden TV when necessary.
Pro Display director Paul Beswick said he was, "delighted the technology had been used and it showed how high-end AV products are becoming more and more available to the general public."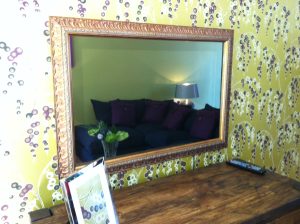 Not only can we create these 'Magic Mirror' TV Screens in a style that mimics the traditional appearance of a cosmetic mirror but we can create custom solutions designed to suit your interior. From offering a huge selection of modern and antique frames to creating sleek, modern frameless TV solutions, we pride ourselves on the ability to create products that are completely unique to the individual. For those with the advantage of an abundance of wall space, an oversized Mirror TV can make a great feature wall, whether it's using just a single eye-catching panel or multiple pieces of glass to cover a full wall. We can also manufacture freestanding Mirror TV's best suited to cosmetic and beauty applications like bedrooms and dressing rooms.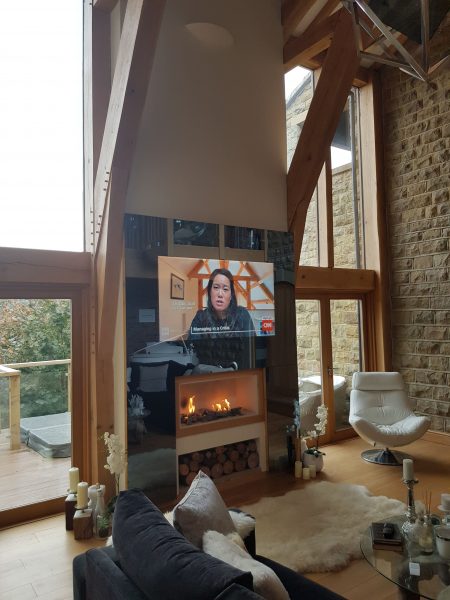 Pro Display Mirror TV's are available in standard screen sizes from 22″ to 70″ with custom sizes available on request.