Posted September 3rd, 2020 by Emily Burkinshaw & filed under , Case Study, General, Project Focus.
On July 30th 2020, Nike opened it's largest 'House of Innovation' yet in Paris, France following the opening of stores in Shanghai and New York. The 3rd of Nikes specialist flagship stores stands in a prime location on the prestigious avenue des Champs-Élysées, measuring 2,400sqm with the latest and greatest in Nike innovation spreading over 4 floors.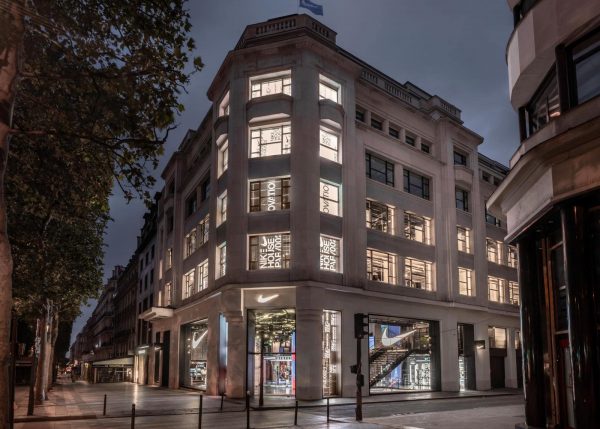 Nike describes its mission with their 'House of Innovation' to be simple, to bring inspiration and innovation to every athlete* in the world. The best way to describe the store is in the words of Nike itself:
'This singular goal inspires new technologies, new systems, new standards. It shapes plays … games …legacies. It's our privilege and our responsibility. It's why we question everything and assume nothing, except the infinite human potential for greatness. It's why we take big risks, even when it means risking it all. It's why we create and craft the future of sport—one day, one idea, one innovation at a time.'
These unique concept stores endeavour to use the power of digital technology to best serve the customer, which is why we are extremely privileged to have supplied our Pro Display technologies to help bring their vision to life. Heidi O'Neill, President of Consumer and Marketplace said "When consumers step into Nike Paris, they will experience our largest, most digitally connected and immersive retail concept in the world. The strength of our digital portfolio combined with product innovation and amazing physical spaces, will connect members to the community of sport and to one-of-a-kind experiences, serving them in an incredibly personal way. We are so excited to bring Nike Paris to the city and to the world."
Nike's newest House of Innovation features a "digitally powered" end to end consumer experience, designed to represent "Nikes bold vision for the future of retail" said Cathy Sparks, global VP and GM of Global Nike Direct Stores and Service. Opening such a huge brick and mortar store in the middle of a global pandemic could spark understandable concern however, all safety aspects were considered in the design – fitted with sanitizing stations throughout and clever lighting tailored to encourage social distancing. "We've been thoughtful with how this space comes to life, and the French team has taken on the learnings that we have received around the world [as it relates to safety and COVID-19], so we are confidently able to open this store," Sparks said. "[For example], we have the Nike app, which gives a zero-contact experience. … We've reimagined all of our footwear seating for try-ons, and we've made sure that the store is designed in a way that creates the appropriate spacing."
Pro Display were contacted by Nike, who were looking to use a Transparent Screen in a digital way-finding solution for use throughout their newest and largest House of Innovation yet. They provided us with the initial concept for the display, which had been rendered by their design team, so we could begin working together to accommodate the practicalities of using a Transparent LCD for the application.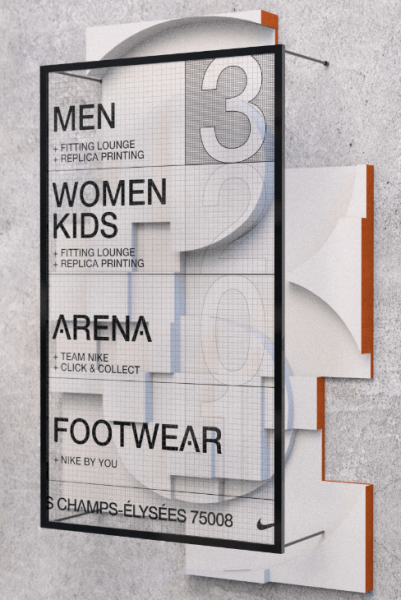 Using their original design as a starting point, we worked closely with the team at Nike to adapt to the mechanical aspects of the design, for instance the light source which was necessary for the screen to be able to operate or where the power and connectivity cables would go without compromising their minimalist design. With over 15 years experience in working on custom projects, we can build bespoke Transparent LCD housings to your exact requirements and measurements to create one of a kind products.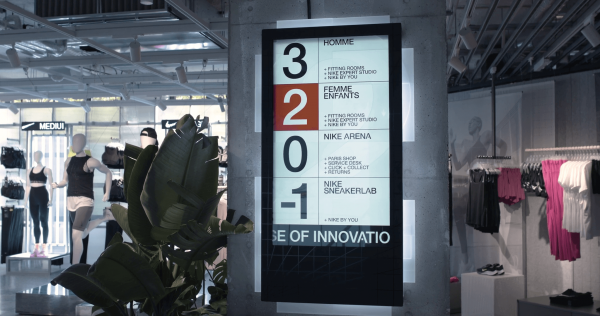 We knew our final product had to be perfect, integrating seamlessly into the design of the store and contribute towards the one of a kind experiences in the store. The result was a sleek and minimalist set of nine Transparent LCD Display Screens, custom built to suit the applications requirements which brought the concept ideas to life. This application of Transparent LCD Screens completely challenges the norm of how they have been used previously, with this screen sitting completely away from the wall with no surrounding housing.
This project is a stunning example of how the boundaries in using Transparent LCD's can be pushed to create eye-catching, unique products. The backlight in this case is a clever use of a powerful white light behind frosted abstract panels showing the floor number. Due to the power of the light and the way the design is oversized in comparison to the screen's bezel, the screen still produces crystal clear, HD quality content as it would in a standard housed application.
Ben Hadfield, Sales Director at Pro Display said "Not only was it a huge honor for our Transparent Screens to be specified by such a prestigious brand in an application of this size, but to be a part of Nikes Move to Zero journey, with our screens operating in a store that is 100% run on renewable energy and built with almost 85,000 kilos of sustainable material within its design."
Nike Paris's House of Innovation shows us a glimpse into the future of physical retail shopping outlets, blurring the lines between the physical and digital with the use of apps that operate using exclusive in store content or the option for zero contact experience. We can see how Nike uses technology not only to turn shopping into an actual experience, but to create an environment that is constantly adapting to operate at its best in times of change and uncertainty.
(Photos & Video courtesy of TDM Space and Nike)