Posted April 8th, 2021 by Emily Burkinshaw & filed under , Case Study, General, Project Focus.
Over the last 15 years we've been lucky enough to work on some incredible projects in over 150 countries, from supplying the largest Rigid Rear Projection Screen in the middle east to transforming 392 windows of an Amsterdam hotel into a 25-storey projection canvas. Amongst working on ambitious projects and supplying displays to big brands such as Nike and Rolls Royce, our solutions have also made appearances in multiple blockbuster movies.
The bespoke nature of our products has allowed us to push boundaries to the limit on what's thought possible to achieve with physical displays, allowing for the creation of more realistic film sets, as opposed to relying solely on CGI in post-production. Not only is this a more cost-effective method than using CGI, it also provides a more realistic environment for the actors while filming is taking place, requiring less improvisation to allow for a more convincing performance.
Most recently, we provided 20 pieces of our Ultra Black Rear Projection Film to help create a scene for the 2020 film, Wonder Woman 1984. Our Rear Projection Film was used to create an authentic 80's style TV store window, with our Ultra Black technology providing superior contrast and resolution even under the lighting of a movie set. Using our rear projection film in this kind of application means you would only need a single projector to create the images on each 'screen', using clever projection mapping software to display the content rather than using and syncing individual LCD or LED screens.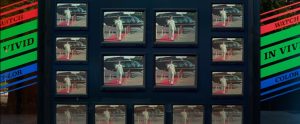 As well as Wonder Woman 1984, Pro Display technology gained a starring role in the OSCAR nominated Netflix hit, The Midnight Sky. We were called on to help to build the 'Aether', the returning spaceship where the majority of the movie was set. We provided a huge 5.79m x 2m Curved Rear Projection Screen that was manufactured with a 5-degree tilt designed to give the screen the most realistic image. The screen was created using an ultra-short throw projection surface in order to keep projection distance to an absolute minimum, a key factor in set design, and was mounted to a bespoke, made to measure steel framework system.
By using a rear projection screen the cast and crew could move freely around the set without having to worry about casting shadows over the screen and disrupting the image. The specialist optical projection surface was designed to produce high contrast 4K images on the surface, offering a superior performance in the carefully controlled studio environment. Our curved rear projector screen was the perfect solution to suit the unique design of the set, producing an effect that could not be recreated with competing LCD and LED technologies. The matt surface of our screen also made sure there was no glare or reflection from other elements of the set like lighting systems.
Working with such a small cast, only 19 credited actors to be exact, meant producing a convincing performance was even more important. By using solutions like Rear Projector Screens the cast and crew have real reference points to work with, rather than relying on imagination and improvisation on a green screen set, where the effects are computer generated and added at a later date. Creating more realistic sets provides a more immersive environment for the actor and therefore a more compelling performance.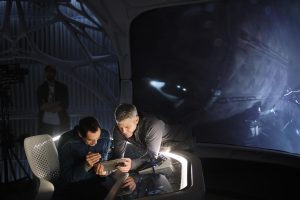 The scale of the production for The Midnight Sky was incredible, with the special visual effects earning the VFX team a well-deserved BAFTA and an OSCAR nomination. As well as our bespoke Curved Rear Projection Screen, the VFX team used the ground-breaking Industrial Light & Magic's StageCraft integrated virtual production platform to create huge, realistic 3D background environments with LED screens. The success of using these LED screens is clear, with the incredibly popular Disney+ series, The Mandalorian using the same system and winning an Emmy for Outstanding Special Visual Effects.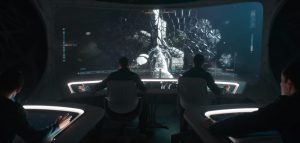 The way visual effects are created for film production is constantly changing, with the creation of ambitious new technologies paving the way for a new age of cinema. Even the way rear projection has been used on set is changing, from being a key element in creating driving sequences in the early Bond movies to now creating the foundations for convincingly portraying technologies that don't yet exist. The Midnight Sky is only one of the most recent of many blockbusters that have cast our display technologies, with our Ultra Black Projection Film featuring in Star Trek into Darkness (2013), our Clearview Projector Film creating a hologram effect in Guardians of the Galaxy Vol. 2 (2017) and our Switchable Glass Projection Film for Prometheus(2012).