Posted September 15th, 2022 by Emily Burkinshaw & filed under , General, Inspiration.
For over 15 years, Pro Display has been providing specialist projection screens for homes and businesses around the globe. We've dedicated endless hours of research and development to manufacturing some of the most unique projection technologies on the market, leading to their presence in a number of high-profile projects across the retail, broadcast and hospitality sectors to name a few. Whilst our range of projection screens and films come in many standard sizes, our custom and large format projection screens have become the most talked about, whether it's featuring in a BAFTA award-winning film or working with world-renowned brands.
Digital Glass
Our Digital Glass technology offers the opportunity to create the largest rigid rear projection screens in the world, in huge sizes up to 8000mm x 3000mm. This ultra-short throw projection technology is manufactured using a special process, where an advanced optical projection layer is coated directly onto toughened glass or acrylic to create a more cost-effective alternative to LCD and LED Video Wall technologies.
We've provided our Digital Glass screens for many exciting projects, with the retail industry finding these large projection screens a firm favourite.  One of these projects happened to be in the most famous luxury department store in the world, Harrods, where we provided a unique 1.6m x 1.6m square Digital Glass rear projection screen designed to fit into their own bespoke frame.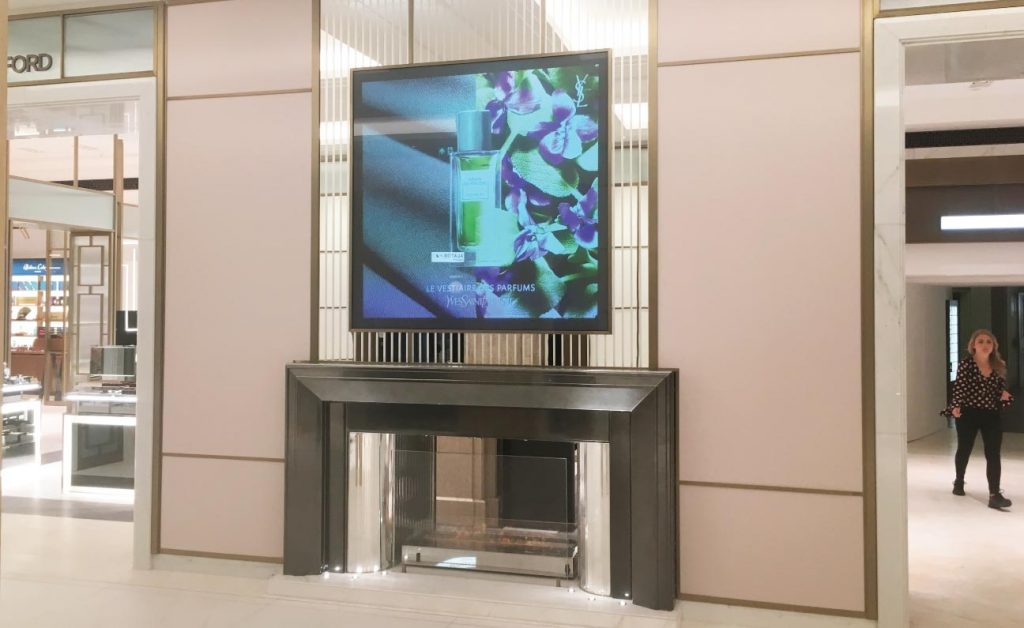 We were also specified to manufacture the largest rigid rear projection screen in the middle east for Level Shoes in the Dubai Mall. This huge screen was ideal for the environment, with David Fell director of Eclipse installations saying "clients come to us because they know we source the very best equipment possible for the solutions we design and, with that, that we will not compromise on performance or quality; choosing to work with Epson and Pro Display for a project like this was, therefore, a natural choice.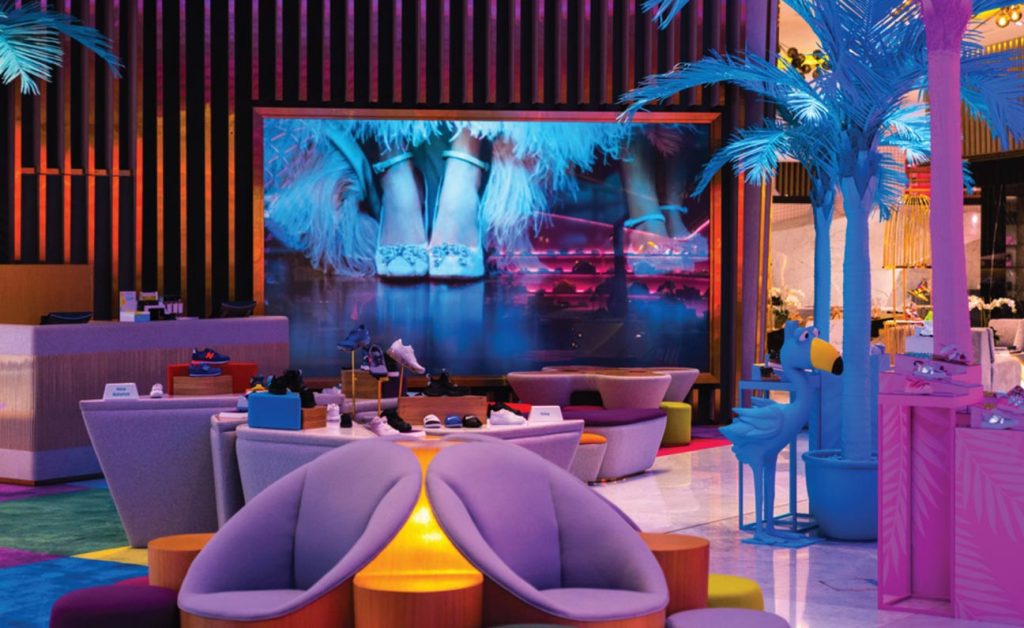 We were also lucky enough to be asked to provide 7 custom Digital Glass screens for the Expo 2020 in Dubai, helping to create immersive environments in one of the Expo's key districts within 'Terra' the sustainability pavilion. The screens ranged in size with the largest at 4.5 meters in width, manufactured using our unique coating techniques to create a huge seamless screen designed for both short throw and edge blending applications. Creating two jaw-dropping experiences, our screens were used to transport visitors 'Under the Ocean' and 'Under the Forest', with 3 of the screens used together to create the illusion of being underwater, with whales moving from "window" to window even seeing them swimming overhead.
PVC Projection Film
With Digital Glass being the obvious choice for large format rigid screens, we also offer our versatile PVC Projection Film for applications that require more flexibility. Available in sizes up to 10m x 3m, these fabric screens display an image simultaneously on both sides using a single projector. PVC Projection Screens provide a wealth of opportunities for creating unique installations, whether it be suspending them from the ceiling to create animated displays or mounting them within custom frameworks to create bespoke curved projection screens.
We recently manufactured a custom PVC Projection Screen for the Netflix blockbuster movie, 'The Midnight Sky' achieving academy award nominee status and even winning a BAFTA for its incredible visual effects. The screen stood at a huge 5.79m x 2m, with the PVC projection surface tensioned into a made-to-measure steel framework system with a built-in 5-degree tilt, designed to produce the most realistic image on screen. The bespoke display was developed with an ultra-short throw projection surface to keep the distance needed to an absolute minimum, this alongside the rear projection set up allowed the crew to move freely around the set during filming without concern for disrupting the image on the screen.
Our PVC screens were also used in dynamic displays at Edinburgh's National Museum of Scotland, providing a huge aerial focus for the exhibition. Showcasing a 360-degree image using only a single projector, each screen was suspended from the ceiling to create an animated projection display, ideal for a room of this size and stature.
Joining Projection Films
To create crowd-stopping window displays, our Rear Projection Films have often been joined to create larger projection screens fitted to existing glass surfaces. One such project was when our Switchable Rear Projection Film was applied to the prestigious windows of Harrods in London to launch Rolls Royce's newest creation, the Dawn Drophead Coupe. Our self-adhesive film had to be custom cut to cover the entirety of the 10 square meter sized window, paired with a timer to create an engaging countdown on the window before switching to clear to showcase the brand new car.