Posted January 6th, 2022 by Emily Burkinshaw & filed under , Case Study, General, Project Focus.
8 years after winning the rights to host, Dubai's Expo 2020 finally kicked off in October 2021 despite being pushed back a full year due to COVID-19. Dubai's Expo was created with the theme "Connecting Minds, Creating the Future", hosting 192 countries over a huge 1083 acre space between Dubai and Abu Dhabi. Since its introduction in 1851, the world Expo was created to showcase and celebrate modern manufacturing and technologies, even seeing the launch of landmark inventions like electricity, the television and even the mobile phone.
The UAE has pulled out all the stops to make Expo 2020 the best yet, with each of the 192 participating countries having their own dedicated pavilion for the first time in the Expos history. The huge plot is split into 3 main thematic districts; Opportunity, Mobility & Sustainability, with each offering completely unique experiences. Our focus brings us to the Sustainability Pavilion – Terra, aiming to encourage change and inspire its visitors to help protect and preserve the planet. The structure itself was designed by UK based Grimshaw Architects and is meant to meet the highest available accreditation for sustainable architecture, whist offering informative walkthrough experiences.
'Terra' lets visitors wander through the forests, dive into ocean depths and even see earths wonders corrupted, showing both the beauty of nature and the real impact of humans on our environment. Terra offers two paths, both are immersive experiences designed to show the beauty and delicacy of our forests and oceans and use a range of sensory techniques to create lasting, thought-provoking memories.
Pro Display were specified by Dominion Global, the appointed AV integrators for the Sustainability Pavilion to provide specialist projection solutions for several scenarios within the exhibition. We supplied 7 of our Digital Glass Ultra Short Throw Rear Projection Screens in a range of sizes, made to measure for integration into custom built housing in both the ocean and forest environments. The screens ranged in size with the largest at 4.5 meters in width, manufactured using our unique coating techniques to create a huge seamless screen designed for both short throw and edge blending applications.
First, we take you on a trip "Under the Ocean", where visitors can explore coral reefs and get up close and personal to whales & sea life. Three of our Digital Glass screens are cleverly placed together as part of the whale vortex tunnel, to create the convincing illusion you're really under the water, seeing whales move from "window" to window even looking up to see them swimming above you whilst hearing them communicate. Our Digital glass screens were the perfect choice for this application, offering a HD/4K image from a wide range of viewing angles meaning it could still be appreciated without the need to view it head on.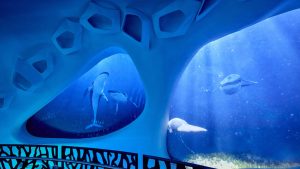 Next, we go "Under the Forest" where audiences can explore the concept of the "wood wide web" exploring areas of our forests that are unseen and often forgotten yet highly at risk from our actions. Visitors can learn about the vast amount of tiny wildlife that keep these systems in balance, with our screens showing the microscopic creatures found in a mere square meter of topsoil at a huge scale. Whilst all of our large format rear projection screens have been used here in controlled lighting conditions, we can offer screens with an anti-glare surface which are ideal for brighter or busier lighting environments.
Our ultra-short throw digital glass screens are completely customisable in size with acrylic options up to 8000mm x 3000mm and rigid glass screens up to 5000mm x 2500mm that can be manufactured ready to fit existing frameworks and housings. We can also create bespoke shapes made with holes for mounting for a seamless integration into experiential environments.
Expo 2020 is running until the 31st March 2022, with different events and experiences on offer throughout the coming months. If you can't make it to Dubai to experience the Expo in person, why not take the virtual 360 tour from the comfort of your own home? Click here to visit the Sustainability Pavilion and be sure to go under the ocean & forest to check out our digital glass screens in action!