Posted July 18th, 2019 by Sean Brown & filed under , General, Inspiration, Project Focus, Technology.
Currently residing in one of the most luxurious retail environments in the world, Pro Display's Ultra Short Throw (UST) Rear Projection technology – Digital Glass – finds a home in the beauty department at Harrods. This next generation UST rear projection screen sits at an unconventional square 1.6m x 1.6m, offering Harrods a unique solution for their digital signage.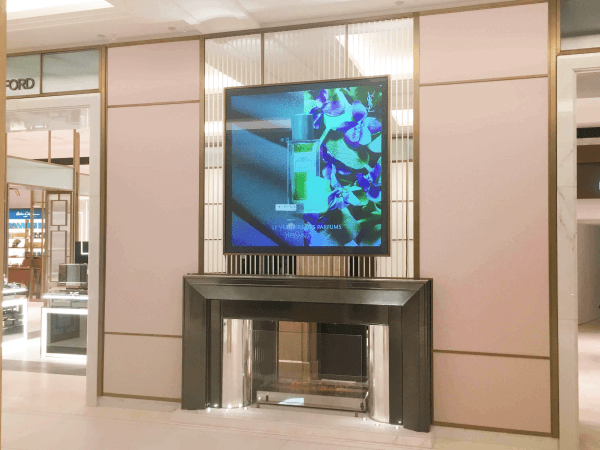 Choosing an LCD or LED screen as their signage solution would usually force content into a typical aspect ratio such as 16:9. In a busy retail environment, a traditional aspect ratio may be less effective when competing with other screens and could contribute to a condition of 'inattentional blindness' that can affect audiences who are faced with a number of competing visual distractions. Being housed in their own bespoke luxury frame, this rear projection screen blends seamlessly with the environment's interior design yet stands out effectively as their own piece of moving art with its own light source.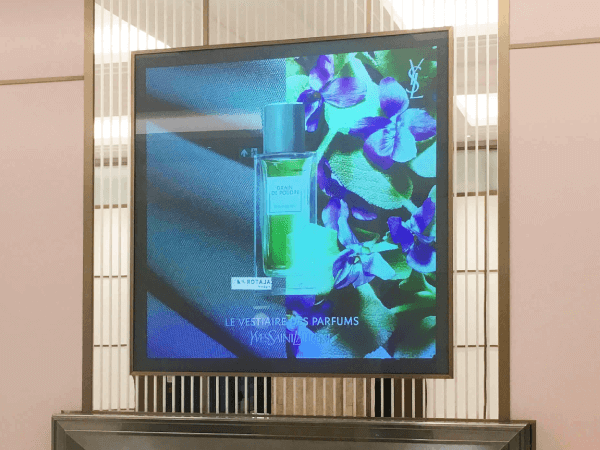 This UST Rear Projection Screen doesn't just subvert expectations in terms of available shapes, but also in terms of functionality. Using different optical coatings, Digital Glass can be made to facilitate a number of visual effects and conditions such as edge blending or even 3D. The UST Screen spreads light evenly into each corner without creating the hot spots than are often associated with projection systems. Combined with the custom shapes and sizes achievable with Digital Glass, it can be used to create unique and creative display systems with highly unusual aspect ratios and can accommodate multiple projectors.
To achieve a display of a similar size as the UST Rear Projection Screen in Harrods using LCD or LED screens (depending on budget), you would likely require a number of smaller screens combined into a Video Wall. For this solution, however, the Video Wall's energy demands would be much higher than the passive screen solution Harrods opted for, which simply demands enough power to operate the Barco F70-4K8 laser Projector that throws the image onto the screen.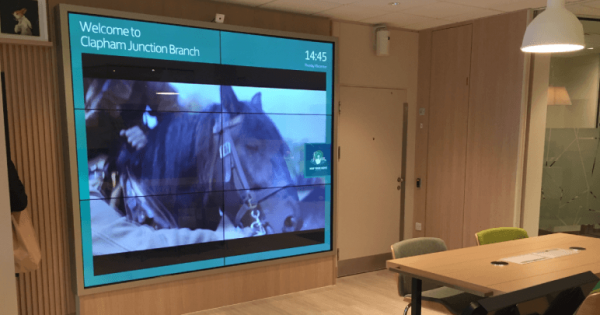 What's more, is that if a Video Wall was to be used, Harrods would have to work around unsightly bezels often associated with LCD or LED Video Walls. Digital Glass, however, boasts no join lines or bezels, offering audiences a seamless screen solution up to a whopping 3m x 8m in size with custom substrate options to boot.
This isn't the first time Digital Glass has been used in a luxury retail environment, too. One of our UST Rear Projection Screens currently resides at Level Shoes in the Dubai Mall as the largest rigid Rear Projection Screen in the Middle East, dazzling audiences with this robust and effective digital signage choice in an environment where 'premium' is expected.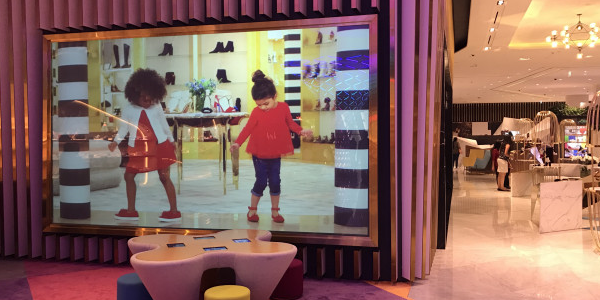 It's little wonder that Digital Glass takes to retail so well; with a peak gain of 0.65, images are crisp and clear, as well as being widely viewable with its 160° viewing angle and superior HD/4K image quality. Moreover, in a busy retail environment that sees heavy footfall, a robust screen solution may not just be preferable but also a necessity. A Digital Glass UST Rear Projection Screen offers just that with its standard 6-12mm thick toughened glass. However, should this not be desired, light weight acrylic options are also available.
Supporting Ultra Short Throw, Digital Glass offers an amazing space saving solution especially when compared to other projection systems, which will require a larger distance between the projector and screen to display a quality image. In a retail environment where space is at a premium, a UST projection system could offer an incredibly valuable lifeline that allows merchandisers to use their space more effectively.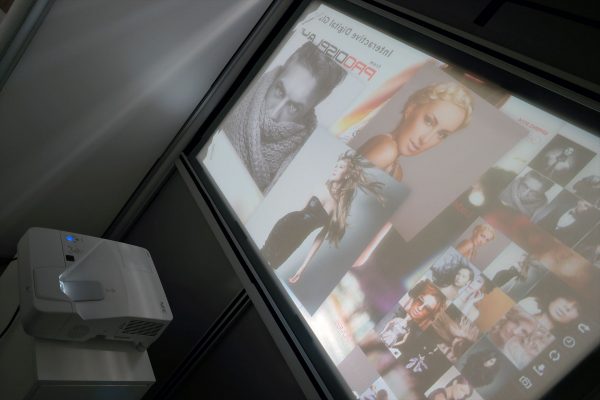 As if this wasn't enough, our Digital Glass UST Rear Projection technology can be granted interactivity by Pro Display for the ultimate in immersive displays. Ideal for games or interactive advertising, a large format 6-point multi touch UST screen can be an incredibly powerful advertising tool to engage customers in retail, especially in those applications where a luxury shopping experience is expected.