Posted March 10th, 2021 by Emily Burkinshaw & filed under , General, How To's, Technology.
The rise of eCommerce is having a profound impact on the retail industry. These days not only do brick-and-mortar stores have to challenge their fellow high street competition for business, but they also must compete with global companies offering online shoppers a seamless online experience.
According to McKinsey & Company, to stand out in the current climate, brick-and-mortar stores have to prioritise their customer experience. That's where interactive kiosks come in. Throughout this piece, we'll explore what interactive kiosks are, the different types of interactive kiosks that are available, and how they can transform your customer experience for good.
What are interactive kiosks?
Interactive kiosks allow your customers to access information (such as wayfinding or browsing through your catalogue) and make purchases/orders, all without having to speak to a member of your staff. They leverage the power of self-service functionality, something that's becoming increasingly popular—especially with the youngest generations—to help your store serve more customers, more thoroughly, and more cost-effectively than ever before.
Here at Pro Display, all our interactive kiosks are designed for 24/7 applications, including an HD 1080p display, protective glass fascia, and integral speakers.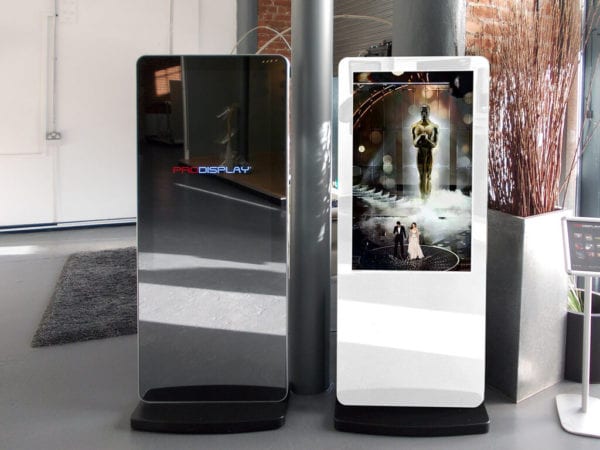 What are the different types of interactive kiosks?
Needless to say, there's more than just one type of interactive kiosk. Let's check out a few of the more prominent examples, digging into their pros, cons, and where they're generally best used.
The Freestanding Interactive Kiosk
The Freestanding Interactive Kiosk, our most popular kiosk to date, is the most versatile in our range. It's available in 43" and 49" as standard, includes a commercial HD LCD screen, and gives you the option to custom brand it with coloured fascia's, logos, and unique designs.  Our interactive freestanding totem's also boast integrated Windows or Android functionality and HDMI/VGA ports, making it incredibly easy to play your content direct from laptops, TVs, and more.  For larger scale projects and sites, our kiosks also support remote content uploading, where content can be refreshed and updated on a large scale from a single source, ideal for shopping centres or retail stores with multiple locations.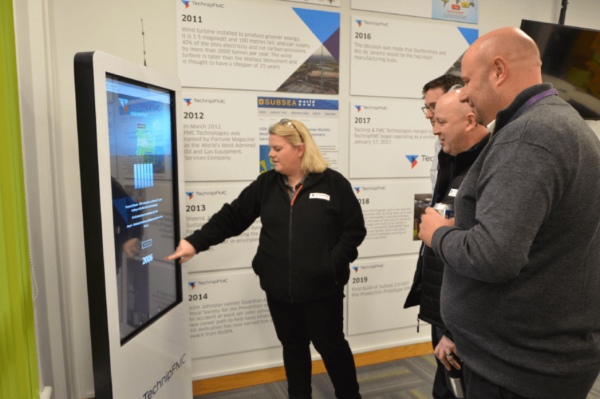 Landscape Interactive Kiosk
Ideal for wayfinding and visitor attractions, the Landscape Interactive Kiosk boasts a 43" or 55" display as well as 10-point touch technology—meaning they can easily be used by multiple people all at once. 
Due to its generously sized screen and multi touch functionality, this interactive kiosk is best suited to use in shopping centres, museums, or car showrooms.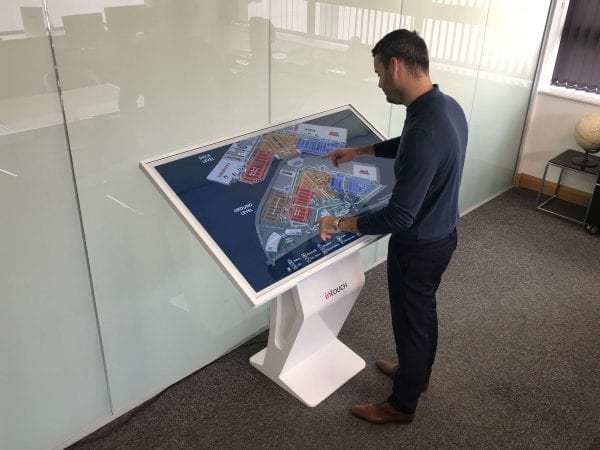 Custom Designed Touch Kiosks
At Pro Display, we're no stranger to creating unique products for projects across the globe, and kiosks are no exception to this. Our specialist industry knowledge allows us to create bespoke kiosk solutions designed to fit a specific brief and design specification. One of our favourite examples of this is when we integrated our Interactive Transparent LCD Display Case into a custom-made metal framework for a retail store roll out. This saw our Transparent Displays used in a completely new concept, incorporating all the best features of an Interactive Transparent LCD Case into a freestanding kiosk and product display vessel.

How do interactive kiosks improve your customer experience?
As great as they are, you want to introduce interactive kiosks for one main purpose: to improve your customer experience. There are several ways in which interactive kiosks can do this, providing your customers with a memorable experience that they're not likely to forget in a hurry.
Enhance self-service functionality
Digital kiosks bring the benefits of one-to-one customer service without customers even needing to speak to a member of staff. Given the current economic turbulence, you may have unfortunately had to downsize your staff—yet you want this to have minimal disruption on your customer experience. 
That's where digital kiosks come in. By implementing one of our intouch™ LCD kiosks, you can vibrantly display your in-store offerings to customers without them having to browse through your entire store or speak to a member of staff. You can also set them up to provide multi-language functionality and even make them fully accessible to those with disabilities.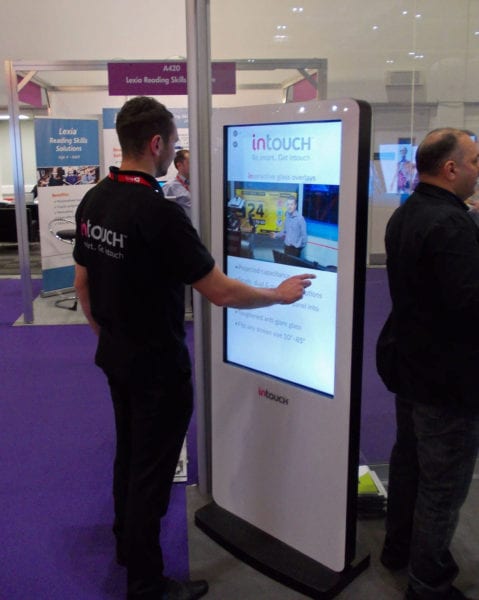 A memorable experience
Interactive kiosks will help you stand out from the crowd, providing customers with a futuristic way to serve themselves, find out where they're going, or dive into your offerings in more detail. You can also fully customise them, either with your branding or with a unique artistic display that'll be sure to catch the attention of passers-by. 
It's also worth mentioning that they're a useful way to enforce social distancing within stores. Customers can address their concerns without needing to speak to a member of your team, though remember to place kiosks over two metres away from one another. 
Do away with long queues, people loitering unsure where to go, and a tired retail experience, by installing interactive kiosks, you can revamp your entire in-store customer experience and tailor it to excel in a post COVID world.
How much do interactive kiosks cost?
Thinking of implementing an interactive kiosk in your store? Great! However, before you get carried away, it's worth getting to grips with how much an interactive kiosk (or kiosks) will set you back.
Generally speaking, interactive kiosks usually cost anywhere from £2,500 upwards. That being said, the exact price itself depends on a few factors (including the display size and the interface itself). If you're looking for a solution to suit a smaller budget, we offer a huge selection of alternative interactive technologies that can be used to create a kiosk style information point. Some of our favourite alternatives include our interactive projection foils that can be retrofit to any existing glass surface or our interactive mirror displays, perfect for retail applications. 
If you want a personalised quote that considers your business's specific needs, please visit our Price Catalogue Request Form.
Make your store an experience to remember
If you're going to not only survive 2021 but thrive, then you need to stand out from the crowd—all while operating more cost-effectively than ever before and potentially even working with a limited number of staff.
Interactive Kiosks help you provide an unforgettable customer experience. Not only do they look slick, but they also make it easy for customers to shop or browse however they want, at their own pace. 
If you want to find out more about how our Interactive Kiosks transform retail spaces, museums, galleries, and more, then get in touch with one of our experts today.