Posted August 20th, 2019 by Sean Brown & filed under , Case Study, General, Project Focus.
We are consistently seeing innovative and interesting uses of Switchable Smart Glass in retail environments, and one of our most recent projects is no exception. As an innate privacy solution that changes from frosted to clear on command, Switchable Smart Glass offers a great way to conceal and reveal products, special offers and other merchandising endeavours that may necessitate a conceal / reveal solution. This project, installed in a UK shopping centre, took shoppers by surprise with its crowd appeal and location, positioned in the place of a concession stand in the middle of the busy shopping centre. Operating on a conceal / reveal basis, the Switchable Smart Glass screen hid a mechanically controlled robot that would be revealed to talk shoppers though a personality test.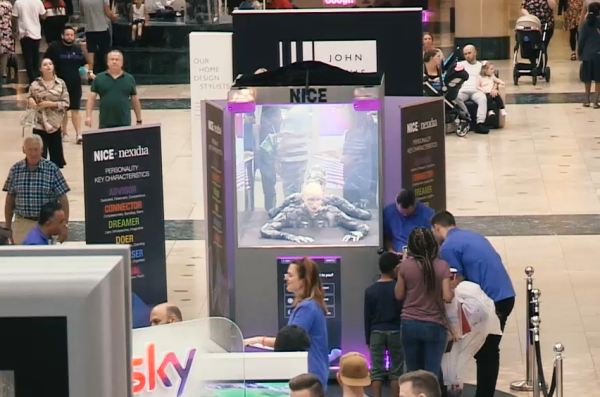 The exhibit was composed of an iPad with a DMZ switch pack to cue lighting, audio and video from multimedia playback software, Qlab, which was running on OSX. Qlab received network commands from an iPad remote control with an operator standing nearby as well as the browser running the touchscreen interface for the personality test. This intricate system came together to provide a memorable experience for passing customers when they took part in the test.
The Switchable Smart Glass was used to build anticipation and surprise when the audience member took part; with their participation triggering the reveal of the robot. Such a visual display was obviously a centre point attraction for the shopping centre, who enjoyed the benefit of impressed shoppers and entertained onlookers leaving the exhibit area.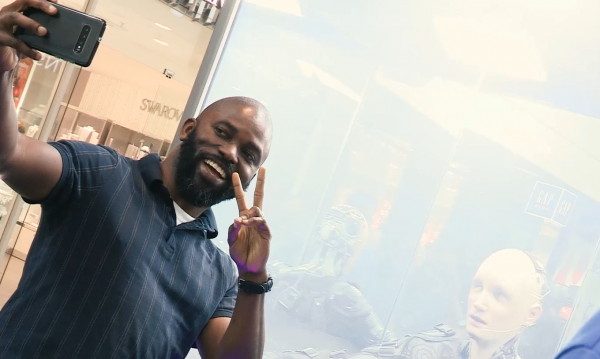 So interesting was the display, entertained crowds gathered as countless members of the audience took part in this clever data collection solution. An entertaining option such as this undoubtedly increases engagement, offering participants the 'reward' of engagement with the concealed robot. Concealing the robot in this application may have even helped to increase a feeling of exclusivity for onlookers, who watched as the participant was rewarded the experience of interacting with the human-like figure that offered so much intrigue and mystery. This is likely to have contributed to onlooker's wanting to participate with the personality test.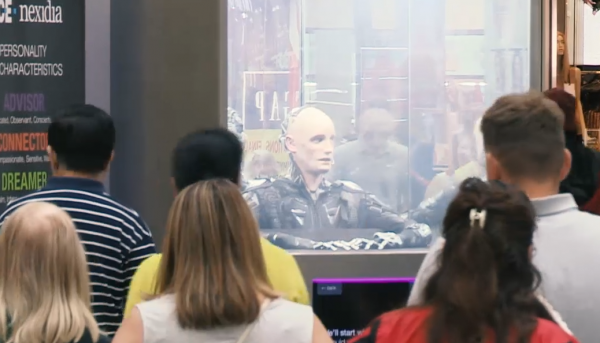 Using Switchable Smart Glass in this application was the perfect solution both in terms of style and function. By putting the robot and Switchable Smart Glass together, the style of this display couldn't look more hi-tech. The futuristic appearance of the robot is complimented amazingly by the Switchable Smart Glass, making for a highly futuristic overall look.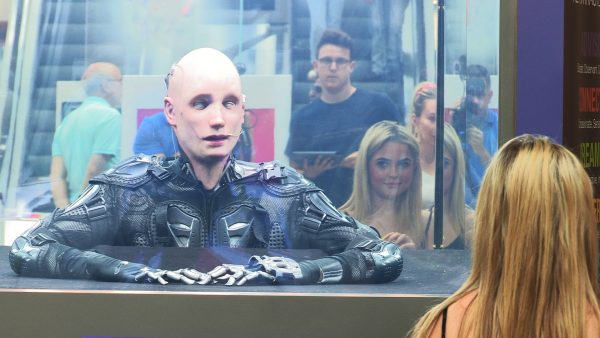 The same principals can be applied to a whole host of interesting and clever displays using Switchable Smart Glass. In this case, a personality test was used for data collection purposes, but this powerful encouragement to engage could easily be applied to new products or special offers, raising awareness of these products in an exciting and innovative way.
Switchable Smart Glass is a versatile solution that can satisfy a wide range of requirements for merchandising goals in any retail environment, such as projection capability and interactivity. These functions allow for even more creative displays that can engage, inform and impress audiences in ways you wouldn't have thought possible.