Posted August 23rd, 2013 by Sean Brown & filed under , Archive, Case Study, General, Project Focus.
Using interactive technology in retail is rapidly becoming the new normal, with self checkouts being favoured over traditional tills and touch screen directories allowing shoppers to create a more efficient shopping experience. Whilst shopping online has become more easily accessible than going into store for many, it doesn't have the same convenience and instant satisfaction as shopping in store. Interactive Displays can bridge the gap between the physical and digital stores by making it easy to purchase an item even if there is no stock in store, guaranteeing the sale rather than leaving it to chance.
We helped UK retailer, Republic, by creating a bespoke interactive solution in underused area of the store. Pro Display's Interactive Projection Foil technology is often used for store window applications for the retail market due to its ease of application but also works perfectly in the high ambient light conditions of the store itself.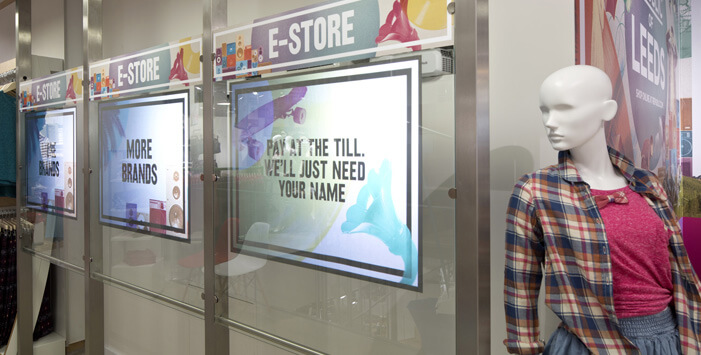 Three Interactive Foils were installed with Sunscreen Rear Projection technology creating interactive kiosks where customers could browse Republic's online store and order items which were out of stock or not held in the store. When not in use the kiosks displayed general digital signage and messages in regards to Republics current promotions or new clothing collections. Like most retail store installations space is at a premium, which meant Republic opted for Sunscreen Rear Projection Film in combination with the Epson EB430 ultra short throw projector installed just 30cm away from the screen!
In most brick and mortar stores you are able to order items that aren't in stock, but usually requires the help of a member of staff armed with a tablet. By integrating our Interactive Projection Foils or Touch Foils into your store you allow the customer to be in control, browsing at their leisure without having to wait for a member of staff to be available and rocketing the chances of them completing a purchase in store.
This process can be made even easier by pairing your display with an RFID reader, where barcodes can be scanned to bring up all relevant product information with minimal ease. As well as our interactive foils we offer a range of technologies suited for use in the retail environment, one of the most popular being our Mirrorvision Displays range that combines a touch screen with a mirror to provide the ultimate fitting room experience.
If you're looking for a quick upgrade to an existing display, we offer interactive overlays that can turn any screen into a touch screen, including our Interactive Touch Foils that feature through glass touch, often applied to store windows in front of an existing screen to allow traffic to interact with the brand without even stepping into the store.