Posted December 16th, 2021 by Emily Burkinshaw & filed under , General, Inspiration, Technology.
Projection has always been stereotyped for use in pitch black environments, dispelling that any other conditions simply will not produce a good quality image. The reality is that with the right technology, lighting is no longer an issue when it comes to creating an effective projection display. With specialist solutions designed to get the most out of your projector, projection screens can now be just as effective and in some cases even better than competing LCD technology. Our optical projection technologies are manufactured to excel in a range of lighting environments including high ambient light and even direct sunlight, but how do you choose which solution is best for you?
Pro Diffusion & High Gain Rear Projection Films
One of the most common environments where a projection screen is affected by daylight is in window display applications. We offer multiple solutions all suited to different levels of high ambient lighting, with consideration for the location and budget always factored into our recommendations. Pro Diffusion is our most cost-effective rear projection film for window installations that can perform in high ambient lighting and daylight. Dark grey in colour, this self-adhesive film can be easily applied to existing glass surfaces offering high contrast, brightness and excellent colour reproduction, designed to get even the most from budget projectors. Our Pro Diffusion technology can also be manufactured in a rigid acrylic screen format and is our biggest selling rear projection screen worldwide.
Our High Gain film is best suited to entry level applications where budget is key. Whilst offering a cost-effective solution for window projection applications, it doesn't perform to the same standard as pro diffusion in brighter lighting conditions. Instead, in projects where your screen will be viewed indoors or at night-time, High Gain is the best value for money and quality. This light grey self-adhesive film is also quick and easy to apply, offering a high brightness image even when using lower powered projectors.
Both rear projection film technologies have little restriction on size, with pieces of film able to be joined together to create larger displays with only slightly visible join lines. Both our Pro Diffusion and High Gain films can also be manufactured as an Interactive Projection Film with thru glass single, dual or multi touch technology.
Sunscreen Rear Projection Technology
For a fool proof daylight projection solution, our sunscreen is the obvious choice. Manufactured with an optical light rejecting filter, this sun-readable screen is projected onto at a 26°+/-5° for an optimum viewing effect performing at an impeccable standard even in direct sunlight. Our Sunscreen technology can be manufactured in custom sizes, offering a more versatile alternative to high brightness LCD technologies. Available as both a film that can be applied directly to any glass surface or a rigid rear projection screen for housed applications, our sun readable technology blocks out more than 85% of external light offering 4K/HD image quality even in harsh lighting conditions.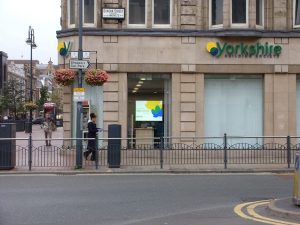 Our Sunscreen film can also be manufactured with touch capabilities, offering a thru glass touch experience that can still be used in direct sunlight in standard sizes up to 65".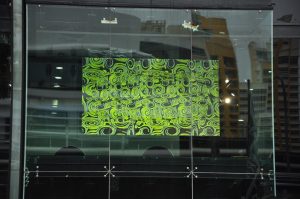 Ultra Gain Front Projection Screens & Films
Whilst we offer multiple rear projection solutions for tricky lighting conditions, projecting from behind the screen isn't always a viable option due to space available or the location of your display. Luckily, we have also developed a range of front projection film and screens that are designed to excel in brightly lit environments. Our Ultra Gain film is manufactured with a highly reflective surface to produce exceptional brightness and contrast even in high ambient light and daylight. Available as both a film and rigid acrylic screen, we offer solutions in standard sizes from 32" upwards ideal for glass partitions, shopping centres and transport stations.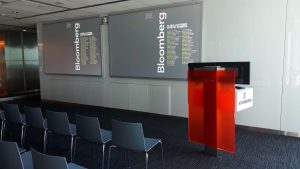 ALR Front Projection Screen
Although our Ultra Gain technology offers a solid projection solution for daylight applications, it's beaten by the versatility of our Ambient Light Rejecting Front Projection Screen. Our ALR screen combines a high contrast projection layer with a unique optical filter that blocks more than 85% of external light. This front projection screen, whilst similar to the Sunscreen rear projection technology, is designed specifically for use with UST projectors with a 0.4 lens and shorter, with no need to worry about movement between the lens and screen due to the impressive short distance between the two.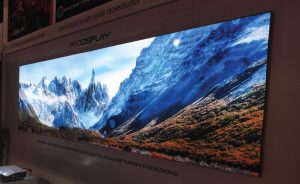 Outperforming more expensive LCD/LED panels, the ALR screen reproduces images with no hot spotting and without reliance on high gain to combat high ambient lighting. These versatile screens also support edge blending technology, allowing the potential to create huge modular projection walls using multiple projectors.