Posted April 28th, 2021 by Emily Burkinshaw & filed under , General, How To's, Technology.
Touchscreen technology is everywhere these days. Consumers expect it and it does wonders for user experience. But to keep up with the competition and engage with your customers in this way, do you need to invest in a complete technology overhaul or is there another option?
So, the question is, can you transform your existing screens into touchscreen-enabled devices? Fortunately, you can—though this isn't as simple as just getting out your toolbox. Here we run through the possibilities for turning your existing screens into a touchscreen with Pro Display.
Interactive Touch Overlays – A quick summary
At Pro Display, we've developed a range of Interactive Touch Overlays which work with both LCD and LED displays, as well as a variety of other screens which are currently being used across a range of sectors from retail, hospitality, healthcare to name a few.
The concept is simple, the interactive touch capability is overlayed on your existing screen turning it quickly and simply into a touchscreen. For example, Interactive Touch Frames work with existing hard surface screens and offer 6, 12 or 32-point touch points. The technology is super-simple – USB plug and play – and we even provide custom sizes. An alternative option is our Interactive PCAP Touch Overlays which provide a toughened glass surface for any LCD screen or display, offering up to 40 touchpoints.
Our Interactive Mirror TV Overlay even enables you to turn a mirror into an interactive screen, while our Interactive Touch Foils mean touchscreens (on any LED and LCD screen) can be interacted with through glass – ideal for retail window displays.
So, which technology is right for your needs? That depends on the type of screen you have and the purpose. Let's look into the technology a little further.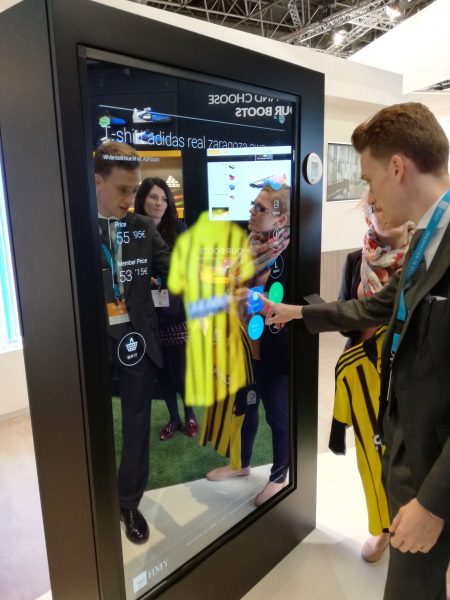 Add multi-touch technology to any screen
Our Interactive infrared touch frames can turn any screen into a touchscreen. This technology is compatible with any LCD, LED or Projection display. It comes as a retrofit kit that can be installed in minutes – all you need to do is connect the USB cable and the touch functionality immediately works without the need for drivers.
This means you can add interactive functionality to any flat screen or flat surface. With no need for any significant investment or new kit, you can quickly increase engagement and create new solutions to connect with your customers.
Potential use cases include retail displays and museum displays, as well as reimagining the workplace and classroom experience.
Turn an LED or LCD TV Screen into a touchscreen
Another option for either LED or LCD TV screens to become touchscreens is to use a glass interactive touch screen overlay. This toughened glass can be retrofitted to the TV screen – either permanently or semi-permanently – to create a multi-touch interactive display and is ideal for soft surface monitors that require an extra layer of protection.
These are ideal to use in TV studios (think Sky Sports) or as part of interactive displays in retail, museums and galleries, and airports as well as train and bus stations.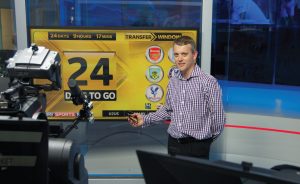 Increase the engagement through the glass
In more recent times post COVID, it's essential to offer the touchscreen experience, but without the need to even touch the screen. Whilst that might sound slightly counterintuitive, it will likely be extremely valuable for retail for example in the current climate.
Interactive touch foils utilise PCAP technology and work with standard LCD / LED displays transforming any glass or acrylic surface into a touch screen. This effectively means that users standing on one side of a window can interact with a screen behind the glass in just the same way they would with a touchscreen. The touch foil is optically clear and manufactured with an electrostatic adhesive layer which is laminated to the surface and is suitable for permanent or temporary installations.
Possible use cases include retail window displays, car showrooms, new product launches, restaurants, bars and clubs.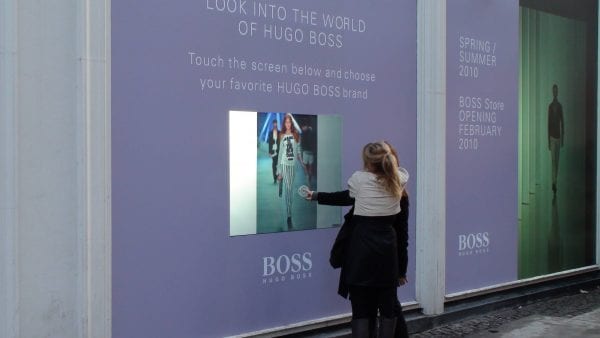 Stay on Top of Touchscreen Innovation Going Forward
Touchscreen technology is evolving rapidly. A mere 20 years ago, touchscreen-enabled mobile phones were a distant dream—nowadays, however, they're commonplace around the world. With the possibilities for touchscreen technology in leisure, retail, education and workplaces it's something that's becoming essential in many areas of our lives.
And with more and more technology hitting the market, the future looks very bright for touchscreen technology. To find out more about the touchscreen technology available from Pro Display, or if you want to stay on top of all future developments, get in touch with us today.