Posted March 1st, 2021 by Emily Burkinshaw & filed under , General, Inspiration, Technology.
Much has been written about the rise of eCommerce in recent years—but it's been nothing short of meteoric in 2020. With so many stores physically closed to the general public, the retail industry has largely been online. However, for many people, a certain sense of retail nostalgia is beginning to set in. No matter how convenient eCommerce may be, it simply can't recreate the feeling of a day out shopping, browsing through your favourite stores and trying things on in person.
As we approach the end of the COVID-19 era, the most innovative retailers are using forward-thinking technologies to attract customers back to their stores. Let's examine the hottest retail and tech trends to have hit the industry in 2020 and provide some insight into how we imagine retail will look in 2021 and beyond.
Extended reality
Extended reality, such as Touch Screen Technology, lets customers browse your store without having to sift their way through racks on racks of clothes—and without even having to do so much as put down their bags. Our Interactive Screens allow users to shop more efficiently, with the potential to give them immediate insight into stock levels and item locations on the shop floor to create a more streamlined experience for those that need it.
Our Professional Mirrorvision® Displays, complete with a commercial-grade 4K or HD screen, are a great example of how extended reality can be used in store. They provide a future-proofed fitting room experience— giving you, the retailer, an unmissable upselling opportunity at the most receptive stage of the customer journey. Our Mirrorvision Technology could also be used to create a more personalised experience for the user, offering them features like 'similar items' or 'frequently bought with', both of which usually come with a hefty price tag and often peer pressure from a traditional personal shopper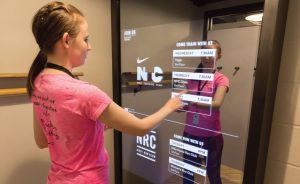 NikeTown has notably used our technology in this way to provide customers with a seamless virtual bra-fitting service. Here, the mirror helps customers by walking them through Nike's specific sizes and bra-types, helping them find the perfect fit for their body type and sporting needs whilst offering additional relevant product suggestions throughout the experience.
In a post-pandemic world where customers will be hyper health conscious, equipping your store with an interactive mirror will minimise person to person contact, ensuring that even those most safety-first customers have a memorable shopping experience that caters to their specific needs.
Digital storefronts
There's a reason that holiday sales displays are planned months in advance: they consistently draw the crowds in. A vibrant digital storefront can grab the attention of those passing by, piquing their curiosity and welcoming them into your store. But there are potential downsides. For instance, how well do digital storefronts work in sunny days where their displays are obviously far less visible?
For many digital storefronts, the answer is "not very well". With our Sun Readable Daylight Projector Screen, however, you can ensure that your digital storefront remains as eye-catching as ever—no matter the weather. In fact, it's currently the only projection screen technology in the world that will perform in direct sunlight.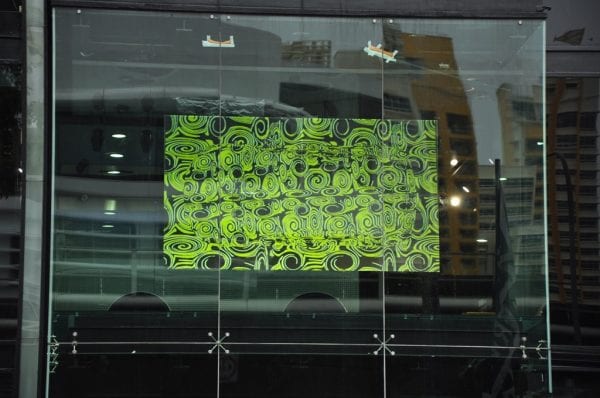 Manufactured using a light rejecting optical feature, it's been designed specifically to work even in direct sunlight, displaying sharp, crystal-clear images even on the brightest of days. Our 'Sunscreen' can also be easily retrofitted onto existing store front windows with minimal disruption or installation time – a great way to create a reliable display without breaking the bank!
The impact of Amazon Go
Amazon has brought science-fiction to life with its Amazon Go in-store experience. Customers can walk into a store, pick from a shelf, and then walk right out. They've improved the best of the in-store experience while getting rid of its worst feature: the checkout line. Interactive kiosks line the store entrance to collect the customers' account details, and that's it. Customers can simply pick up whatever they need, walk out the store, and will receive their receipt via email later.
Such technology is having a profound impact on customers' in-store experience. Our Transparent LCD Screens and Interactive Touch Kiosks have the potential to allow consumers to browse a store's inventory at the click of a button, read product reviews and sizing guides and even keep up to date with the latest items in store. No longer do consumers have to wait in line for a fitting room or to speak to a member of staff—instead, they can simply embrace the power of self-service functionality.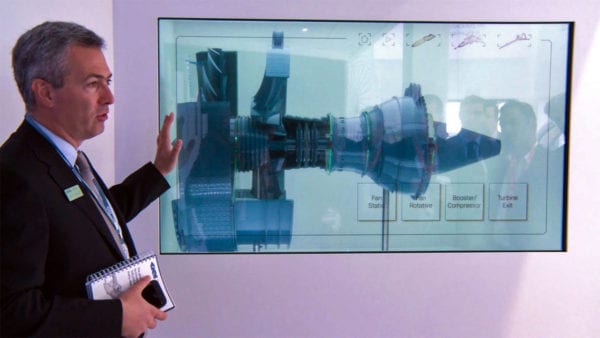 Amazon has long served as a wake-up call for competition, and with the launch of Amazon Go, they're set to transform the world of retail forever.
Taking stock
2020 has been tough for the retail industry—and it's unlikely that 2021 will be much easier. However, forward-thinking retailers are embracing the power of technology to future-proof their in-store experience as much as possible.
Whether you're looking to attract new shoppers, wow your existing ones, or provide an innovative—and utterly memorable—customer experience, integrate technology into your retail space and face 2021 with confidence.
Ready to get started or looking for more information? If so, get in touch with a member of our expert team today.