Posted October 26th, 2007 by Sean Brown & filed under , Case Study, General, Project Focus.
Pro Display completes world's largest Switchable Glass Screen for Cirque Du Soleil
For years Switchable Glass has been specified in commercial environments, providing flexible workspaces that maximise natural light in the space whilst maintaining the option for privacy. Manufacturing solutions from specialist Switchable Vision Panels to Curved Switchable Glass partitions there are many ways switchable technologies can be used in office spaces.
One of the most unique qualities of Switchable Glass is that it can also be projected onto, providing a HD/4K display for presentations, marketing and advertising. When the glass is turned off, images can be displayed in stunning FHD quality but when turned on the screen creates a unique holo-effect image.
Recently we completed one of the most ambitious switchable projection projects to date, manufacturing the world's largest front projection Switchable Glass Screen for the top floor of the Cirque Du Soleil headquarters in Montreal, Canada. The Glass Screen consists of nearly 70 square metres of Switchable Glass, specially manufactured to support front and dual projection. During the daytime the smart glass can be switched to transparent to give the office space an open plan appearance and flooding the interior with natural light. In the evening the glass is turned off and used as a HD/4K projection screen for video advertising, with the dark lighting conditions providing perfect images and colour reproduction.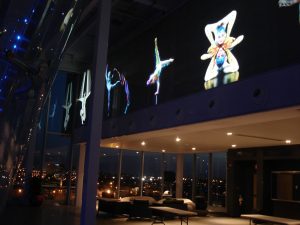 The clever positioning of the switchable projection screen means it aligns perfectly with the external glass façade, allowing the projected images to be seen from outside the building even at a long distance. This versatile solution is a great advertising tool for multifunctional spaces, with Switchable Glass proving to be a great investment for adaptable environments. The projected content plays on a loop and can be quickly and easily updated, providing a great advertising opportunity for promoting new shows or tv specials.
By opting for a Switchable Glass Projection Screen rather than the more common LED or LCD advertising systems, not only is this a more cost effective solution but you don't have to sacrifice the transparency of the façade. The clever screen positioning allows audiences to benefit from both inside and outside of the building leaving a lasting impression long after their visit is over.
Not only can our Switchable Glass Screens be used on a scale this size, they're also ideal for creating minimalist meeting room setups that make the most of their space on smaller switchable partition systems. We've also seen our Switchable Film used as part of retail window projection displays, providing a product reveal effect and even a theft deterrent, making the windows appear frosted outside store hours. Our Switchable Glass Screens can also be paired with our Interactive Touch Frames to create a Switchable Touch Screen in sizes up to 10m x 3m.