Posted March 26th, 2021 by Emily Burkinshaw & filed under , General, How To's, Technology.
Since the smartphone first burst onto the scene over a decade ago, our collective familiarity with touch screen technology has become ubiquitous. Practically everybody in society—from the young to the elderly—can intuitively use touch screens across a variety of product mediums. Whether it's smart devices or self-checkout kiosks, touch screen technology touches many parts of our lives.
However, most people are unaware that there are different types of touch screen technology, varying significantly in their design, construction, and purpose. This article will explore the principal types of touch screen technology, their potential market applications, and their respective pros and cons.
Projected Capacitive Touch Sensors (PCAP)
PCAP technology is a newer variation of the commonly used capacitive touch sensors. Combining the same grid-patterned electrode style of traditional capacitive sensors results in a high-resolution, fast, and intuitively responsive touch screen that can be used with even laminated glass. Pro Display offers a range of PCAP touch technologies including our Interactive Touch Foil, which transforms any glass or acrylic surface into a touch screen (and can even be used with gloves), great for use in store window displays these foils are a great example of how projected capacitive touch screen technology can be used. PCAP solutions are available in single, dual and multi touch options up to 40 touch points.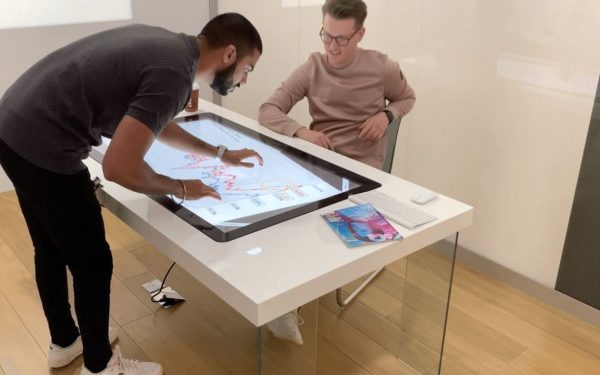 Some of our most popular PCAP technologies include our Interactive Touch Table, ideal for meeting rooms and collaborative workspaces and our Interactive Projection Foils, which incorporate our range of high gain / high contrast rear projection films.
IR Infrared Technology
Infrared touch screens operate in a completely different manner than any variation of capacitive touch screens. An array of LED and infrared photosensors are located in a grid axis around the bezels of an infrared screen, detecting even the slightest disruption in the light beams they produce to register a point of contact. Given that these beams are projected in such a dense grid pattern, infrared screens offer users a rapid response time and excellent tracking capabilities.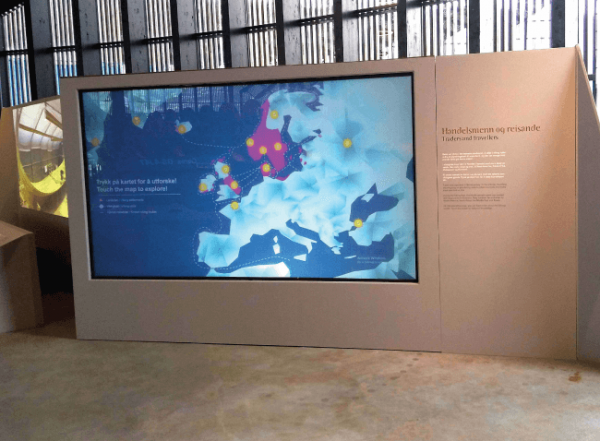 We can provide a range of infrared display technologies including our intouch Interactive Touch Screen Overlay kits, that transform any screen or surface into an interactive display. These overlay kits, which are compatible with LCD, LED or Projection displays, allow you to create brand new touch display installations or retrofit touch to an existing screen, table, or video wall with little to no disruption. Our Infrared solutions are suited to a wide range of applications, available in single, dual and multi touch functionalities up to 32 touch points.
Some of our most popular Infrared technologies include our Digital Glass Touch screens, supporting UST projection and available in sizes up to 8000mm x 3000mm and our Interactive Transparent Screens, ideal for museum and immersive experience displays.
Microsoft Azure Kinect
As an established visual displays manufacturer, we like to keep on top of trends in order to understand the full potential of our technologies. One interactive trend we've seen recently, is the pairing of our displays with the Microsoft Azure Kinect to create a gesture based interactive display. The Azure Kinect contains a depth sensor, spatial microphone array with video camera as well as an orientation sensor, using body tracking to register movement and therefore interact with the content on screen. This opens up a world of opportunity for interactive content as the screen can be operated using movements from all over the body, rather than just being limited to your hands.
This Kinect sensor can be used alongside many of our display technologies including rear projection displays and newer, more lucrative displays like our Transparent OLED Screens providing users with the closest existing experience to that of the hit movie 'Minority Report'!
The Lowdown
Now that you know a bit more about PCAP, infrared and gesture touch technologies, you might be wondering which one is best suited to your application and why. Let's look into the pros and cons of each technology, as well as outlining which are best for different use-cases.
PCAP
PCAP screens share many of the same advantages and disadvantages of capacitive touch screens, with a few key additional benefits and drawbacks. PCAP screens possess greater scratch resistance than infrared touch screens, usually featuring a glass or acrylic overlay to protect the display underneath. 
PCAP screens allow for multi-touch use, allowing users to manipulate their screen applications using up to 40 touch points instead of the single touch point offered by standard capacitive touch screens, while better maintaining functionality in the presence of dirt, dust, grease and water.
If you do use a PCAP screen, however, you'll be unable to operate the screen with solid objects like a plastic card or pen—only tapping with thin cotton/latex gloves or an exposed finger will create the desired response from the device. The screens are also highly sensitive to electro-magnetic interference and radio frequency interference. Therefore, if you use a PCAP screen around these waves then this will likely affect the usability and performance of the screen.
Infrared
Infrared, the most standout technology when compared to PCAP and capacitive touch screens, comes with its own unique advantages. IR touch relies on the sensors located around the inside of the screen's bezels to register a touch and effectively have an unlimited "touch life" since wear and tear from physically using the device will not degrade the screen's responsiveness. However, due to touch frames sitting on top of the display itself, the screen surface is still susceptible to wear and tear. This can be solved by one of two ways, one option is to set the touch frame away from the screen itself, to allow the sensors to register the touch before the user makes contact with the screen. Alternatively, our touch frames can be manufactured with a glass or acrylic overlay to protect the display, ideal for softer screens like LCD's and monitors.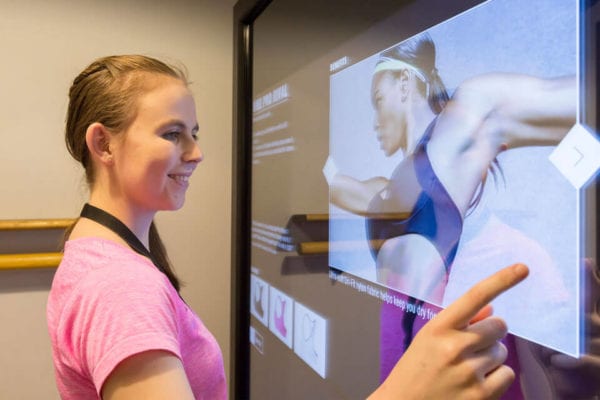 That's not to say there are no cons to infrared screens. Since the screen's response is triggered by registering an optical event, accidental triggering can occur easily by movement close to the screen. These screens are also sensitive to dirt and grime accumulation, which could impede the light beams and cause malfunction, and they're more sensitive to water, snow and rain than the aforementioned screen types. 
Microsoft Azure Kinect
In theory the Kinect gesture technology is the ideal interactive solution for a post-COVID world, allowing users to interact with content without making a physical connection to your display. This technology has great potential for use in immersive environments and exhibitions to recreate the kind of futuristic technologies seen on the silver screen. The nature of this technology also means that it can be controlled with more than just your hands, with the ability to track 32  joints including the eyes.
Whilst the body tracking foundations of this technology could potentially change the way we use touch screens entirely, it still has its drawbacks. Whilst technologies like Infrared and PCAP offer solutions with up to 40 touch points, the Azure Kinect is limited to the amount of bodies it can track based on the field of view, making it unsuitable for use in high traffic areas.