Posted December 23rd, 2020 by Emily Burkinshaw & filed under , General, Inspiration, Technology.
2020 was a year like no other. With the unprecedented scale of the COVID-19 pandemic, the way we live, work, socialise, travel and shop has changed forever. And while there is some hope of returning to normality soon, things will never be the same again.
When it comes to technology, the pandemic has accelerated certain trends. Things that were starting to bubble under the surface have now been thrust to the forefront as we adapt to the new normal. Emerging technologies in interior design are no different – in 2021 we are expecting to see interior design choices framed around technology that enhances the experience in our retail spaces, hotels, and offices, as well as making them safer.
Innovations in offices: Privacy and touchless spaces will be even more important 
Where once innovative interior design ideas in our offices were concerned with improving the social and aesthetic aspect of workspaces – think slides, greener spaces, sleep pods and such like – in 2021 there's a real focus on keeping our office spaces safe- both physically and mentally. And this plays into our interior design and tech choices.
Open-plan offices with hot-desking, which were the norm, are set to be a thing of the past – at least for the near future, and after a year reporting record levels of loneliness from those working from home, the consideration of mental health has never been more important. Switchable Smart Glass is an innovative technology which is already in place in offices around the world but will likely become more prevalent in 2021. It is ideal for partitions and meeting rooms for example. It works by allowing the glass to switch between frosted and clear at the touch of a button, ensuring spaces can switch from public to private in a matter of seconds. Not only can you control privacy at will, but by opting for Smart Glass partitions as opposed to stud wall dividers, you increase the flow of natural light throughout your workplace. Not only did one study find that natural light is the number one office perk desired by staff, they also found that 70% cited it as assisting with improved performance at work.

Importantly for the post-COVID world, Smart Glass can be operated without the need of touch providing dividing office partitions where staff can operate in a completely safe workspace. It can be voice-controlled by smart devices, or simply through the use of a PIR sensor that detects when someone is close to it switching from clear to frosted. Or vice versa. It's something we're expecting to see become much more prevalent in 2021.
The touchless in-office technology will also likely be seen through touchless smartphone signing systems, as well as voice-activated smart meeting room technology.
Innovations in retail: It all comes down to a reimagined customer experience
Customer experience is so important in retail and it's only becoming more so. COVID-19 has changed the way we shop. eCommerce sales have of course boomed during the pandemic and we've also seen many of our traditional bricks-and-mortar retailers plunged into difficult times.
Yet the desire for many shoppers is to hit the high street once again in 2021. But with many enjoying a slick online experience, the offline one must match up. Remember that 1 in 2 consumers are happy to switch to a competitor if they don't get the experience they desire. 2021's interior design and technology choices in the retail sector will all focus on a reimagined customer experience, with retailers now needing to make shopping in store worthwhile by offering services that you can't get online. The question is, how can you increase the services you provide to customers whilst reducing their interaction with staff? The following technology is key:
Interactive Mirrors: These seamlessly blend the online and offline experience in-store. Plus, they look great too. Unlike online shopping, in store customers can try on products at the point of sale before committing to a purchase, why not capitalise on this by letting them explore what else is on offer in an interactive capacity. By integrating Mirror Screens with touch capabilities into your changing rooms, a whole new avenue of advertising and upselling potential is unlocked, giving visitors the option to check stock in store, view 'frequently bought with' items and be offered tailored item suggestions based on what they've chosen to try on. Our Interactive Mirrors are already in use in Nike Town's Bra Fit functional attraction and are set to be front and centre across the new retail spaces of 2021.

Touch Screens and Digital Kiosks: Large Touch Screens and Digital Kiosks greeting customers as they arrive in store not only make a style statement (with bespoke logo and colour customisations), they also tap into the need to provide a reimagined customer experience. Now your customers can find exactly what they are looking for, have their questions answered and engage with your brand in a much more personalised way. As well as this, our screens can also be loaded with enhanced language capabilities, allowing you to reach new audiences with a tailored experience – All of this with little to no need for human interaction, an ideal scenario in a post COVID-19 world.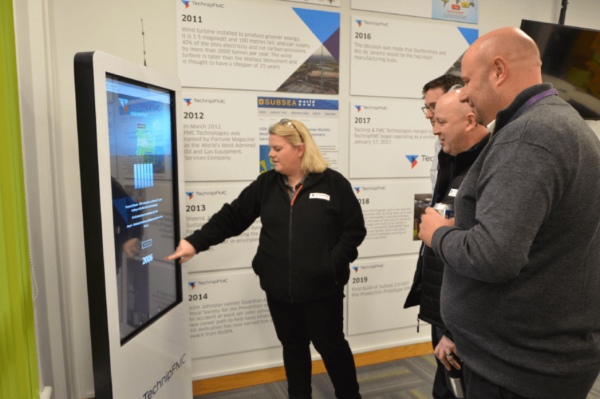 Innovations in hotels: It's all about the in-room experience 
While we expect to see the likes of Interactive Mirrors and Digital Kiosks also becoming much more prevalent in hotel lobbies and reception areas, the big interior design and technology choices in hotels in 2021 will all focus on the in-room experience.
For example, Volara is an Alexa-style guest room voice-activated solution. It integrates with work management systems so that guests can make requests to hotel concierge by voice and receive a confirmation when the item or service will be delivered. This will also integrate with in-room entertainment, which eliminates the need to touch remotes.
And when it comes to in-room entertainment, sleek interior design choices and technology are set to combine more and more. Take the example of Mirror Screen TVs. This simple but slick technology turns the TV into a mirror when not in use. When guests first walk into a room it will feel spacious and have the desired instant impact. But when they want to relax, it can then be switched to a TV in a flash providing the desired in-room entertainment experience. For a more advanced screen technology, our Interactive Mirrored Wall Panels are specifically designed for hotel use, coming complete with an integrated computer to support more complex interface software. By simplifying the décor of the room you in turn make the space appear bigger, why not take this a step further by using Switchable Smart Glass to separate the bathroom and bedroom areas instead of a standard stud wall. Our Smart Glass appears frosted in its off state and can be instantly switched to transparent in seconds using a switch, remote or even your voice! Not only does our Switchable Glass maintain the privacy provided by a standard wall but it allows the uninterrupted flow of natural light into all corners of the room, creating a more relaxing environment and the illusion of a bigger room.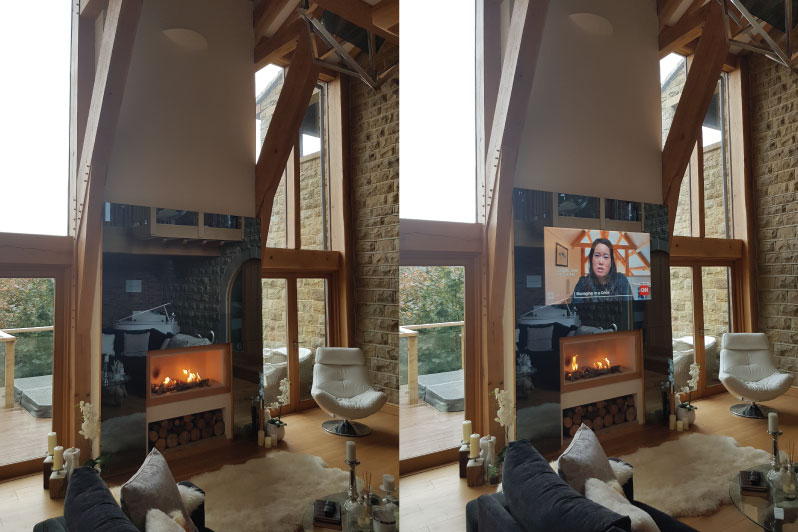 What about in-room dining? Some hotels are also tapping into the latest technology to provide their guests with an Uber Eats style dining experience, where they can order room service from restaurants close by with an app taking care of all the admin in terms of menus, orders, payment and delivery. It's simple but effective.
With 2020 behind us, 2021 will be a very different world. And it will be one that is underpinned by technology. For more information on the Pro Display / Intelligent Glass technology discussed in this article and about our innovative range of products get in touch with us today.