Posted November 28th, 2017 by & filed under , Case Study, General, Project Focus.
LT Projects helps encourage 'blue sky thinking' with a creative Ultra Short Throw Projection solution from Pro Display and Optoma
Projection screens are well known for offering a wide range of solutions to an endless variety of display requirements and, over the years, Pro Display has been involved in some of the most innovative and creative projection installations the world has ever seen. Amongst these ranks a recent project completed with AV installation and consultancy experts LT Projects (LTS) in partnership with Optoma, that saw a projection application unusually used on a ceiling in an innovation lounge of a global company's European headquarters. The brief given to LT Projects and Optoma was simple – 'deliver the wow factor'. To reflect innovation as a concept, they decided to integrate technology into this area. But their choices were limited by space! With a ceiling recess of only 450mm to work with, it made using many display technologies difficult, leading them to Pro Display's rear projection Digital Glass technology to help resolve such a difficulty.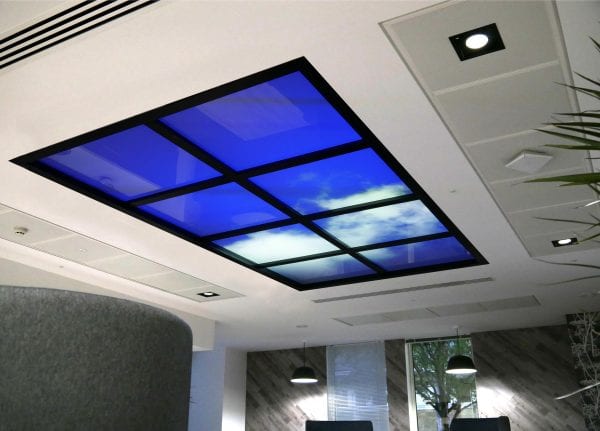 One of the main alternatives to large format projection solutions has traditionally been LCD video walls. Limited in individual size, many designers must use multiple LCD screens to create a large format screen area, which can be costly to maintain and is often very costly on energy to run, especially in 24/7 applications. Projection screens, being a passive screen solution, simply require a projector to display an area that may take, for example, up to 16 LCD screens to display; and, unlike LCD screens, projection screens have no size limit. Projection screens, not being bound by such a restriction, allow integrators to create enormously large format displays that would only take a small number of projectors to operate compared to the significant number of LCD screens it would take to cover the same area.
This factor alone makes a strong point that projection solutions are superior to LCD screens for large format applications, however, in this case, the advantages go further than just efficiency. The weight and size of multiple LCD screens significantly out-weighs that of projection screens with an equivalent viewable area and, in a ceiling application, using LCD screens could present substantial difficulties – namely size and power – possibly even requiring invasive electrical and installation work that could be avoided if using a projection system instead.
Weighing only 5.6kg each, LTS was able to install the required UST projectors just centimetres away from the UST screen, each creating an image of over 100 inches in size and offering a 20,000 hours maintenance-free laser light source. Mr Alastair Leslie from LTS comments: "This installation would not have been achievable without the combination of the very latest UST rear projection technology from Pro Display and these [Optoma] UST laser projectors, launched earlier this year. This enabled us to not only achieve it technically but also on budget." In this application, LTS installed four Optoma ZH400UST projectors to cover an area of 2 glass panes each that were coated with Pro Display's rear projection Digital Glass technology to create a virtual skylight that 'brings the outside in'.  This was no easy feat. A ceiling projection screen offers the opportunity to project a 'false sky', and by displaying a 4K video of a moving blue sky on the screen, LTS was able to deliver this incredible solution with class.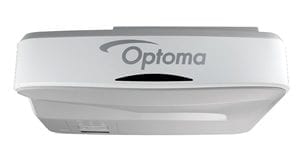 The benefits of projection over LCD screens are realised further as we turn our attention to the light source and implications that this has on the application. From LCD screens we often expect a high brightness display as an innate imperative of the solution. With the light source originating directly from the screens themselves, an LCD video wall would generate an enormous amount of light– light that in this case may have significantly outperformed the room's ambient light and therefore spoiled the desired 'natural' effect. Using projection for an application such as this allows specifiers and designers to choose from a wide range of projectors and projection films to achieve a desired result for custom applications.  As a result, many people perceive projector and film selection as a "painter's pallet" for AV Integration where creative applications are executed, helping to produce a result that is more effective and desirable than that of an overly bright LCD video wall.
An application such as this demonstrates how the limits of projection screens are continuously challenged and tested, helping to revolutionise the way we transform our inside spaces. This application was specified in the ceiling of a ground-floor basement – a clever idea that sees staff and visitors enjoy the benefits of feeling connected to 'blue sky thinking' even in the lowest point of the building, clearly demonstrating how projection can positively impact an inside environment. Mr Leslie comments, "Even though the innovation lounge is on the ground floor, it feels light and airy due to the virtual Skylight. The imagery is so realistic – you forget that it is not actually the sky above." He adds, "It has definitely met the brief for the 'wow factor'".
In a more contextual consideration, this application offers the client a range of pioneeringly creative opportunities, such as being able to theme their environment with a chosen concept, where they could create a variety of effects by projecting different videos onto the ceiling, such as a different climate or a different time zone. As a great way to connect multinational corporations or even other branches of office, by using webcam feeds, for example, teams can be connected to an office on the other side of the planet by projecting a live feed of the sky from that location. This may be especially effective for companies that engage in night trading, night support or even night-time IT maintenance, as employees who take part in night time work can be helped to adjust and focus by synthesising a 'day time' environment regardless of what's happening outside. As Mr Leslie explains, "The equipment is now there – we can just swap content for the Skylight. For example, we could project an underwater scene or project something across the skyline for Christmas using the Skylight."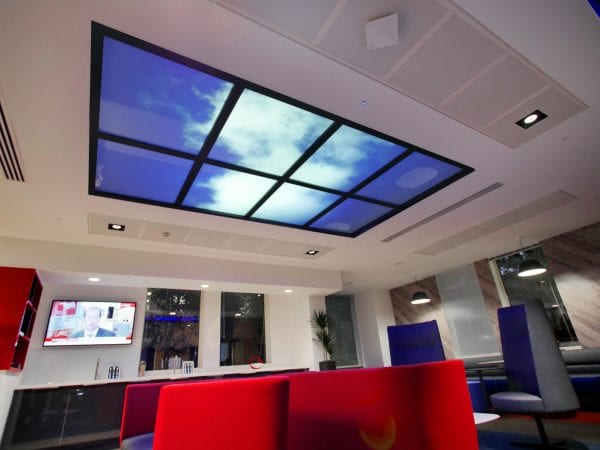 It's not just offices that can benefit from this application. Customer facing environments can enjoy the benefits of ceiling projection just as much, if not more, as customers are 'wowed' by the solution at play. It could possibly help to affect buyer psychology, or even be built into the customer journey, ultimately using design to influence customer emotions and encouraging them to make a purchase. This is particularly important as stores look to enhance their 'bricks and mortar' offering in the face of growing pressure from online shopping trends.
There are some environments where psychology linked to customer experience is more important than others. In the highly-competitive fitness sector, gym location and accessibility can have a huge influence on member numbers and can make or break a business. An effective ceiling projection solution can help to make a gym environment considerably more appealing and motivating, especially if it's located in the basement level of an office block in an area of high occupancy. Creating the illusion of bright, sunny weather through ceiling projection could increase positivity amongst members which could have a huge impact on wellbeing, especially during colder periods. Likewise, seasoned gym goers who have experience with other gyms may find such an environment a refreshing change. Ceiling projection that uses vivid colour may reinforce positive associations of the gym environment, encouraging them to come back in an optimistic frame of mind. This could aid long term member commitment and boost retention figures.
The benefits of having this level of control over an environment is not just limited to influencing psychology. Ceiling projection applications can be extremely effective in an experiential sales or service setting such as themed hotels, restaurants or theme parks, helping to effectively and flexibly transform an environment at a minimal cost. This is particularly important when creating a specific theme that is integral to an attraction or experience that customers pay for, encouraging a measurable return on investment.
Whilst this solution is ideal for commercial and corporate environments, private homes can also enjoy the wonders of UST ceiling projection, offering a space-saving option in delivering the ultimate in personal space escapism. Residential applications would see this work excellently in a range of areas, from entertainment rooms to bathrooms – ceiling projection can help transform a room into any environment, from outer-space to under water, depending on the desired theme.