Clients come to us because they know we source the very best equipment possible for the solutions we design and, with that, that we will not compromise on performance or quality; choosing to work with Epson and Pro Display for a project like this was therefore a natural choice. Quality and performance have always been our criteria when choosing our technology partners.
– David Fell, the director of Eclipse Installations
WHY CHOOSE US?
WHY CHOOSE PRO DISPLAY?
For over 15 years award winning British manufacturer Pro Display have been providing visual display solutions for projects around the globe. Working with some of the world's leading brands providing everything from the biggest rear projection screen in the middle east to Mirror TV's for the everyday home.
Pro Display was born to innovate, changing the face of visual display as we know it today. A British manufacturer at the forefront of display technology, focused on new and exciting ways to advertise, inform and entertain.
We pride ourselves on having a global network of dealers and distributors spanning over 100 countries worldwide. Our focus is to make Pro Display a global brand and open more branches in different parts of the world.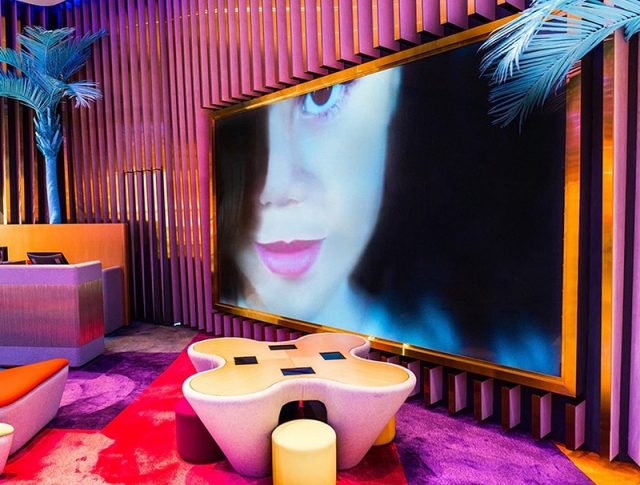 OPTICAL SCREEN TECHNOLOGIES
Pro Display manufactures an innovative range of AV & Digital Signage solutions designed to advertise, inform and entertain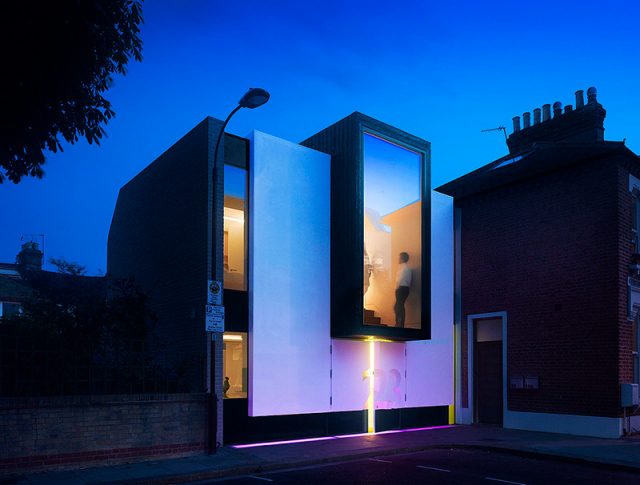 SWITCHABLE SMART GLASS TECHNOLOGY
Intelligent Glass manufactures the widest range of switchable glass and film solutions, designed for commercial and residential applications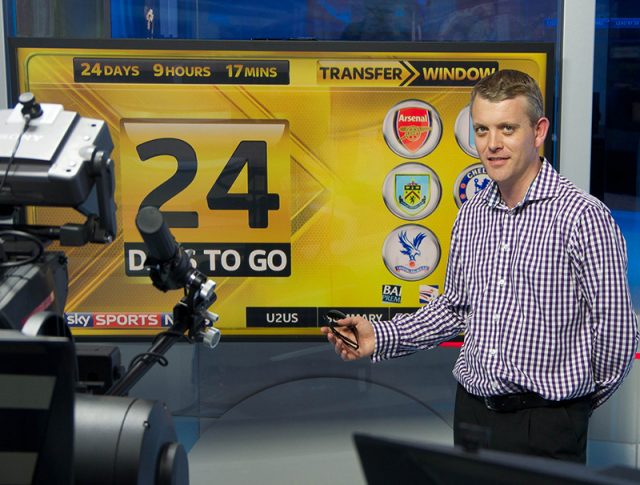 TOUCH SCREEN TECHNOLOGIES
intouch brings you the future of multi-touch today, with a range of solutions designed for new installations and retrofit applications
OUR HISTORY
Pro Display has a rich heritage of innovation in the professional visual display market. Our early innovations include the first full-colour LED screens introduced into Europe in the 1990s and LED perimeter systems in the early 2000s.
Pro Display continues to make substantial investment in R&D, developing its range of optical screens and films to meet the needs of the commercial and residential AV markets, and many other industry sectors.
The Pro Display Group consists of a set of globally recognisable brands covering a wide range of industry sectors including Intelligent Glass®, intouch™ and Platinum Vision®.
Collectively, the company has developed a number of 'patented' technologies including a number of unique manufacturing processes for their range of smart glass solutions.
2004
Pro Display TM Limited is founded
2011
Clearview Screens feature at the 83rd Oscars Celebration
2015
Screen Gallery is opened
2020
Pro Display Projection Screen features in Academy Award Nominated Film, 'The Midnight Sky'
Innovation
Pro Display's newest rigid optical projection screen technologies – Digital Glass and SunScreen – have caught the interest of major global projector manufacturers for their outstanding image quality and performance.
Earlier innovations in our range such as Switchable Smart Glass and Mirrorvision continue to be specified by our resellers on projects for leading global brands.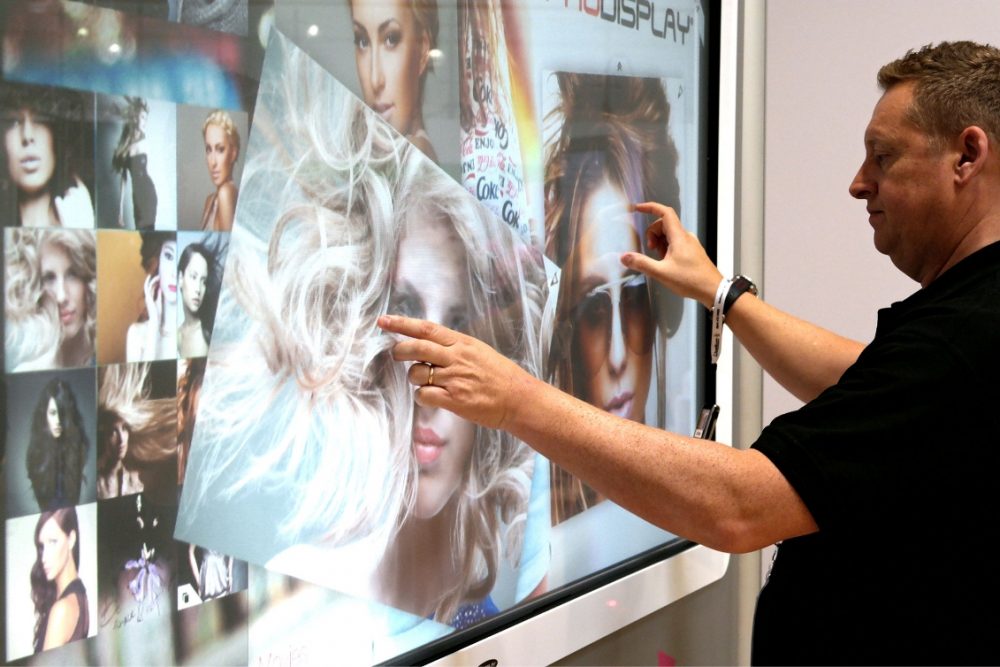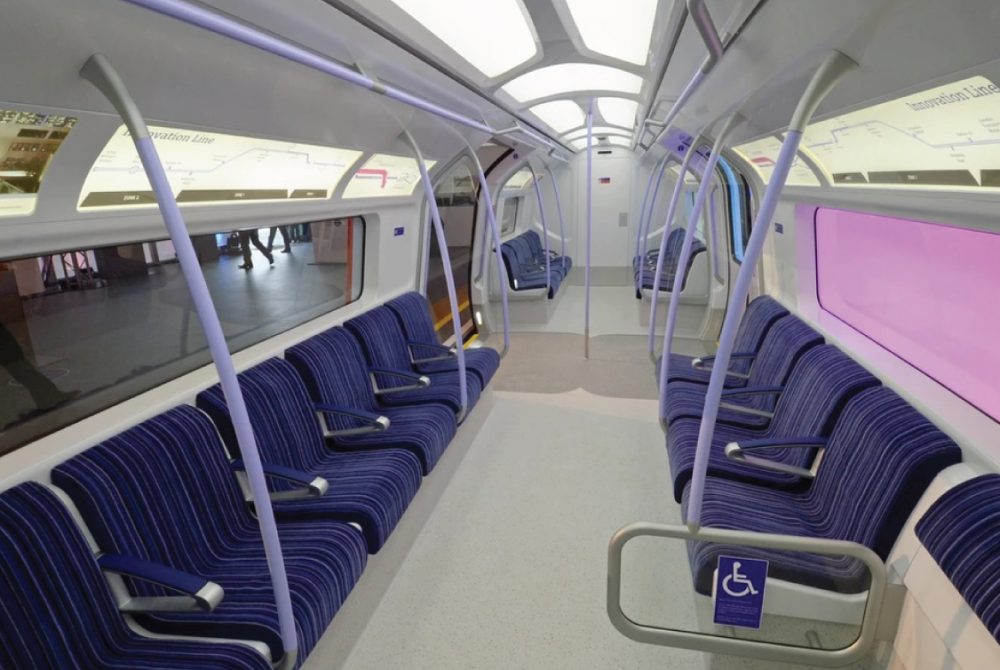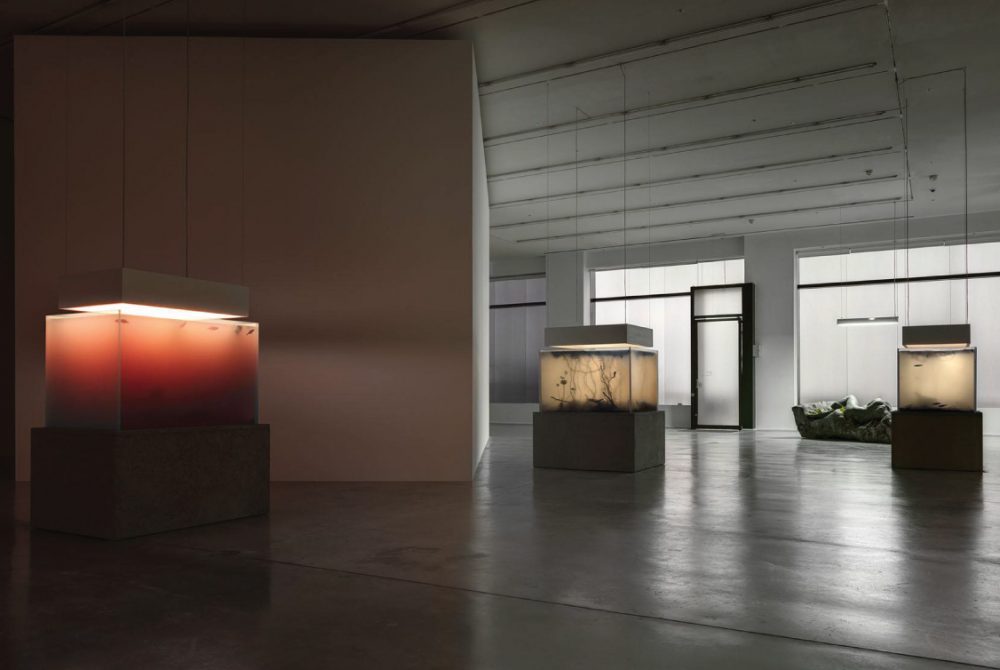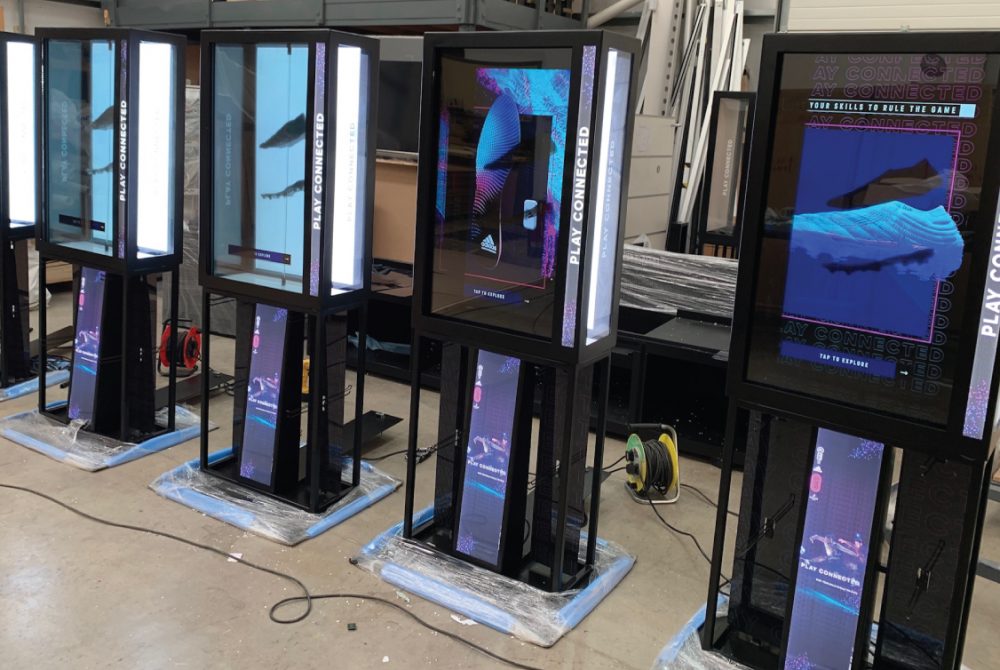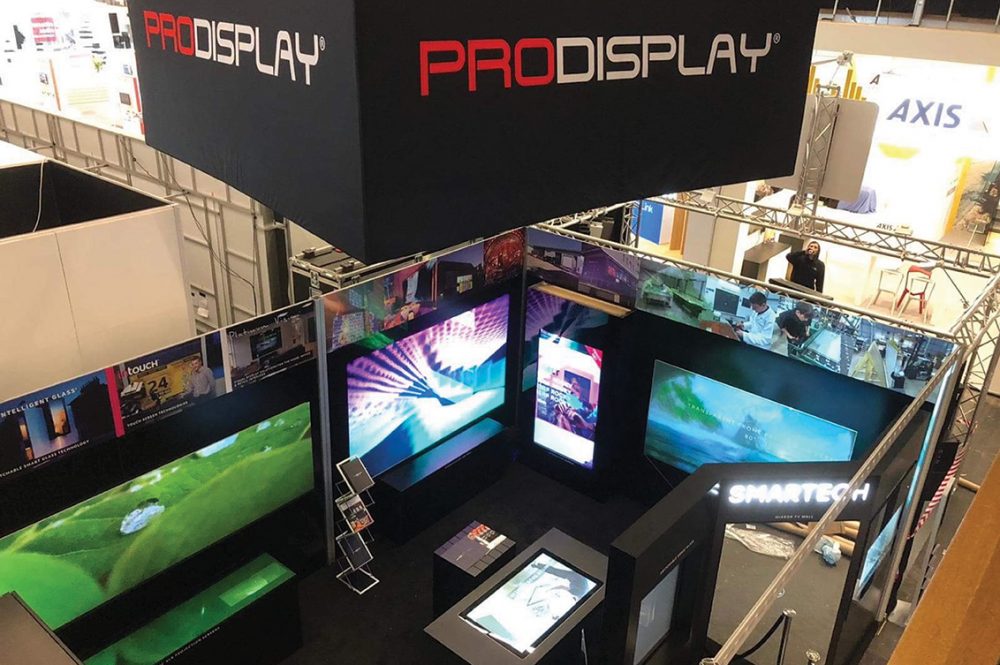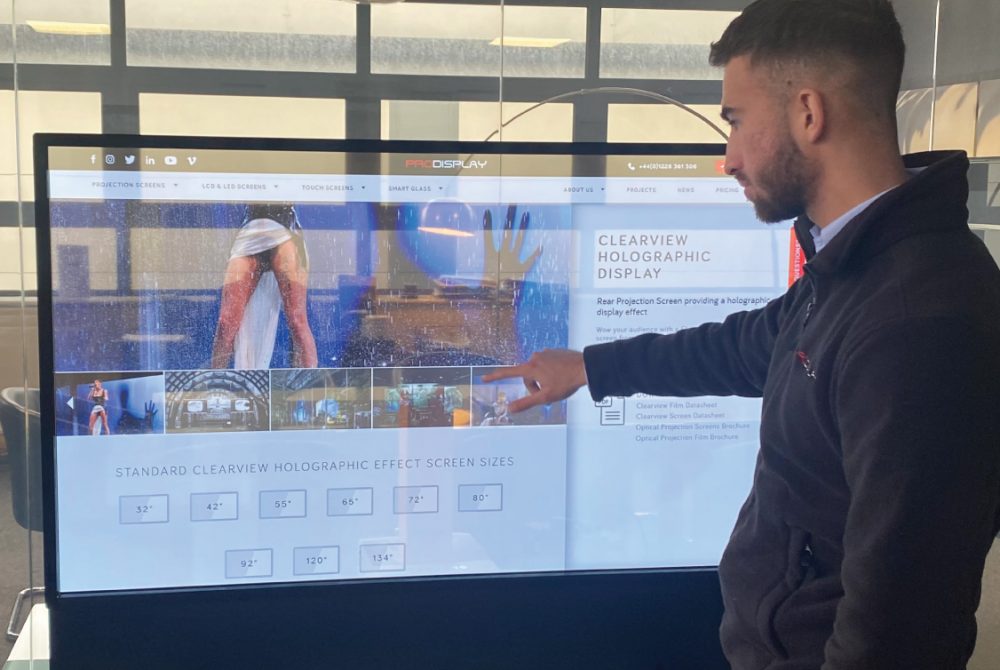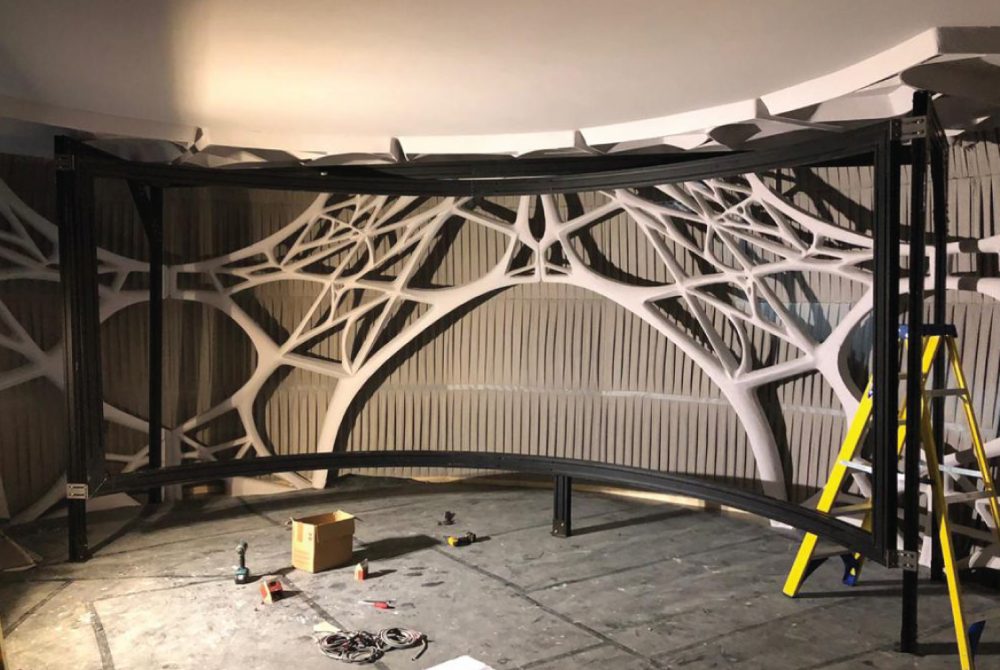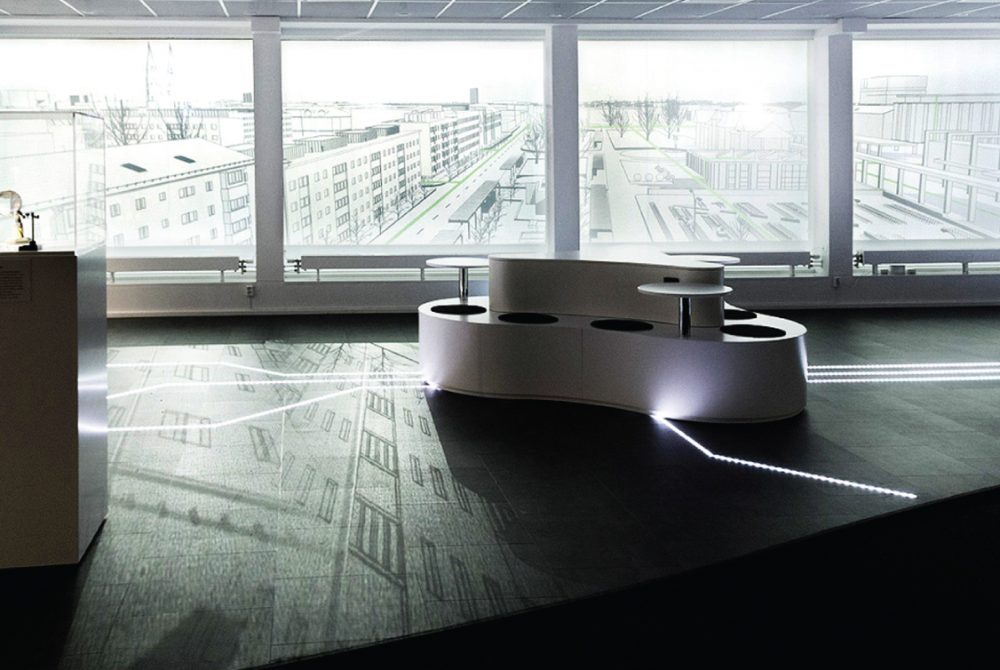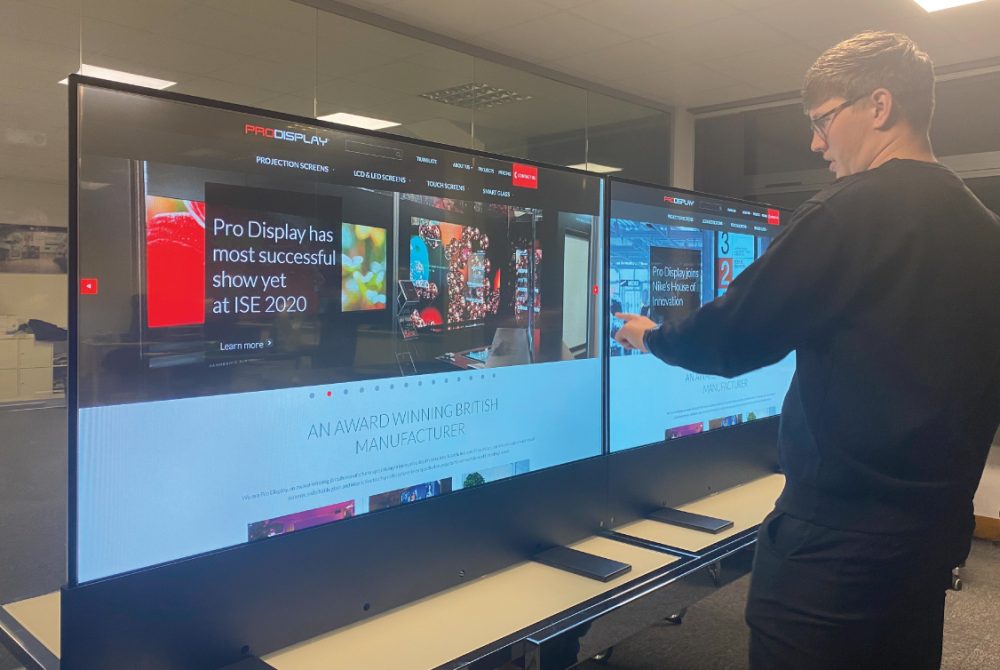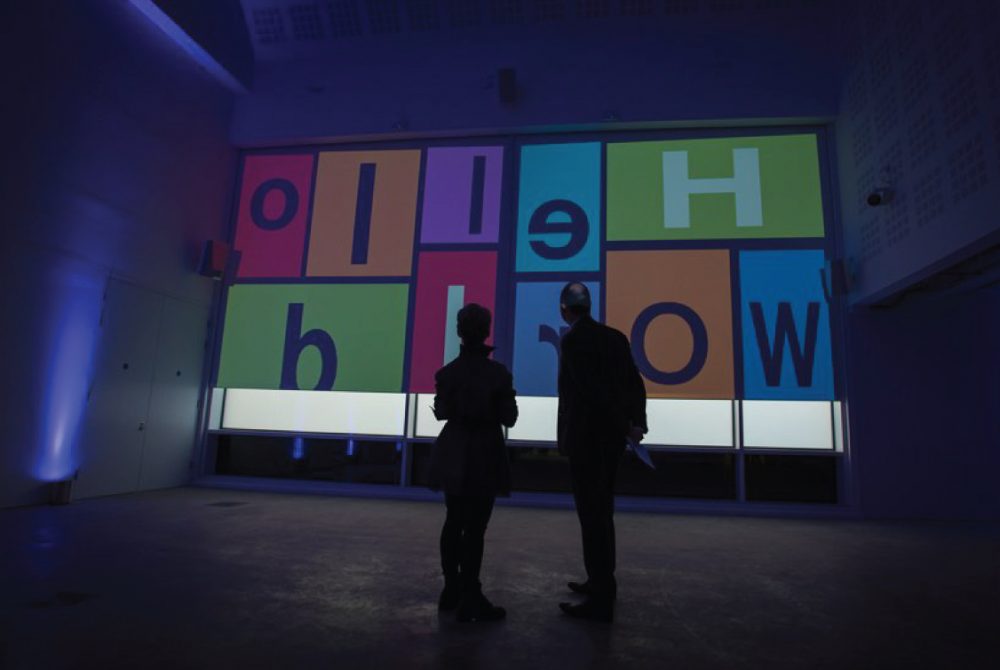 MADE IN BRITAIN
Pro Display is a British manufacturer with its European headquarters located near Sheffield, UK. Here we manufacture, assemble and dispatch a wide range of professional-grade visual display solutions, smart glass and interactive touch technologies.
Our Sheffield HQ is home to a number of trade-secret production processes and manufacturing techniques, developed over many years to create Pro Display's unique range of solutions.
Inside our factory doors, you'd find clean rooms where projection films and screens are being precision cut and bonded. Multi-touch foils and infrared frames being constructed and checked in our interactive technologies test-bed. You'd see more clean rooms where switchable smart glass products are prepared, custom projection screen frames being fabricated, and electronic components being soldered.
WORLDWIDE SHIPPING
In 2018, Pro Display shipped to over 80 countries worldwide. In the last 5 years, we've shipped to a total of more than 130.
This means that we understand the rigours and regulations of international shipping. Our export team works hard to ensure that your products arrive exactly when and where you need them, along with all the correct export documentation.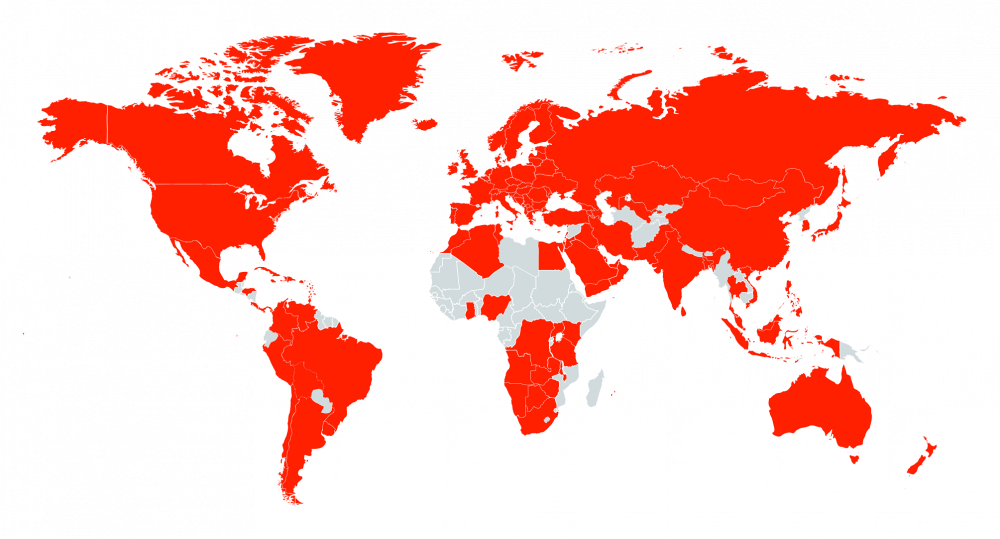 BESPOKE PACKAGING
We can export our products using road, air or sea freight and our team have advanced knowledge regarding exporting our products and incoterms.
Every item is quality checked before being packaged into hand-made bespoke wooden crates (built-in our on-site workshop) to provide the very best protection during shipping.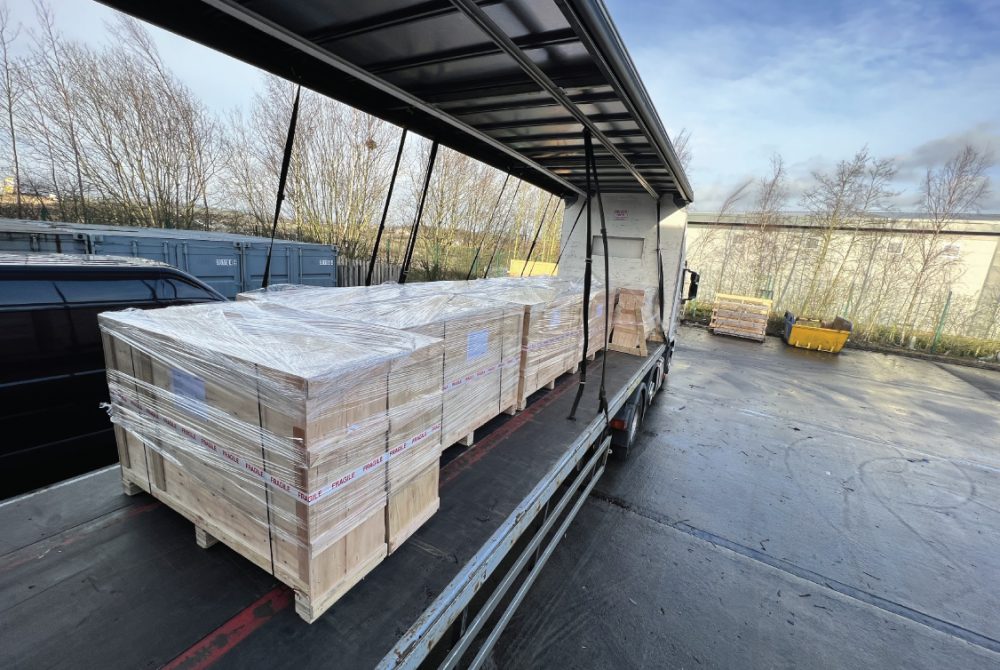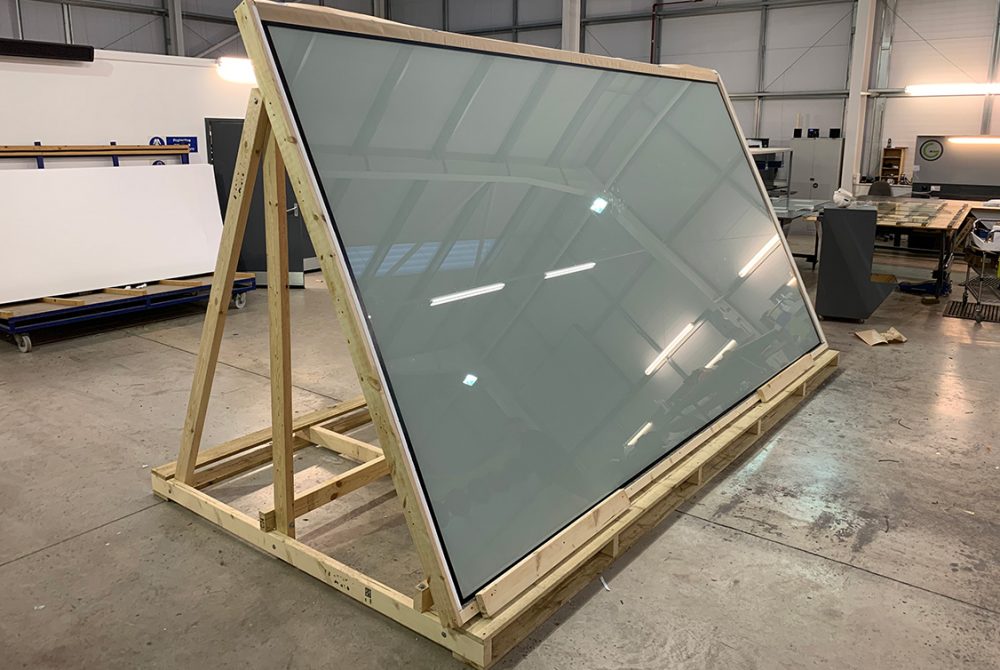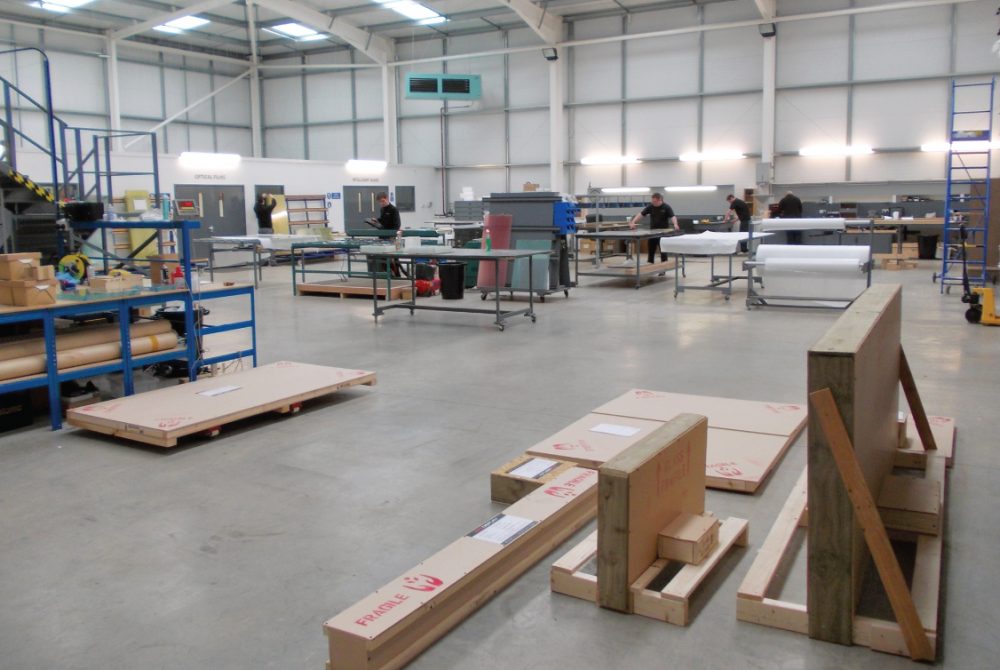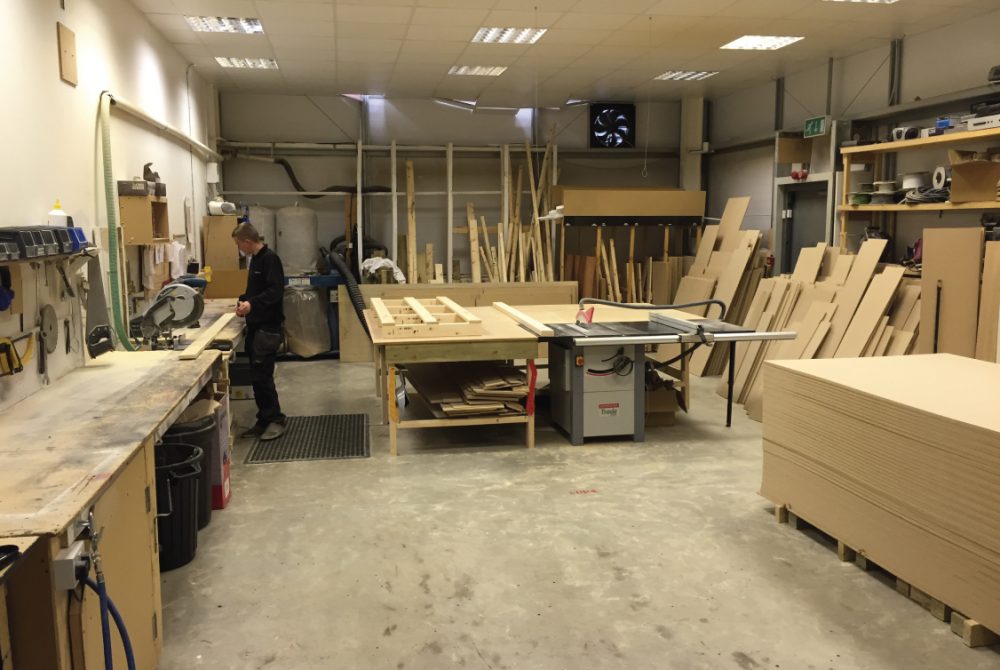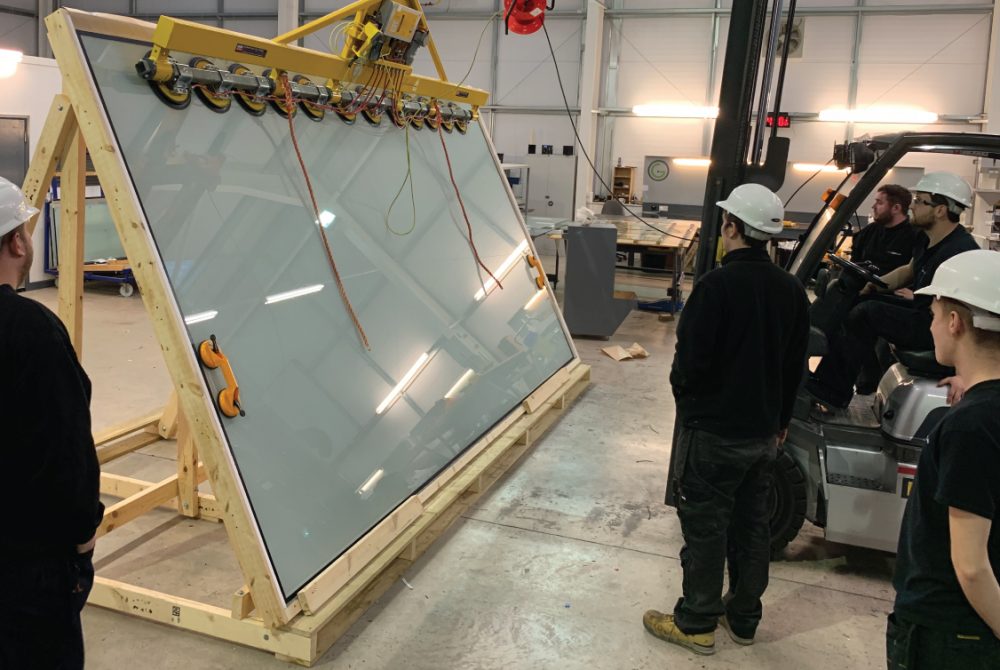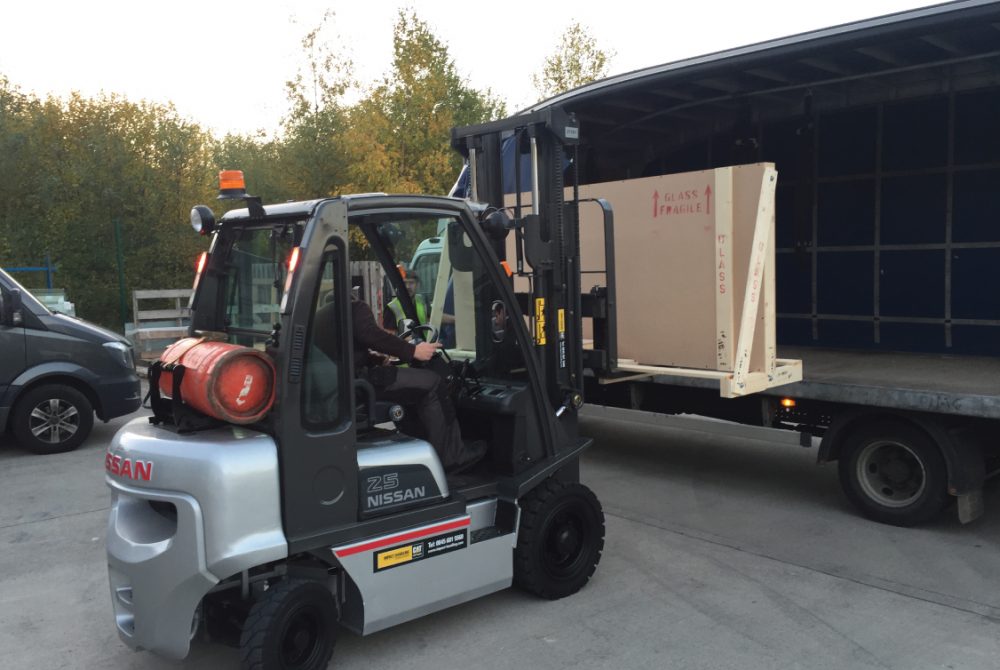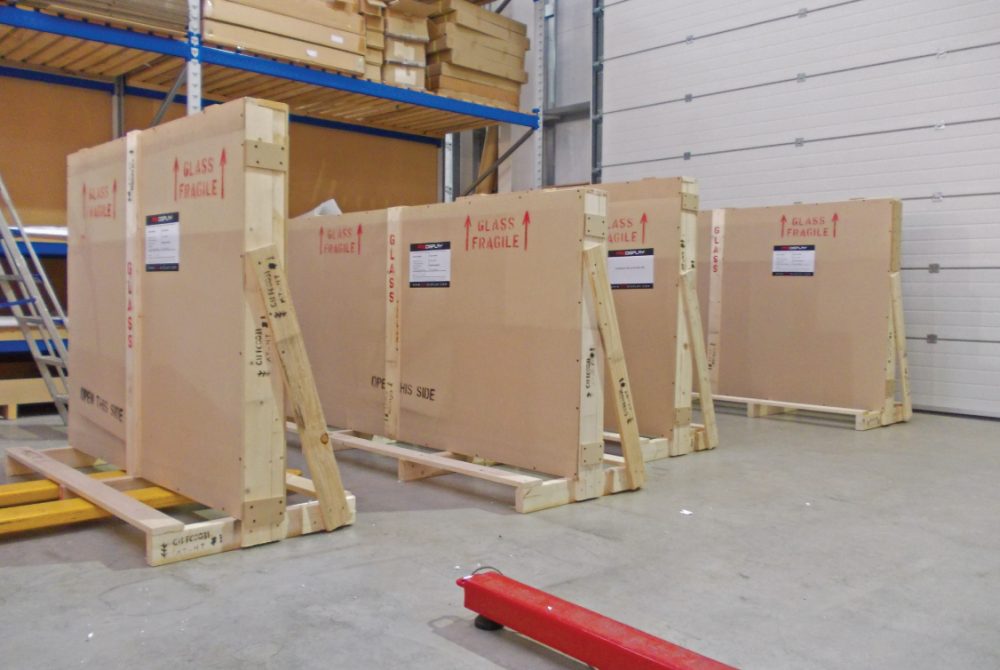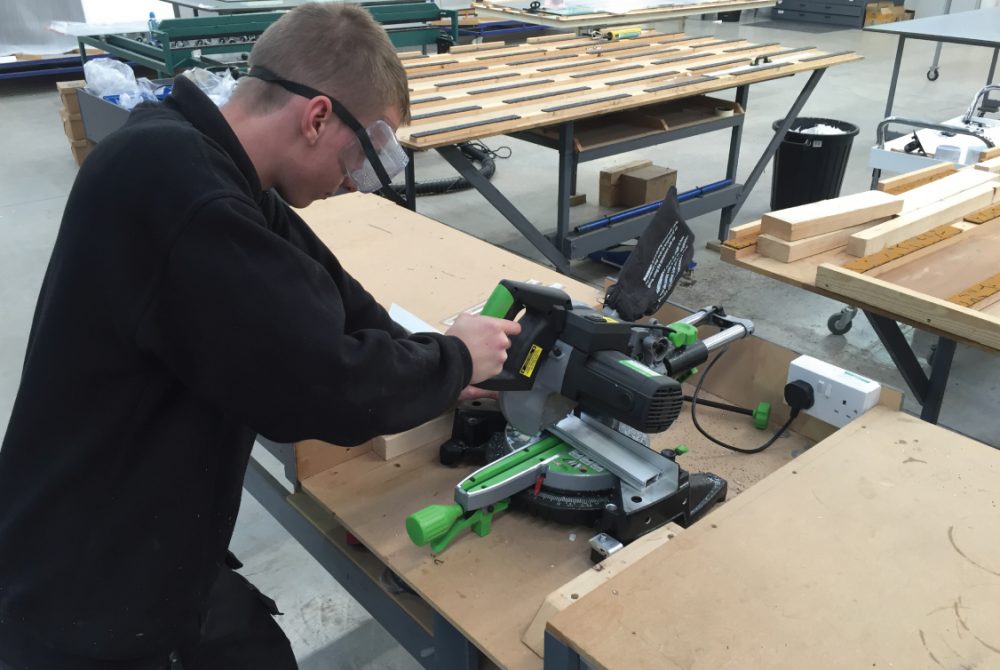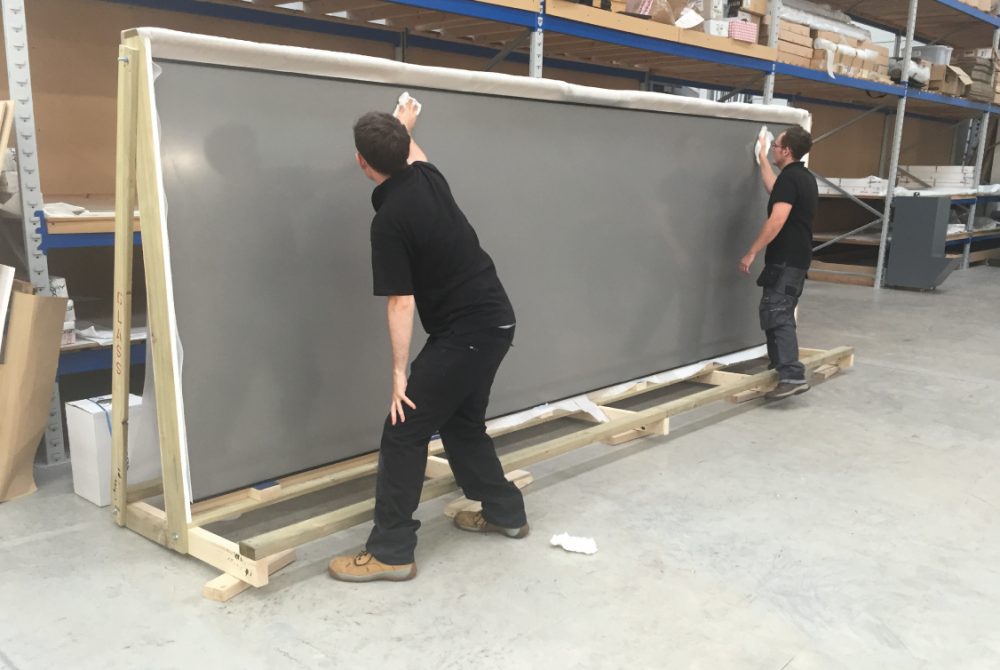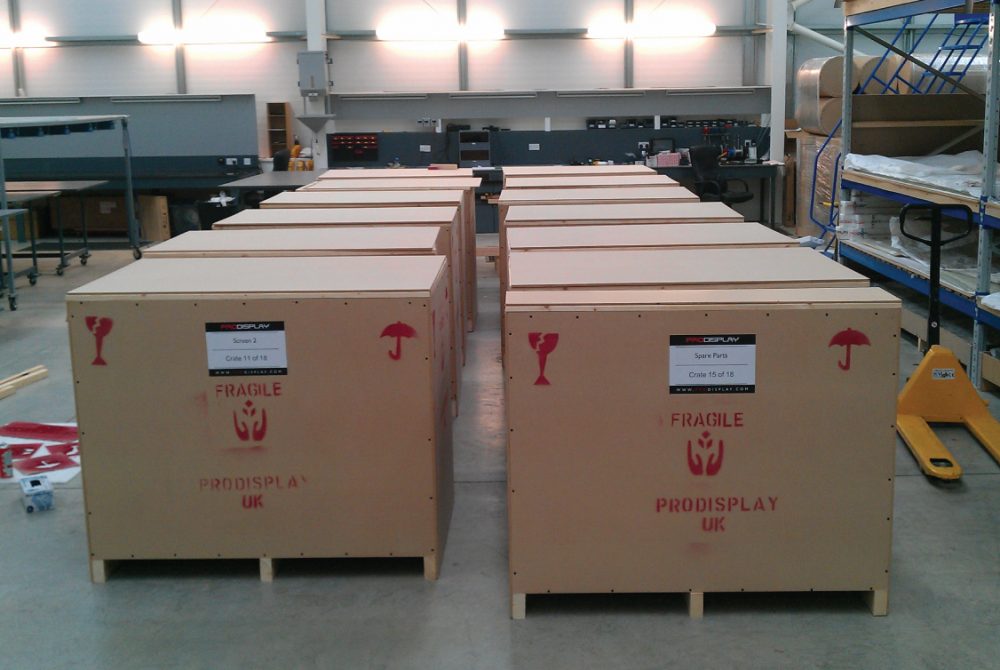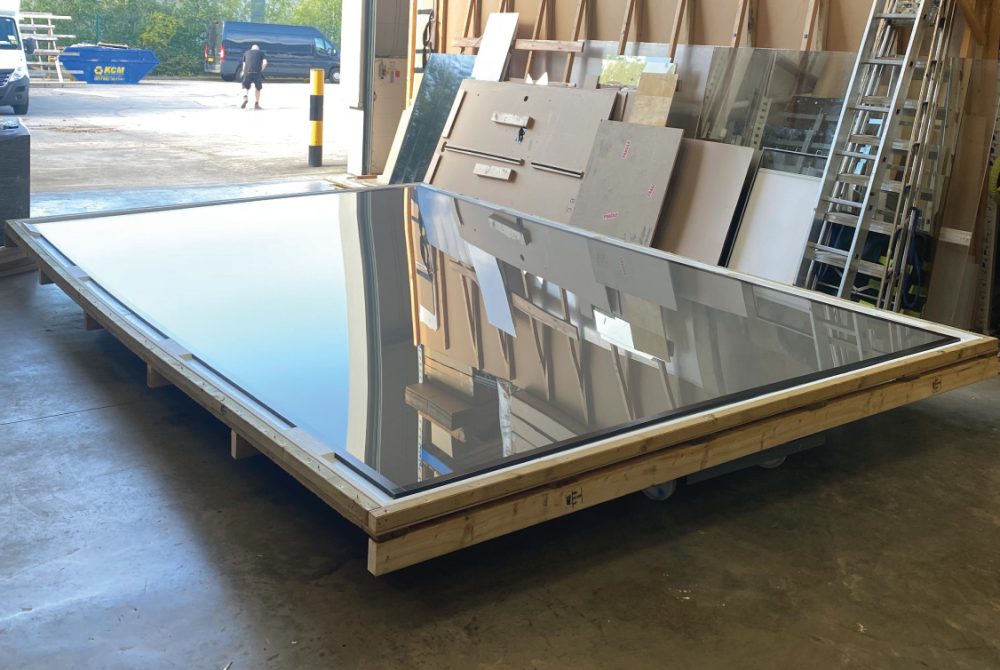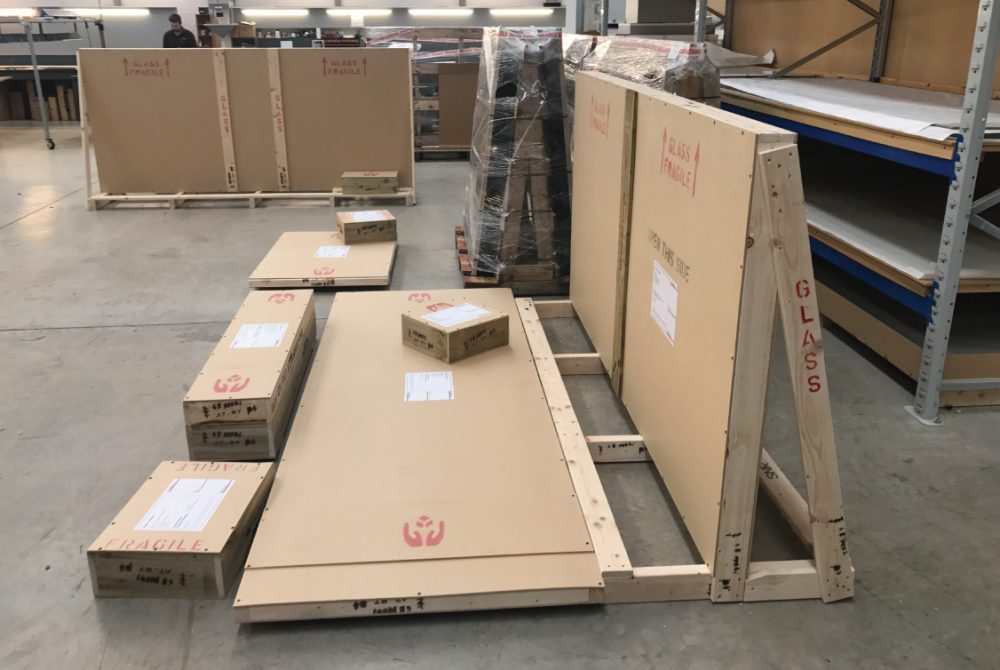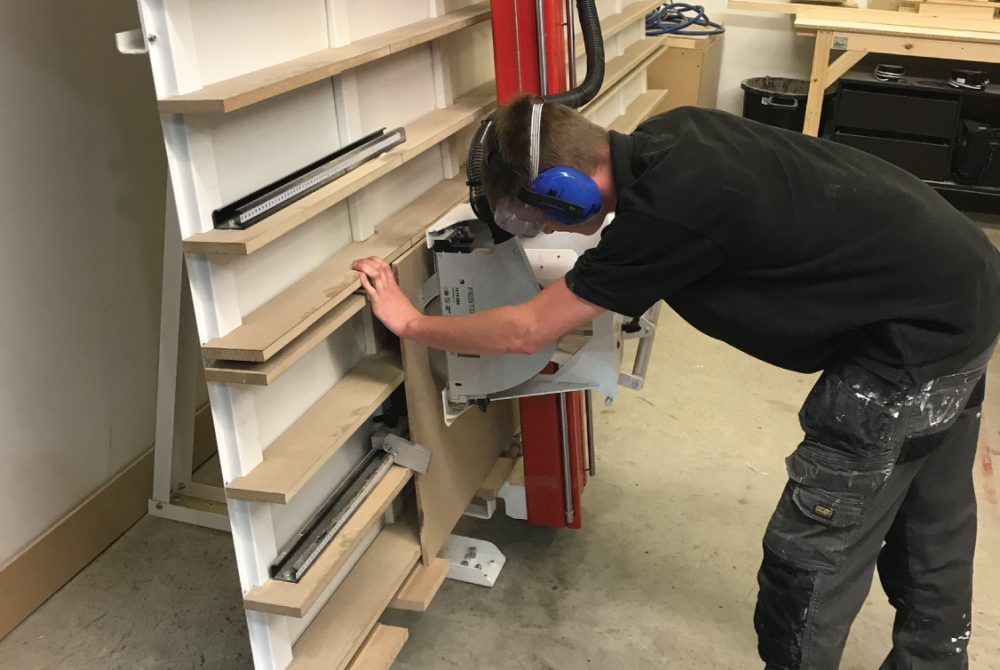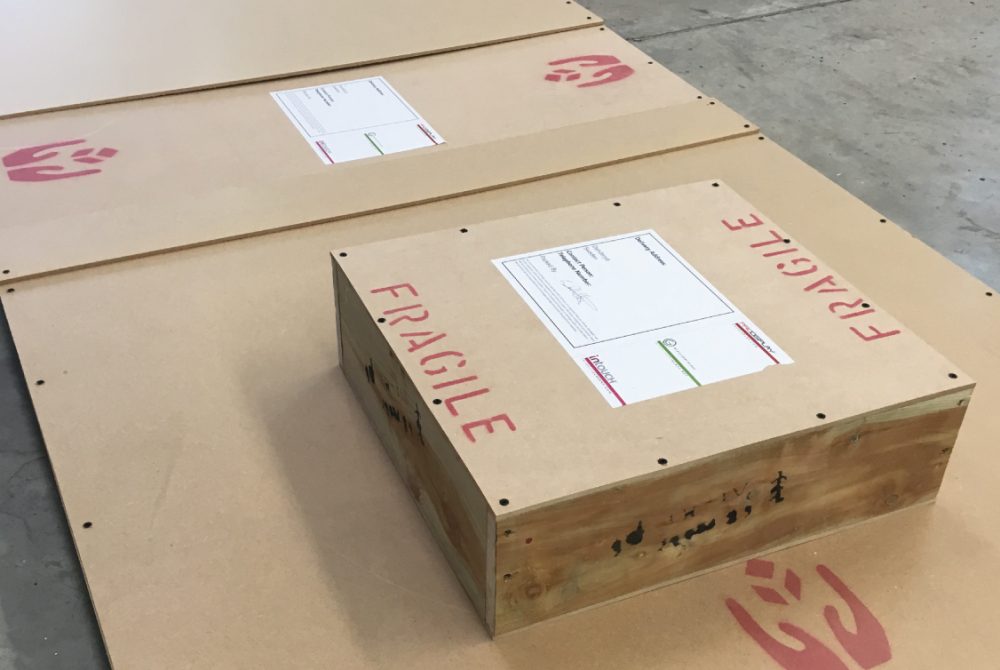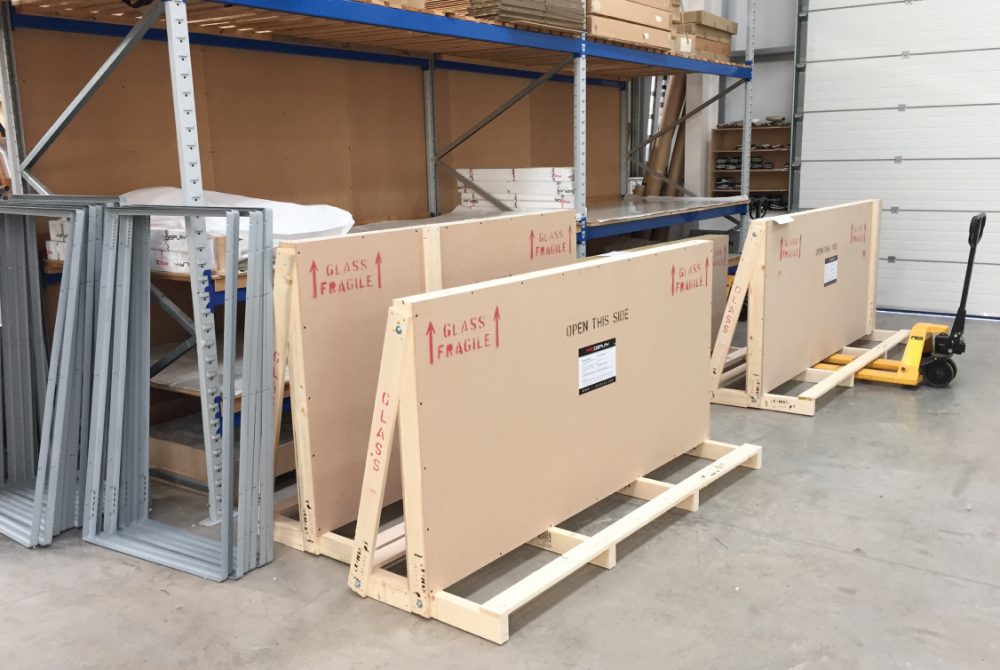 THE SCREEN GALLERY
"Experience the visual wonder of Pro Display, feel the magic of intouch and control the power of Intelligent Glass."
Our Screen Gallery in Wakefield provides you with an opportunity to share in our vision and see some of the most advanced screen technologies the world has to offer. Conveniently located directly opposite Wakefield Westgate train station, you can easily get to The Screen Gallery using a variety of transportation methods. Visits are by invitation only, so if you would like to see the technological marvels we have to offer, please enquire today.
LEARN MORE ABOUT THE SCREEN GALLERY HERE
GLOBAL PRESENCE & PARTNERS
Having been specified on some of the largest and most ambitious projects the AV industry has seen to-date, Pro Display products can be found all over the world.
Our vast partner and reseller network allows us to support businesses in the global marketplace; from working alongside Epson in showcasing their latest projectors, to facilitating the AV requirements of the BETT technology trade show, many of Pro Display's products offer the opportunity to showcase or present yourself in the best possible way, making us an ideal partner for any business.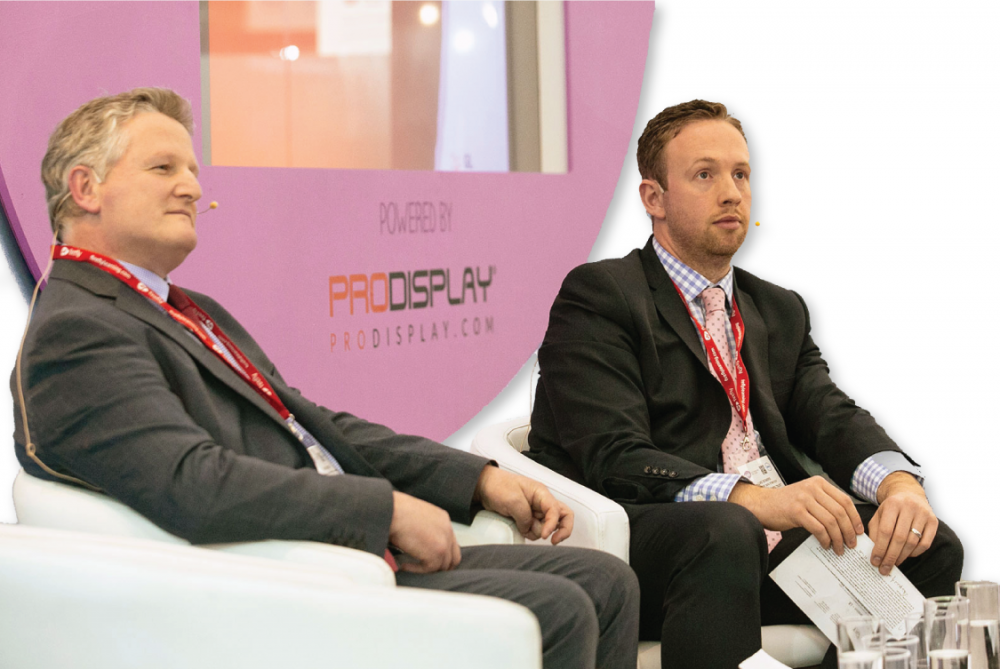 Testimonials
"We would like to thank you for all of the hard work and effort that you have put into this year's show. Your contributions helped ensure the success of this year's Oscars. We could not have done it without you."
– The 83rd Academy Awards –
"When I discovered Pro Display it made my day! Their touch foil is, in my opinion, the best on the market today. With Pro Display's solution for Disney Park & Resort Paris we were able to re-use the touch displays for different locations, helping Disney on their promotional tour through the Netherlands."
– Walt Disney Parks & Resorts –
"We often need a surface to project onto that has the option of it being transparent. The switchable film/glass proved to be a superb solution and worked well in multiple installations on set. Several other materials offered good projection surfaces but none were able to provide the option of both a projection surface and transparency. Pro Display understood the tight deadlines of the film industry and were flexible enough to supply us with the required screens at short notice and offered us knowledgeable technical advice. I would definitely use Pro Display again on future projects."
– 20th Century Fox- "Prometheus" –
"The Pro Display Pro Diffusion Film works wonderfully with NEC's Ultra Short Throw projectors. It was like they were designed for each other. No hot spots, and great picture even when projecting off axis. Support and service is also top notch. The Pro Display team has never let me down."
– NEC – Ultra Short Throw Projectors –
"Pro Display was kind enough to step in at the last minute to provide their amazing switchable glass screen to help us build a home for a family in need. This innovative product served as a wall in between two bedrooms where we were able to project images on both sides. It was the only product available that allowed us to achieve our goal in making those rooms "extreme". Their entire team stepped up in a big way, and we hope to have the opportunity to work with them again!"
– abc- "Extreme Makeover" –
"The Switchable Glass Screen you supplied for the 7th series re-vamp of the "Waking the Dead" CCHQ set complimented the aesthetic of the show perfectly. A large glass panel with a central section of switchable film, at times shows back-projected material being discussed by the investigating team, at others, frosted glass or a clear sheet, providing the reflections that are an essential part of the show. This proved ideal for the final three series of this crime investigation drama. Pro Display coped with the changes and quick turn-around inevitable in TV production, to deliver the screen on time and at a very reasonable cost. Thank you very much."
– BBC One- "Waking The Dead" –