Arrange a visit today to see some of the world's most innovative screen technology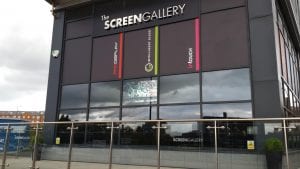 As our very own 'screen innovation centre', you can visit the Screen Gallery to see an overview of some of the top AV technology the world has to offer.
We understand that when you're looking to buy a piece of technology like ours, quality is of the utmost importance. We have a solid collection of products on display for you to explore at your own pace, for your reassurance.
Get hands-on with our range of intouch touch screen technology, witness the magic of switchable glass, lose yourself in our vivid LCD screens and experience the impressive features of our specialist projection screens.
Relocating to a more convenient site, our showroom is now directly opposite Wakefield Westgate train station, making it easy to get to from most places in the UK.
During your private visit, you will be our team member's sole focus, giving you the time and opportunity to run through any concerns or questions you may have. Whatever your project, one of our team members will be on-hand to guide you through the relevant products that you are interested in, as well as providing you with an insight into the other areas we may be able to help you with. Our experts are prepared to answer any questions that you may have pertaining to our products, allowing you to assess in real time whether they suit your requirements- this is undoubtedly an important element in your purchasing decision.
Our Screen Gallery is made to impress, with a comfortable environment and added refreshments available to all visitors. We encourage you to bring your clients along as well- there is no doubt that they will leave feeling reassured that you have sourced a quality manufacturer in us.
If you would like to visit, please get in touch so we can arrange a viewing.
Visits by appointment only, please!
Contact us on +44 1226 740 007 or email sales@prodisplay.co.uk to arrange your visit.
Pro Display's Screen Gallery