Posted January 29th, 2014 by Sean Brown & filed under , Case Study, General, Project Focus.
In the AV industry, trade shows and exhibitions are always some of the most exciting dates in the calendar. Often bringing together the biggest names in the industry, these events are packed full of the latest and greatest in audio visual technologies. With big brands like Epson, Panasonic and Hitachi showcasing the best of the best in projector technology, it's only natural that they would opt for projection screens that do them justice.
Epson recently chose Pro Display screens for their stand at the BETT show. BETT is the world's leading learning technology event taking place annually at Excel London with over 30,000 visitors. Featuring the best and latest of the world's educational technologies from touch tables to augmented reality, demonstrating what the future of education will look like.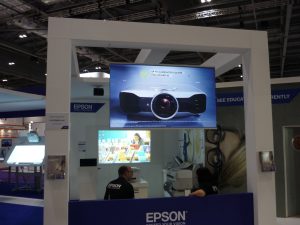 Understandably a brand like Epson has a reputation to uphold, and at events like these its imperative that their technology is displayed at its absolute best. The quality and reliability of our screens had led Epson to opt for our displays at multiple exhibitions over the years. On show at BETT were Pro Display's 72" 16:9 Ultra Black rear projection screen, paired with the Epson EB-G6650WU and 80" 16:10 Ultravision front projection screen, used with the Epson EB-955W.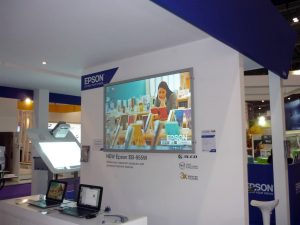 Our Ultra Black solution is a black tinted diffusion screen that provides superior contrast, resolution and colour reproduction. These screens produce crystal clear HD/4K images in controlled lighting environments, making them ideal as video and entertainment screens in classrooms and boardrooms within the education sector. The Utravision front projection dispay is a high contrast, rigid screen that offers true colour reproduction to create life like images. The ideal choice for home theatre and high end audio visual installations, this screen produces HD/4K quality display that can be made in custom sizes and shapes.
Choosing the right projector is only half of the job because a poor quality screen can ruin the image of even the most expensive of projectors. Pro Display have over 25 years of research and development experience in producing high quality projection materials, manufacturing solutions for a range of environments and scenarios. Whilst screens like our Ultra Black and Ultravision technology allow your projector to reach it's full potential in more controlled environments, we offer alternative solutions that are designed to perform in harsher or more specialist conditions.
In projection applications, one of the most important factors to consider is the level of light in the space, often facing the age old problem of harsh sunlight washing out the image completely. Luckily, we offer a range of technologies that can perform in such conditions, including our Sunscreen rear projection technology and our ALR front projection screens. We also offer holographic effect projection screens, and films for retrofit installation, like our Clearview Rear Projection Screens as seen at the Oscars and MTV EMA Awards and our Clearvision Holographic Front Projection Screens, the first of its kind on the market, producing a holographic effect image using front and ust projection.