Posted December 2nd, 2021 by Emily Burkinshaw & filed under , General, Inspiration, Technology.
Whilst interactive technology has been a common feature in museums and schools for many years, the existence of COVID has propelled touch technology into unlikely industries across the globe. Along with the pandemic came the rise of the self-service era, with fast food restaurants adopting it as their only option for ordering and some retail stores removing their cash desks completely in favour of these systems. With touchscreen technology now more popular than ever, we wanted to highlight some of the rarer, more unique interactive technologies on the market and why these are often a better choice compared to more basic touch screens.
Rear Projection Touch Screens
With demand increasing rapidly for a large format touch display, our Rear Projection Touch Screens offer the benefit of an uninterrupted display in comparison to competing LCD video wall technology. With the potential to create touch screens in sizes up to 8m x 3m and supporting ultra-short throw projection, our digital glass displays are incredibly popular with museums, retail, and TV studios. These rear projection screens are manufactured to distribute light evenly across the screen offering a high brightness and contrast display even in brightly lit areas.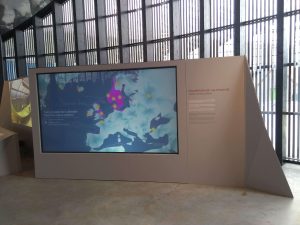 Interactive Touch Tables
Whilst interactive whiteboard technology has long since been the go-to for collaborative education and creative efforts, touch tables offer a more unique interactive solution suited to many environments. These interactive tables have 10-point touch technology to allow multiple users to interact at one time, making for a great sales pitch or brainstorming activity. Whilst these touch tables would be at home in any meeting room or corporate space, they have many benefits for smaller agencies or retailers that wish to offer a more one on one, personalised service to customers. Our interactive touch tables come with a built in PC, Wi-Fi and loudspeakers with optional upgrades including wireless charging points, keyboards, and webcams.
Transparent Touch Screens
Transparent Screens are still very much a thing of the future and are still fairly uncommon, offering all the more reason to include them in your next project. We offer two main interactive transparent displays both suited to different conditions, the Transparent LCD Display, and the Transparent OLED Screen. Our Transparent LCD technology can be manufactured as just the screen or integrated into a display case with multi touch capabilities. Transparent LCDs require a backlight in order to produce an image on screen meaning they are often integrated into display furniture, appliances and POS/POI displays as housing if often necessary to create the best quality display. We can offer interactive transparent LCD screens and display cases from 23" up to a huge 98" with 4K image quality. Our Transparent LCD Screens can even be integrated into a freestanding kiosk format for more mobile POS displays, or can be combined with oversized backlights for a floating signage effect like in Nikes House of Innovation.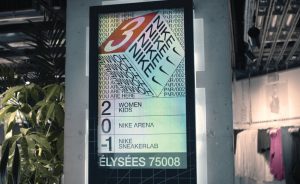 Alternatively, Transparent OLED screens have no need for a backlight and remain transparent even when switched off. These HD displays showcase content that appears to almost float in mid air making them an ideal display tool for retail, window displays and visitor attractions. Despite only being available in 55" screen size, these screens can be joined together in 2 x N formats to create stunning transparent video walls.
Interactive Switchable Glass
Switchable Glass is in high demand in the corporate and residential industries and its compatibility with projection makes it a versatile choice for retail, product launches and visitor attractions. By combining these unique screens, that can be switched from frosted to clear on demand, with one of our interactive touch frames, a new opportunity for engagement is created. With standard screen sizes up to 134" they offer the perfect presentation space that can quickly disappear to reveal whats behind the screen.
Our Switchable Glass Screens can be controlled via remote control, voice activation and can even be switched using a timer, a great tool for more immersive attractions. For more discreet screen solutions, interactivity can be granted to modular switchable glass walls and partitions up to 1500 x 3000m, offering a touch display that blends into its surroundings when not in use.