Posted May 25th, 2021 by Emily Burkinshaw & filed under , General, Inspiration, Technology.
Galleries and museums across the world are opening their doors once more. They'll face new challenges in attracting visitors in a post-COVID world, however, due to changed visitor expectations and lasting concerns from the pandemic. 
Museums and galleries will have to adapt to offer new experiences and to allay any potential fears from the public. Here we discuss six ideas of how they can use technology and design to meet these goals and to better attract and engage their visitors. 
Post-Covid Challenges For Museums And Galleries
The global COVID-19 pandemic has affected all our lives and lockdowns have kept most of us in our homes for extended periods. Businesses, hotels, and leisure locations have faced sharp declines in foot traffic, but galleries and museums have been hit dramatically – many have been forced to stay closed throughout the majority of 2020 and into 2021. 
Although the pandemic is receding and museums and galleries are beginning to reopen as lockdowns are eased, the sector will continue to face challenges throughout the coming years:
Tourism is expected to recover slowly, with some predicting it won't return to pre-pandemic levels until at least 2023, limiting attendance from visitors travelling from out of town and abroad.

It's also predicted that many people will retain a heightened sensitivity to crowding and hygiene even as the pandemic recedes. With people less willing to spend time indoors in busy public spaces, museums and galleries will face an added challenge in attracting visitors. 

Visitors with hygiene concerns may also be less willing to touch objects and surfaces, and museums and galleries will need to offer zero-contact experiences and journeys through their spaces. 
Although the COVID-19 pandemic may continue to pose challenges for galleries and museums, these challenges present an opportunity to evolve how they present their collections and engage with visitors. Here are our top six ways they can do using existing technologies:
1. Virtual Tours And Online Collections
If museums and galleries face a challenge in attracting visitors and staying relevant whilst they remain closed, one option is to take their collections to potential visitors online. 
In Google's Year in Search review of 2020, Google reported that 'virtual museum tours' was one of the most searched queries of the year. Several institutions were quick to adapt to the trend by putting objects and paintings from their collections online and even by offering online virtual tours, with examples like: 
Online tours and collections will likely remain popular moving into 2021 and beyond, particularly as institutions become more creative in their use of online media, such as embracing virtual reality. 
Nothing can replace a visit to the real collections of course. But online exhibitions like these build awareness and prestige for museums and galleries that can translate into increased visitor numbers as tourism rebounds.
2. Social Media To Entertain
Social media is an established touchpoint for most museums and galleries, but during the pandemic, we saw many institutions stepping up their social media game. 
Rather than using social media to display their collections, some galleries and museums explicitly used social media to entertain, particularly on TikTok. The Uffizi Gallery's unconventional TikToks have reportedly transformed the lesser-known regional institution into a leading online presence. 
All too often, social media is viewed by cultural institutions as a low-effort, unimaginative media that's commonly handed to junior staff. The global pandemic has shown how important social media is in attracting attention and building recognition for institutions, capitalising on the hype whilst their doors are closed will be key to attracting visitors post-COVID. When indoor attractions do reopen, including nods to social media throughout your exhibits acts as the perfect free advertising tool. We worked on a project for the World Rugby Hall of Fame, providing four 2.5m tall 360 Projection Screens that displayed HOF inductees and could be controlled by their own HD touch screen. These interactive screens encouraged visitors to 'Take a picture with your legend' and use their unique hashtag #RUGBYHOF, leading to more personable, free advertising from previous visitors across Facebook, Instagram and Twitter.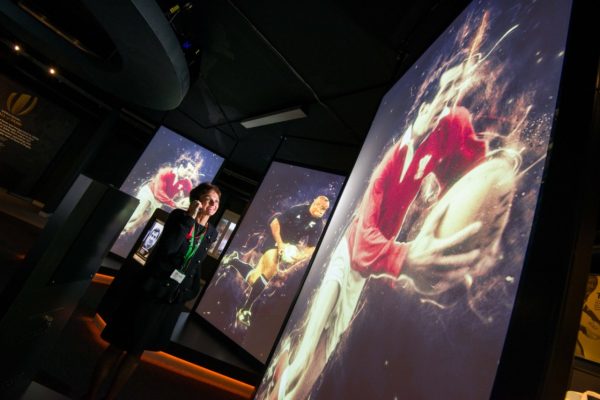 3. External Displays Viewed From Outside
External facing displays that allow paintings and collections to be viewed from the outside of a gallery or museum aren't new. We've seen examples of such displays before the pandemic as part of a movement to make galleries and museums more open and engaging to their local communities. However, we expect external exhibitions to become more common in a post-pandemic world.
External displays can be achieved with relatively low-tech solutions such as utilising existing windows or installing more windows in front-facing areas. The Tacoma Art Museum in Washington has done this to dramatic effect by placing a 26-foot-long wall of floor-to-ceiling windows in their new Benaroya Wing extension that displays exhibits clearly to people passing outside. 
Switchable smart glass, which can be transformed from transparent to opaque at the touch of a button, is already widely used in museums and galleries as it can balance transparency with a need to protect collections from strong, damaging light. Our solution allows you to maintain the abundance of natural light in an environment whilst also reducing solar glare by up to 30%. We anticipate more museums and galleries will incorporate smart glass and smart adhesive films into external displays.  
To take external displays one step further, galleries and museums are also embracing digital media, including moving images and video, by using external-facing projection technology. For instance, NOW Gallery in London commissioned Pro Display to install three large format, 4K quality projection films to create a spectacular external display. 
Displays of this type can capture and hold attention and will be important for encouraging members of the surrounding community to step inside museums and galleries.
4. Digital Signage For Smooth Visitor Journeys
For visitors conscious of crowding and social distancing, museums and galleries may have to provide more space, use staggered queuing systems, and limit numbers in more confined areas. Social concerns can also be assuaged by providing effective signage, that can help visitors navigate quickly and easily to the areas of museums and galleries they are most interested in. 
Digital signage based on high-quality LED and LCD screens can be used more effectively than traditional signage to achieve this goal. Digital signage can include multiple forms of media to attract attention, be instantly updated, and rotate to provide detailed information without becoming overwhelming. 
Digital displays also provide more options via touch screen menus or by using different types of interactive kiosks. By breaking up exhibits with video content and interactive screens, you can slow down the pace at which the attraction is explored making it easier to keep social distancing measures in place and all visitors feeling safe. However, visitors may be less willing to touch physical surfaces other people have touched as COVID concerns remain, posing a problem as to how you can connect with your audience on a more personal level.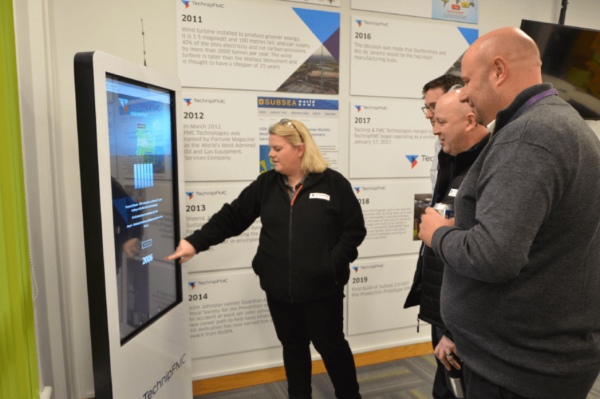 New technologies are in development including applications  that allow visitors to interact with screens using their phones or tablets, providing a personalised and zero-contact interaction. The app can be customised to a wide range of applications and might well be the future of interactive displays.
5. Rich Digital Media To Enhance Visitor Engagement
Museums and galleries have already embraced video and touchscreen technologies to bring exhibits to life and engage visitors. These technologies will prove more important than ever as museums and galleries seek to make themselves more attractive and entertaining places to visit post-COVID. 
Large scale digital displays, such as large format LED screens and large format projection screens, can best display objects and art in fine, high-definition detail. Whilst more advanced projections technologies, like holographic effects screens, create particularly impactful experiences.
Before the pandemic, museums have increasingly been offering contact areas where members of the public are invited to touch and handle exhibits under the guidance of museum staff. This trend has progressed into digital touchscreen tables, where visitors can access and explore items in greater detail. 
With concerns over touching public objects and surfaces, these areas may be perceived as less hygienic post-COVID.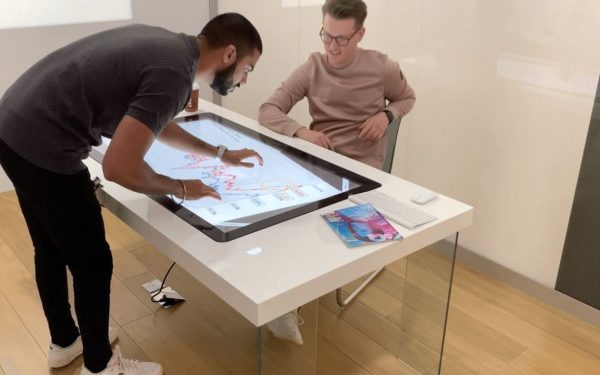 6. Augmented-Reality Tours
Audio tours are a ubiquitous and valuable part of many museum and gallery experiences. Being guided through exhibits by the knowledgeable voice of a curator can bring displays to life by providing detail and context that a static display can't convey. But audio tours are about to be supplanted dramatically.
Augmented reality overlays text, images, sound and video over everyday reality to create a media-rich, immersive experience. Imagine walking through a museum or gallery, stopping in front of a display, and having a menu of options appear alongside it, offering talks, video clips, games and more. 
Augmented reality tours have the potential to provide an in-depth, customisable guided experience like never before. The museums and galleries that realise the potential of this technology will be able to craft immersive tours that delight and entertain visitors to a degree previously unattainable. 
Although augmented technology is still in its infancy, museums and galleries are already developing augmented reality apps that visitors can use on their phones and tablets like the Smithsonian Institution's Skin and Bone app and the Kennedy Space Centre's Heroes and Legends exhibit. 
You can even create this effect in real life with our Transparent LCD Display Cases. Available in both standard and interactive options, these screens can display relevant content to the item in the case without completely obstructing the view. By opting for an interactive solution, visitors can create their own personalised experiences by choosing how they engage with the exhibits.