Posted November 12th, 2020 by Emily Burkinshaw & filed under , General, Newsletters.
The year 2020 has completely changed what the world considered to be normal life, with businesses forced to close and families separated and confined to the safety of their homes. After a year of twists and uncertainty, with travel bans and local lockdowns separating nations around the globe, we want to assure you that Pro Display has been working harder than ever to bring your ideas to life.
Since March, Pro Display have worked tirelessly, navigating through every obstacle we faced to continue to supply audio visual technology to homes and businesses around the world. In over 15 years of operation we've never experienced anything like this, but the trails and tribulations of exporting throughout the pandemic as well as creating a safe working environment has only made us stronger.
In 2019 alone we shipped to over 80 different countries around of the world, in the last 5 years we shipped to over 150 and 2020 hasn't slowed us down. This year we've continued to work with world renowned brands internationally providing everything from Transparent LCD's to Switchable Smart Glass. Our experience has always given us an edge, our thorough understanding of the rigours and regulations of shipping has only made understanding 'the new normal' easier, taking everything from bespoke wood crating to essential export documentation into account.
Earlier this year, when life seemed to be returning to what we knew and missed, retail stores were opening once more and with that came Nike's grand opening of their largest 'House of Innovation' yet. Following the opening of stores in Shanghai and New York, the 3rd of these flagship stores sits on the prestigious avenue des Champs- Élysées, measuring a huge 2,400sqm and filling over 4 floors with the latest and greatest in Nike innovation. Working from a rendered concept design, Pro Display provided 9 Transparent LCD's to be used as way finders throughout the shop floor. We worked closely with the team at Nike to adapt the mechanical aspects without compromising their vision, creating a unique Transparent LCD Display solution that challenged the norm of how the technology is typically used, featuring no surrounding housing and an abstract oversized backlight source.
This project is just one of many fantastic projects we've been lucky enough to work on and this is partially thanks to the global distribution network we've developed over the years. This constantly growing list of partners has enabled us to continue to provide our unique technologies to businesses and homes worldwide, even offering localised customer service in some locations. We've had so many memorable projects like supplying Cirque du Soliel's HQ in Canada with the worlds largest Front Projection Switchable Glass Screen and manufacturing a huge 360 Degree Dual Projection Film structure for Mont Blanc's product launch in Hong Kong.
One of our proudest moments to date has to be supplying the 38 Clearview Holographic Rear Projection Screens to make up the stage set of the 83rd Academy Awards Oscar Celebration. Our screens provided a versatile blank canvas, remaining transparent when not in use so that stage designers could create a showstopping performance without the screens getting in the way. We even helped revive Bob Hope with the help of our holographic effect screen and digital projection, recreating a moment from the first ever televised Oscars in 1953.
Not only did we receive an award for 'Live Event of the Year' at the AV Awards for our contribution, the Art Department of the 83rd Academy Awards recognised the importance of our technology saying: "We would like to thank you for all of the hard work and effort that you have put into this year's show. Your contributions helped ensure the success of this year's Oscars. We could not have done it without you."
We don't just supply commercial projects either, we've recently seen audio visual technology becoming more popular in the home. The pandemic has seen people spending more time than ever in their homes so it's no surprise our Mirror TV technology has been one of our bestselling products this year! Last month, we supplied a bespoke three-piece Mirrorvision solution for a luxury home in the UK, custom built to suit their living space. To create this feature wall design, we used 3 pieces of our Mirrorvision glass with an integrated 65" 4K smart TV, oversizing the glass to create an eye-catching frame around the screen that blended into the hearth and surround. To create this unique shape, the customer opted for two additional pieces of matching Mirrorvision glass for either side of the fire to match the oversized Mirror TV and create a seamless and minimalist look.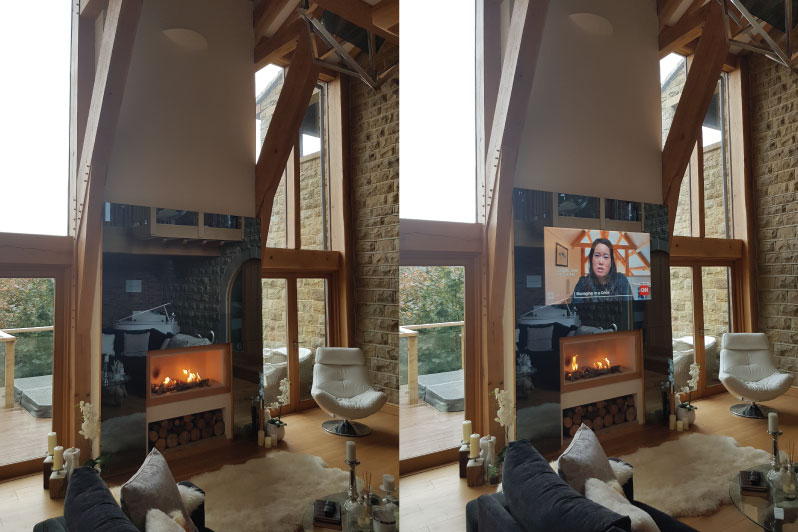 At Pro Display we have a solution to suit every occasion, from home DIY Mirror TV Overlay Kits to supplying and installing our Projection Mapping Film over 25-storeys of the nHow hotel in Amsterdam. We're always working with architects and agencies to stay ahead of the trends, encouraging our customers to think outside of the box and producing one of a kind solutions for huge brands like Adidas, Rolls Royce and Nike.